Lamborghini - page 85
Lamborghini Countach LP500S
1/43 by Ixo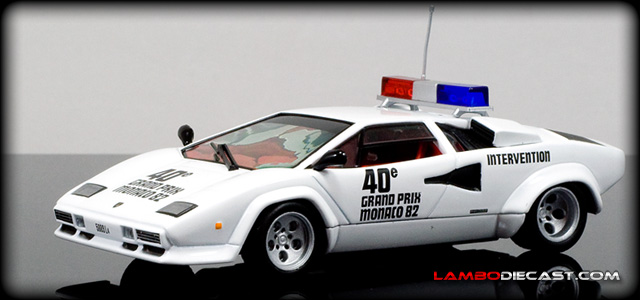 Back in 1982 the Lamborghini Countach LP500 S was used as a pace car for the 40th Monaco Grand Prix, finished in white this mighty car has been nicely reproduced in 1/43 by Ixo.
Lamborghini Murcielago Roadster
1/24 by Jada Toys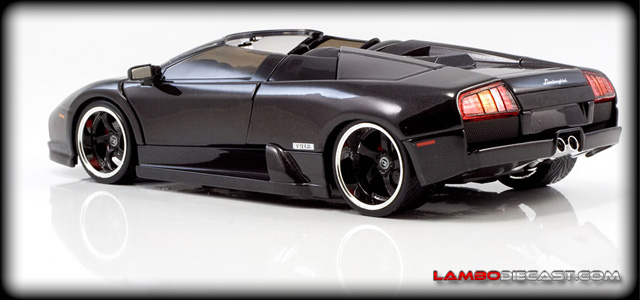 Something different this time, a stunning black Lamborghini Murciélago Roadster with a tuning pack, check out those amazing looking wheels on this 1/24 model by Jada Toys.
Lamborghini Countach LP400
1/18 by Kyosho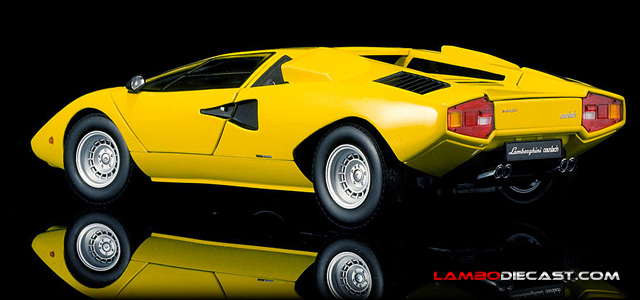 Back in the early Seventies the stunning Lamborghini Countach was introduced as the replacement for the beautiful Miura SV, Kyosho made a stunning 1/18 scale model of this amazing looking supercar.
Lamborghini Miura P400
1/24 by Mondo Motors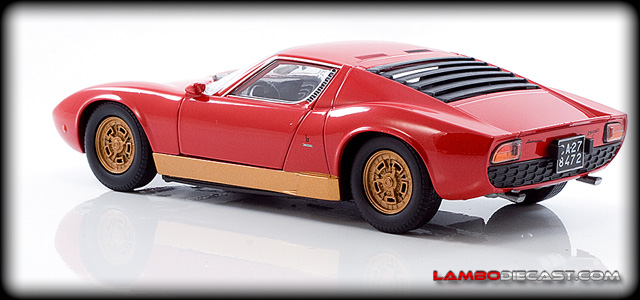 Perhaps not the most popular scale among collectors, but 1/24 sure looks good in some case, this very nice Miura S from Mondo Motors is no exception, it is well finished and deserves a place in your collection.
Lamborghini Murcielago Roadster
1/18 by Maisto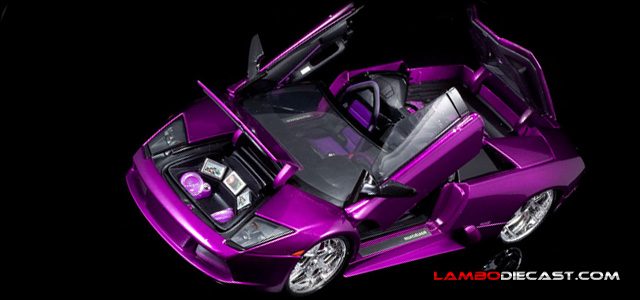 Another Raging Bull from the Playerz collection from Maisto. These models feature massive wheels and special audio installation including LCD screens, also note the very special paint on them.
Lamborghini 350 GTV
1/43 by Starline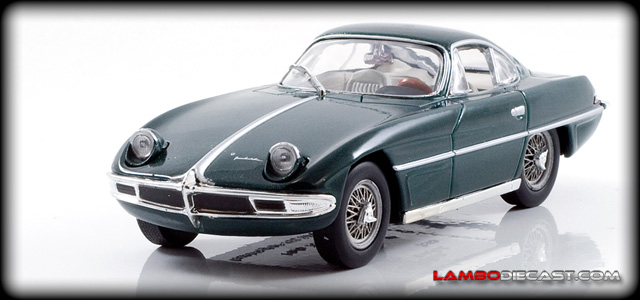 After being in storage the original Lamborghini 350 GTV prototype was restored to it's former glory at great expense, this 1/43 scale model from Starline is a really nice opportunity to admire it in your collection.
Lamborghini 400 GT Monza Special
1/43 by Looksmart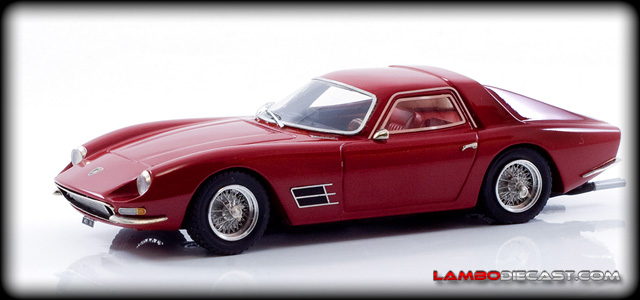 This one of a kind Lamborghini 400 GT has been recently uncovered after being 'lost' for decades, the Monza Special was built on special order and only one was ever made, fortunately we can buy a 1/43 scale model from Looksmart
Lamborghini Reventon
1/24 by Mondo Motors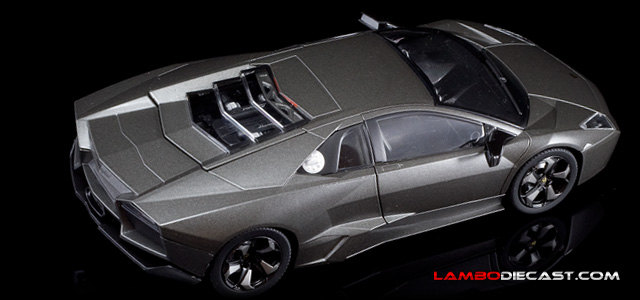 Yet another Lamborghini Reventon made by Mondo Motors, this time in a smaller 1/24 scale however, and frankly it looks really nice, especially if you display it together with it's larger and smaller counterparts.
Lamborghini Countach LP400
1/43 by Kyosho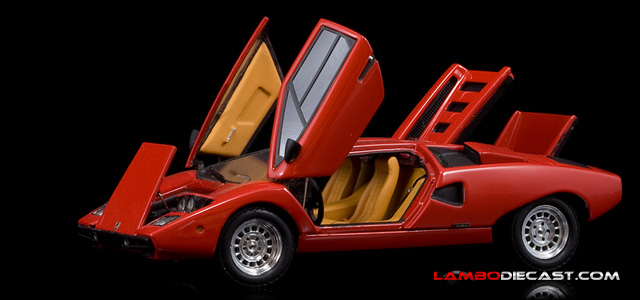 This very special 1/43 scale model of the classic Lamborghini Countach LP400 is made by Kyosho but it has been designed with the help of MR ... and it features opening parts, very special in this small scale.
Lamborghini Miura Jota
1/43 by Minichamps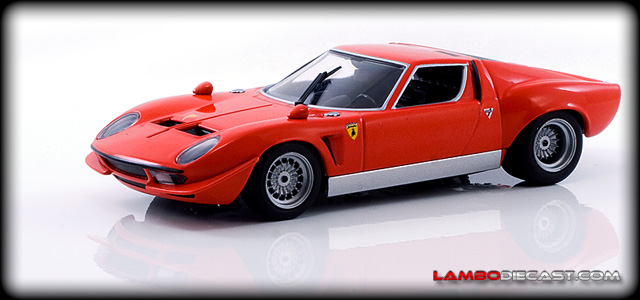 The original Lamborghini Miura Jota built by Bob Wallace has now been very nicely rebuilt in a 1/43 scale model by Minichamps ... if they would only offer it in large 1/18 too, that would be great.
Lamborghini Gallardo LP560-4
1/43 by Looksmart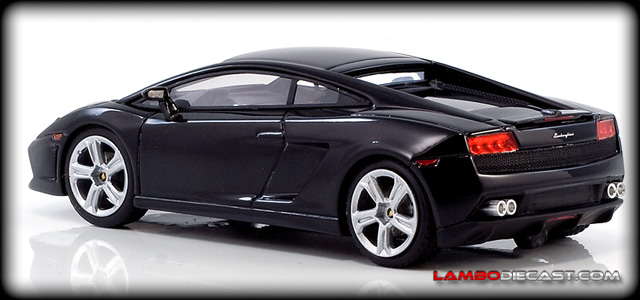 The stunning Lamborghini Gallardo LP560-4 finally made it into a scale model, this stunning 1/43 unit made by Looksmart is an excellent addition to your collection.
Lamborghini Miura SVJ Roadster
1/43 by Looksmart
This is a one of a kind Lamborghini Miura, it is actually a factory built SVJ that has been converted into a Roadster edition, perfectly rendered in 1/43 scale by Looksmart.
Lamborghini Canto L147
1/43 by Looksmart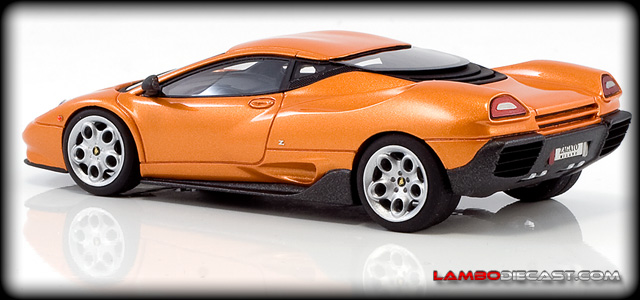 When the Diablo was reaching it's end of production the successor wasn't ready yet, however Zagato did make the L147 Canto prototype that was fully functional.
Lamborghini Murcielago Roadster
1/18 by AUTOart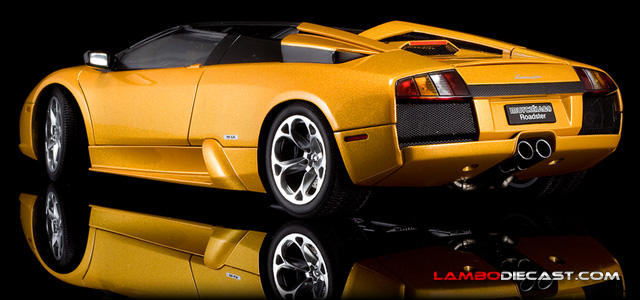 This is a very special color on the 1/18 reproduction of the stunning Lamborghini Murcielago Roadster by AutoArt, a nice gold metallic shade really makes the design of this convertible stand out.
Lamborghini Gallardo 5.0
1/18 by AUTOart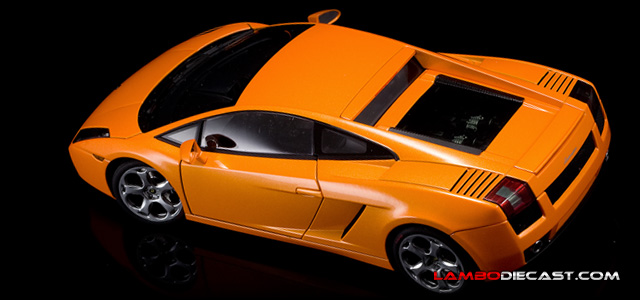 Arancio Borealis, a pearl metallic orange shade sure looks great on the Lamborghini Gallardo, even in 1/18 scale made by AutoArt. Note that this is the model with a glass engine cover.