Lamborghini - page 68
Lamborghini Murcielago Roadster
1/24 by Jada Toys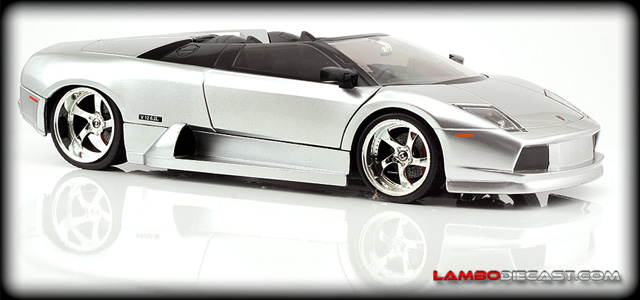 A nicely tuned 1/24 scale model of the Lamborghini Murcielago Roadster made by Jada, note the deep dish wheels.
Lamborghini Diablo Roadster
1/43 by Detail Cars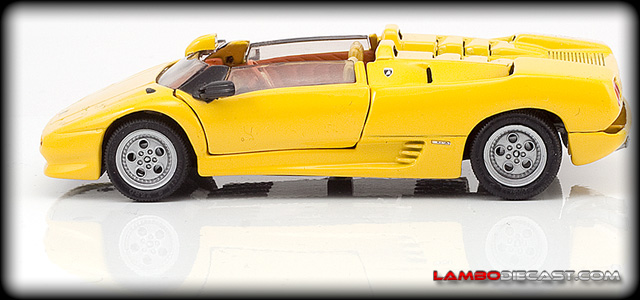 This Diablo Roadster 1/43 scale model by Detail Cars actually depicts the prototype version, note the rear view mirror on the windshield
Lamborghini Diablo 2wd
1/43 by Detail Cars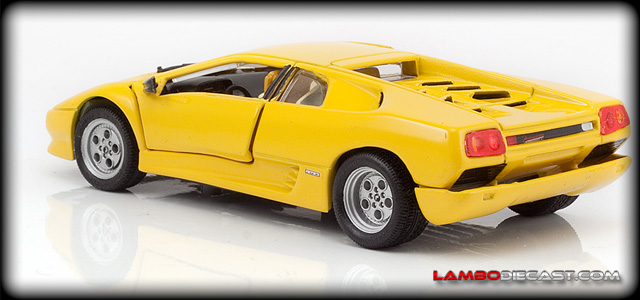 This is actually a very rare Delta Cars 1/43 model of the Lamborghini Diablo, however this company was forced to change their name into Detail Cars.
Lamborghini Miura SVJ
1/24 by Tokyo Marui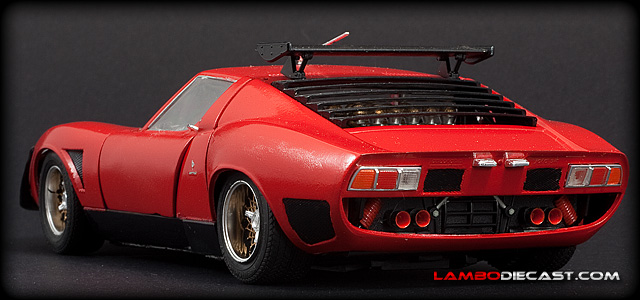 A very nice and highly detailed 1/24 scale model kit from Tokyo Marui on the Lamborghini Miura SVJ
Lamborghini Diablo VT
1/24 by Revell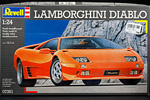 A nice plastic model kit in 1/24 scale on the 1999 edition of the Lamborghini Diablo VT made by Revell.
Lamborghini Countach LP400S
1/24 by Heller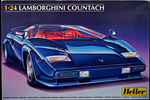 The box shows a series 1 Countach LP400 S, note the early wheels and rear view mirror on this 1/24 plastic kit from Heller
Lamborghini Diablo 2wd
1/24 by Majorette
A 1/24 metal kit from Majorette on the Lamborghini Diablo, note the decals on this kit.
Lamborghini Diablo 2wd
1/24 by Amt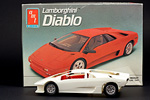 A nice classic Lamborghini Diablo plastic kit in 1/24 from AMT, note the early dashboard cluster.
Lamborghini Diablo 2wd
1/18 by Bburago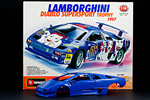 This 1/18 metal kit from Bburago should be depicting the Diablo SVR, but instead this is just a regular Diablo with decals.
Lamborghini Diablo VT Roadster
1/24 by Revell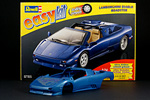 A very nice 1/24 scale kit of the original Lamborghini Diablo Roadster version, this kit from Revell depicts a US version.
Lamborghini Miura P400
1/18 by Fujimi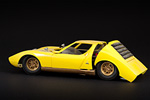 This is one of those rare 1/18 kits made by Fujimi, here a Miura P400 version ... too bad it got damaged during our moving houses.
Lamborghini Reventon
1/18 by XQ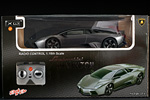 This is an RC version of the Lamborghini Reventon in large 1/18 scale, big fun to drive ... I had to buy one for my son too.
Lamborghini Miura SVJ
1/43 by LS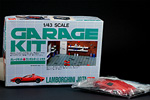 A nice 1/43 scale kit of the legendary Lamborghini Miura SVJ, here combined with a garage diorama released by Japanese based LS.
Lamborghini Countach 25th Anniversary
1/24 by Monogram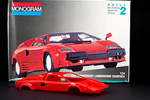 A nice 1/24 scale plastic kit from Monogram on the Lamborghini Countach 25th Anniversary edition, note this is a US version.
Lamborghini Countach LP400
1/24 by Fujimi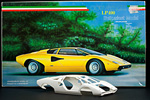 This is nice enthusiast series plastic kit from Fujimi in 1/24 on the magnificent Lamborghini Countach LP400.