Lamborghini - page 22
Lamborghini Huracan LP620-2 Super Trofeo
1/18 by AUTOart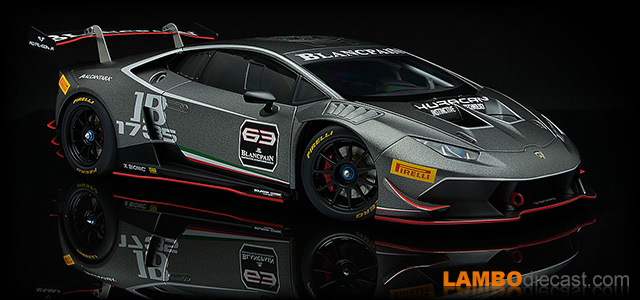 This is the presentation livery #63 of the impressive Lamborghini Huracan LP620-2 Super Trofeo made by AUTOart in 1/18 scale, finished in matt grey.
Lamborghini Huracan GT3
1/18 by AUTOart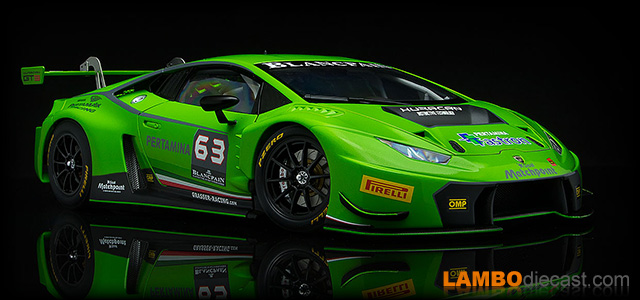 The stunning Lamborghini Huracan GT3 #63 FIA GT 2015 Grasser Racing from AUTOart in 1/18 scale, truly an amazing looking model of this V10 race car.
Lamborghini Miura P400SV
1/43 by Triple 9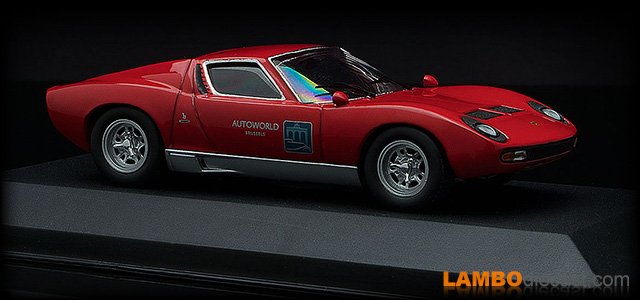 I found this Triple 9 Premium 1/43 scale model of the Lamborghini Miura SV by accident in a shop of a car museum, it's a one-of-504 units limited edition, and looks rather nice.
Lamborghini Urus Concept
1/18 by MR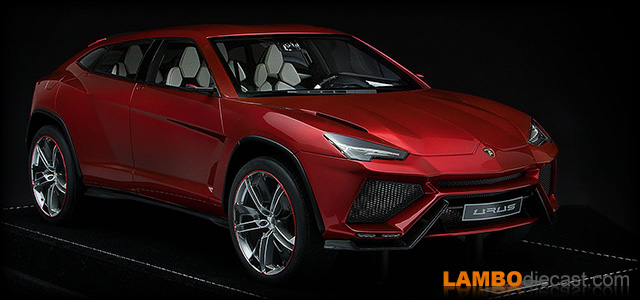 I didn't get the stunning, dark red metallic Lamborghini Urus Concept in 1/18 from MR when they came out, and finding one now proved difficult. But in the end, I managed to add this amazing model to my collection.
Lamborghini Aventador LP700-4
1/24 by Bburago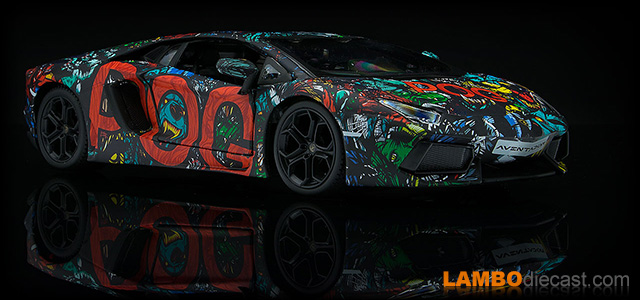 The POGTADOR is a famous Lamborghini Aventador from Belgium, Bburago made a very nice 1/24 scale model of it.
Lamborghini Urus
1/24 by Maisto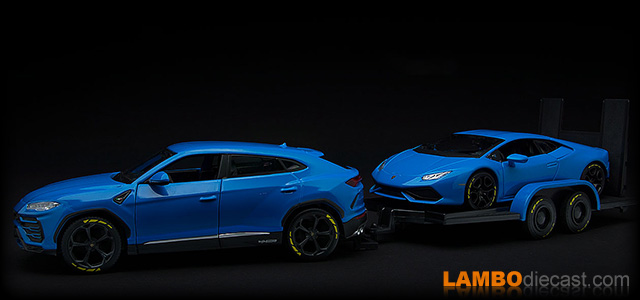 This is a special Elite Transport set from Maisto in 1/24 scale containing both the Lamborghini Urus and Huracan in the same shade.
Lamborghini Jarama 400 GT
1/18 by CMF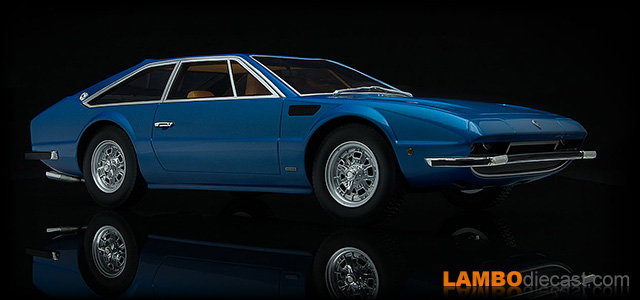 The Lamborghini Jarama was a front-engine, V12 GT from the Seventies, a luxury sports car, when CMF launched a 1/18 scale model I got one as soon as I could.
Lamborghini Sian FKP 37
1/8 by Lego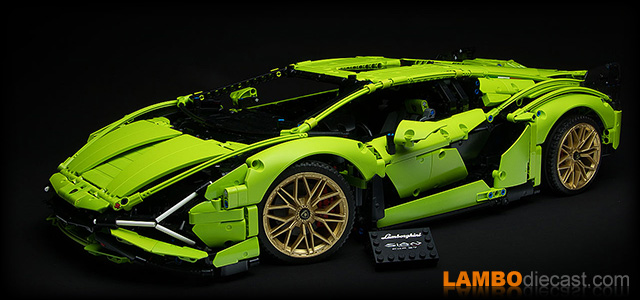 I didn't get the big LEGO kit for the Lamborghini Sian when it came out but waited for it to be offered at a discount, I'm happy I did.
Lamborghini Huracan GT3
1/43 by Spark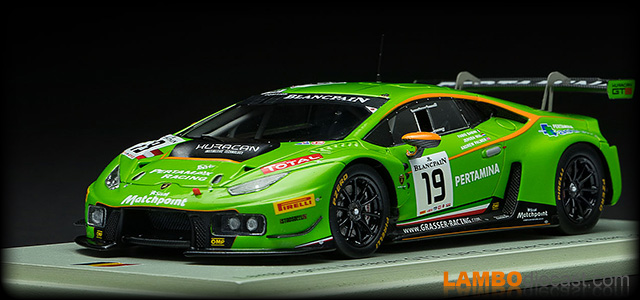 I like Lamborghini racecars, and when I saw this specific Huracán GT3 from Grasser Racing Team that competed in the 24h de Spa in 2015 I just couldn't resist adding it.
Lamborghini Gallardo GT3 FL2
1/18 by AUTOart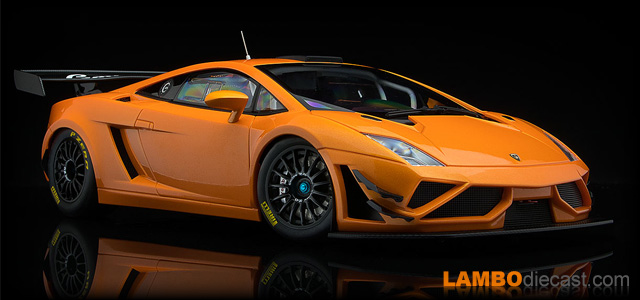 I already owned the white version of this car, but when this orange one came around at a discount I just couldn't resist
Lamborghini Huracan LP610-4
1/18 by AUTOart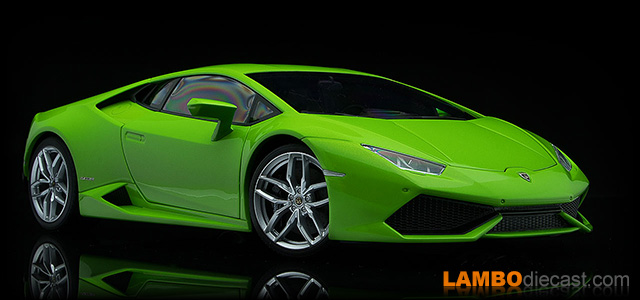 This Verde Mantis Lamborghini Huracan from AUTOart was the only shade I didn't have yet in my collection ... until now.
Lamborghini Huracan LP610-4
1/43 by Bburago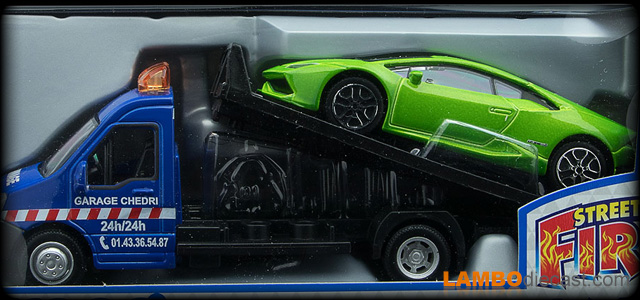 When I saw this one in my local supermarket, it put a smile on my face, so I added this Bburago made Huracan to my collection.
Lamborghini Murcielago 6.2
1/64 by Maisto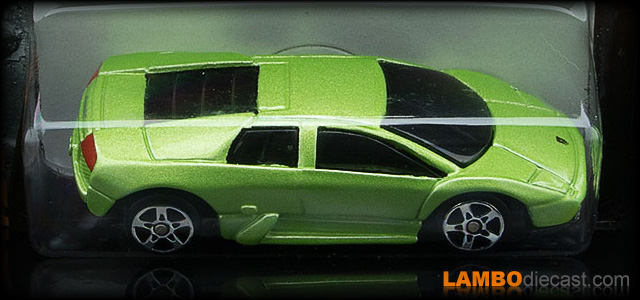 Just a little 1/64 scale toy car made by Maisto, finished in green metallic.
Lamborghini Centenario LP770-4 Roadster
1/18 by AUTOart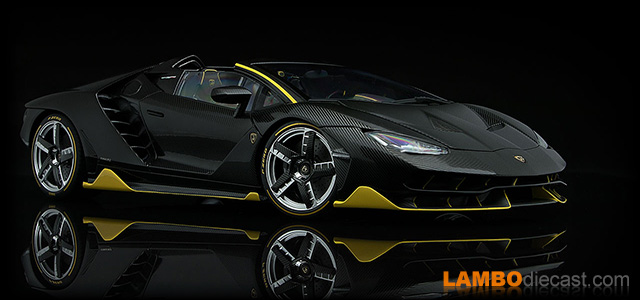 I just wanted to add this clear carbon fiber Lamborghini Centenario Roadster to my collection as it's a perfect match to the coupe I already owned from AUTOart
Lamborghini Huracan Performante
1/18 by AUTOart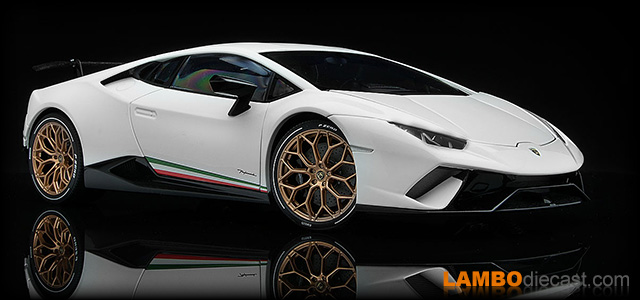 Right from the start, I wanted to add the white Huracan Performante in 1/18 from AUTOart to my collection, but I only now actually bought one.