Lamborghini - page 82
Lamborghini Gallardo Polizia
1/18 by Maisto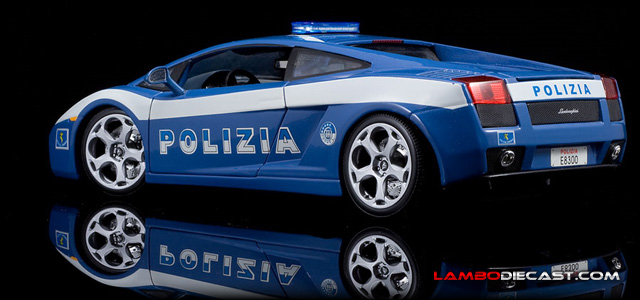 Back in 2004 the Italian State Police force actually received a Lamborghini Gallardo from the factory, Maisto made a really nice 1/18 scale model from this very special V10.
Lamborghini Gallardo Cesam
1/18 by Norev
At the 2007 Paris tuning show the French based tuner showed a customized Lamborghini Gallardo featuring chrome wheels and impressive decals, this 1/18 model from Norev shows it off nicely.
Lamborghini Murcielago R-GT
1/24 by Motorama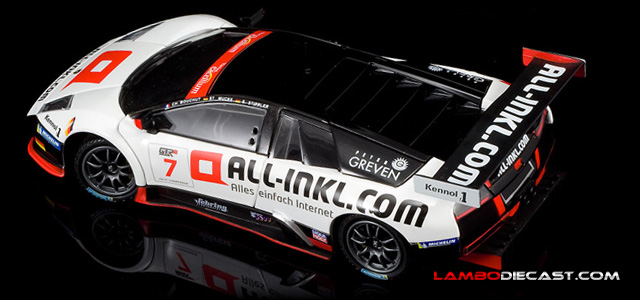 This white Lamborghini Murcielago R-GT competed in the 2007 FIA GT Championship with All-Inkl.com sponsoring, Motorama made a stunning 1/24 scale model from it.
Lamborghini Countach LP500S
1/18 by Kyosho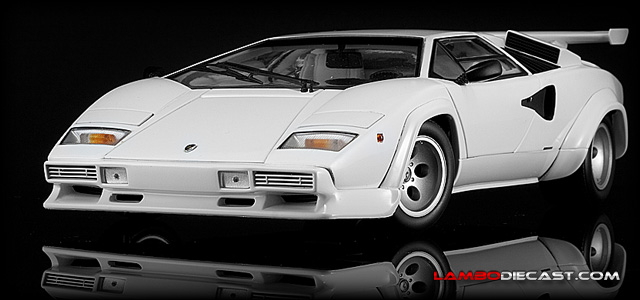 The classic Lamborghini Countach LP500S finished in the very popular color combination of a white body over a white interior, back in those days one of the most sold shades.
Lamborghini Countach 25th Anniversary
1/18 by Ricko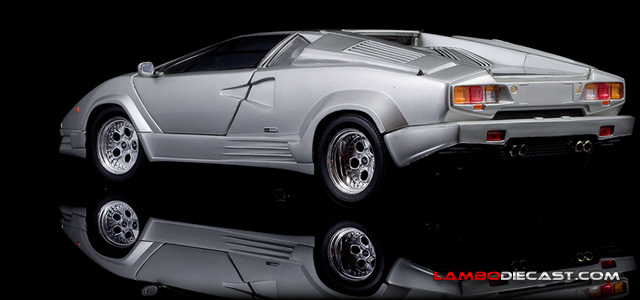 As far as I know this silver metallic car is the only 1/18 scale model available on the market for the very special 25th Anniversary edition of the Lamborghini Countach.
Lamborghini Countach Production prototype
1/18 by Kyosho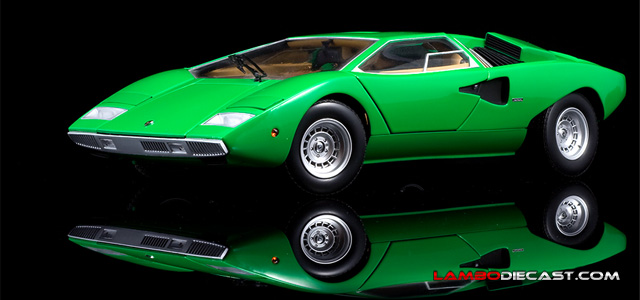 This green over brown interior 1/18 model from Kyosho nicely reproduced the original factory production prototype for the Countach LP400 model, a few things would be changed on the production car.
Lamborghini Countach LP400
1/18 by Kyosho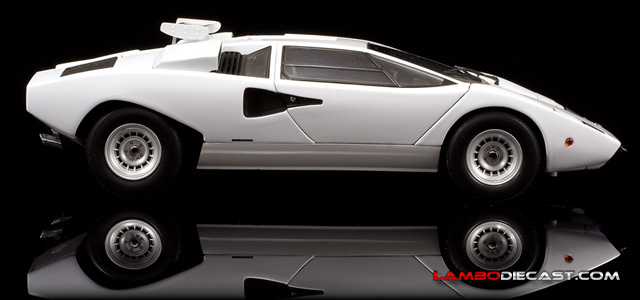 This white Lamborghini Countach was in fact the first car customized for Walter Wolf, a Canadian Race team owner that would order several custom Countach afterwards.
Lamborghini Countach LP500S
1/18 by Kyosho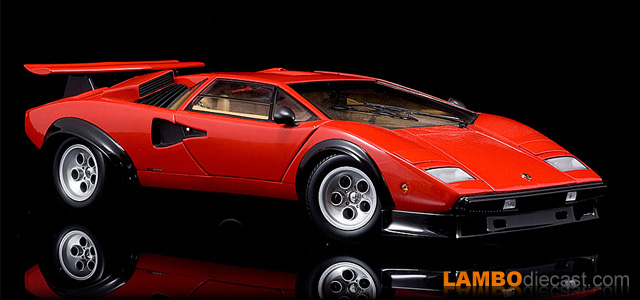 This red Lamborghini Countach LP500S was in fact the first heavily modified car made on special order for Walter Wolf, Kyosho made a stunning 1/18 replica of it.
Lamborghini Countach LP500R
1/18 by Kyosho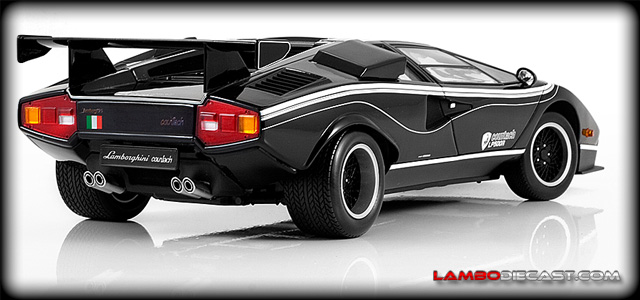 This very special Lamborghini Countach was made for a wealthy Japanese enthusiast and although based on the standard LP400 model it received wide BBS wheels and a more powerful engine.
Lamborghini Diablo 2wd
1/18 by Bburago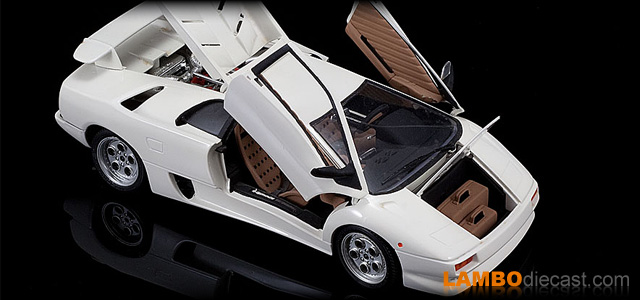 This white Lamborghini Diablo 1/18 scale by Bburago was actually a hand painted special edition. Bburago never offered this model in white over a brown interior.
Lamborghini Diablo VT 6.0
1/18 by AUTOart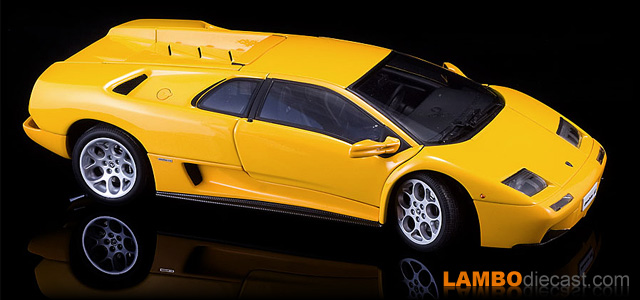 It took some years, but finally a 1/18 model of the successful Lamborghini Diablo VT 6.0 model is available, as it came from AutoArt the details are amazing and truly an addition to your collection.
Lamborghini Diablo VT 6.0
1/18 by AUTOart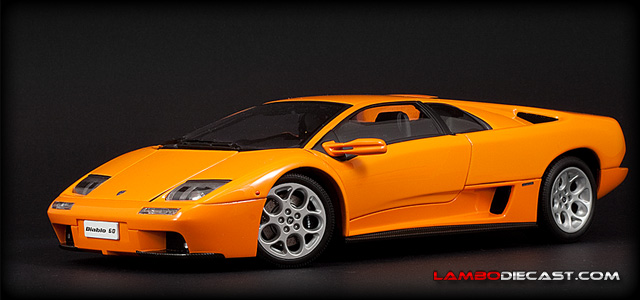 AutoArt is offering no less than three shades on their 1/18 Lamborghini Diablo VT 6.0 model, this magnificent orange metallic is one of them, and it looks really nice on this Raging Bull.
Lamborghini Diablo VT Roadster
1/18 by AUTOart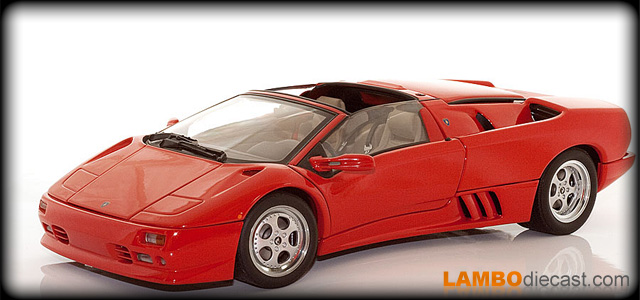 AutoArt was among the first to offer a scale model of the highly successful Lamborghini Diablo VT Roadster, and today is still the only one that offered a 1/18 model.
Lamborghini Miura SVR
1/18 by Kyosho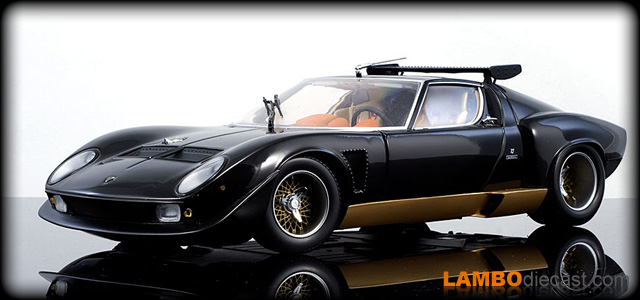 Perhaps not a real, existing car, but this black edition of the legendary Lamborghini Miura SVJ by Kyosho in large 1/18 scale is truly amazing and very nicely detailed
Lamborghini Reventon
1/18 by Mondo Motors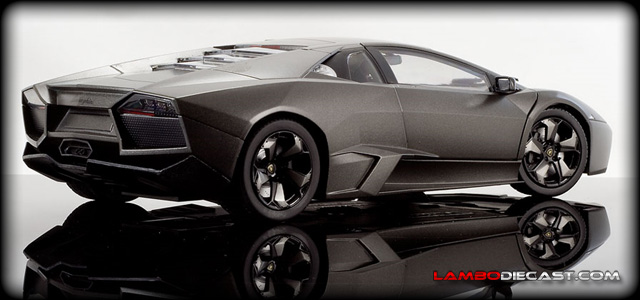 The very limited Lamborghini Reventon was nicely re-created in 1/18 scale by Mondo Motors, fit and finish are good and it even features side windows and boasts the amazing matte paintjob.