Lamborghini - page 74
Lamborghini Reventon
1/18 by AUTOart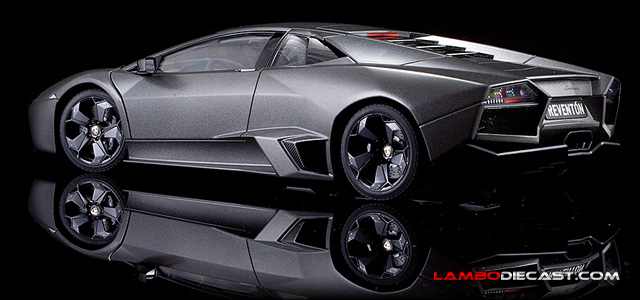 Finally AutoArt has produced the stunning Lamborghini Reventon, the one million Euro limited edition super car made in Sant'Agata. As usual this is a very well finished model.
Lamborghini Concept S
1/24 by Mondo Motors
The Lamborghini Concept S was actually meant as a design study of a convertible Gallardo, before the actual Spyder was introduced. This 1/24 scale model from Mondo Motors is surprisingly well finished.
Lamborghini Diablo VT 6.0
1/43 by Ixo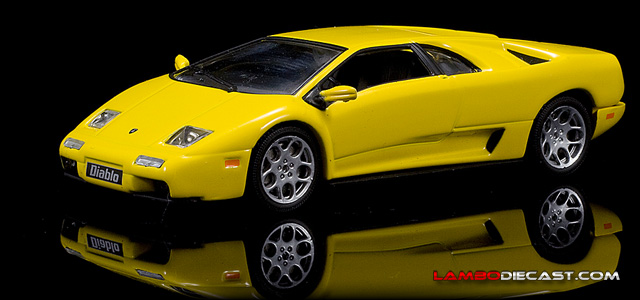 A really nice 1/43 scale model of the final evolution of the Diablo, the VT 6.0 edition. Here finished in bright yellow over a black interior.
Lamborghini Urraco P250
1/43 by Ixo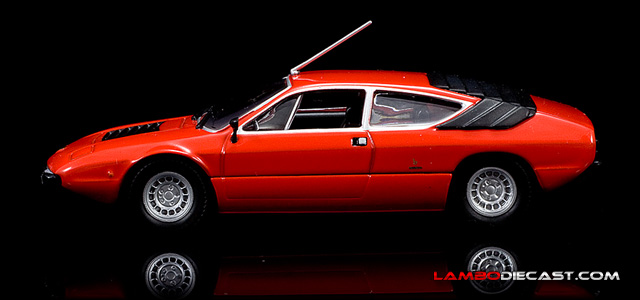 A really nice 1/43 scale car of the classic V8 Lamborghini, the original Urraco P250, which was actually an ancestor of the magnificent Gallardo.
Lamborghini Reventon
1/24 by Mondo Motors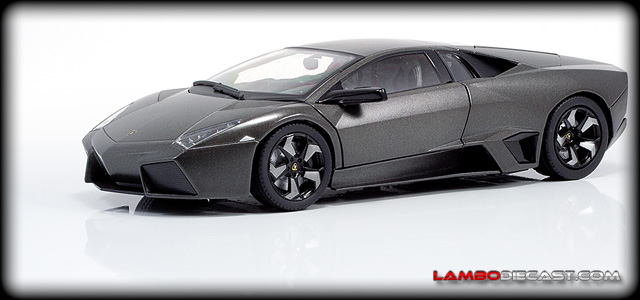 Another 1/24 scale Lamborghini Reventon by Mondo Motors was added to my collection, however this time it was a model kit, a very nice one that allows you to finish it even further.
Lamborghini Gallardo Superleggera
1/43 by Kyosho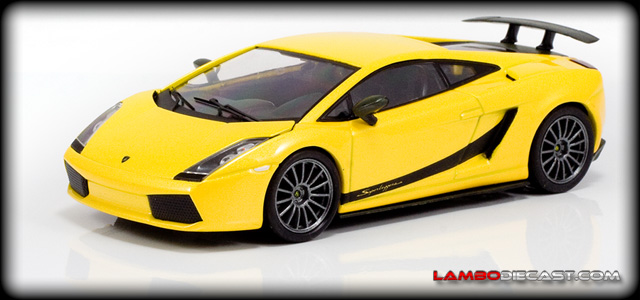 The magnificent Lamborghini Gallardo Superleggera was built in rather limited numbers just before the LP560-4 evolution would take over. It is still regarded as one of the most impressive V10 made, and this Kyosho model is a very nice reproduction.
Lamborghini Countach LP500S
1/43 by Ixo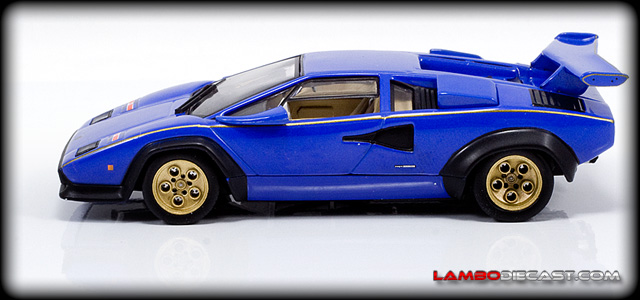 A new 1/43 model of the legendary Lamborghini Countach made on special order for Walter Wolf. This Ixo model actually features the special rear view mirror caps that Mr Wolf mounted.
Lamborghini Miura Concept
1/24 by Mondo Motors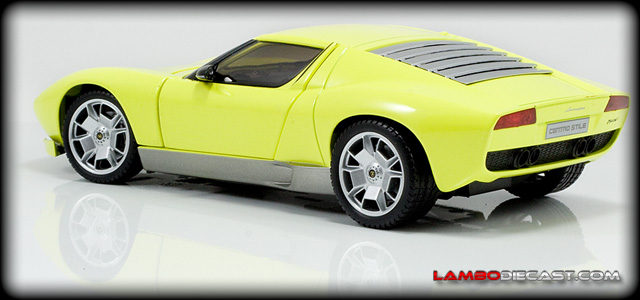 The one of a kind Lamborghini Miura Concept car didn't get much attention from scale car builders yet, the largest I could find is this 1/24 scale from Mondo Motors.
Lamborghini Miura P400
1/24 by Fabbri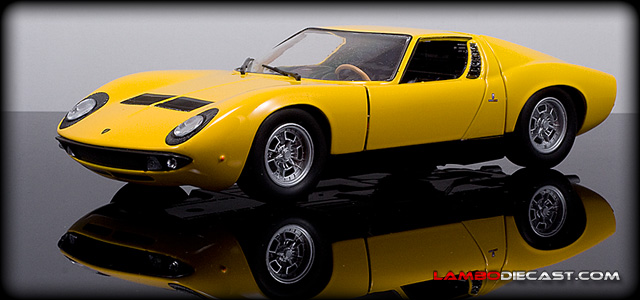 This nice little 1/24 scale model of the legendary Lamborghini Miura P400 was made by Fabbri Editori and is actually very nicely finished for it's rather low price.
Lamborghini Countach LP400S
1/43 by Ixo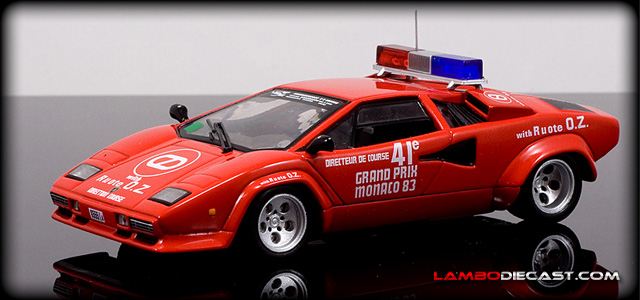 This very special pace car based on the Lamborghini Countach LP400 S was driven by none other than Jacky Ickx in Monaco. The 1/43 model by Ixo was originally only sold in Japan.
Lamborghini Countach LP500S
1/43 by Ixo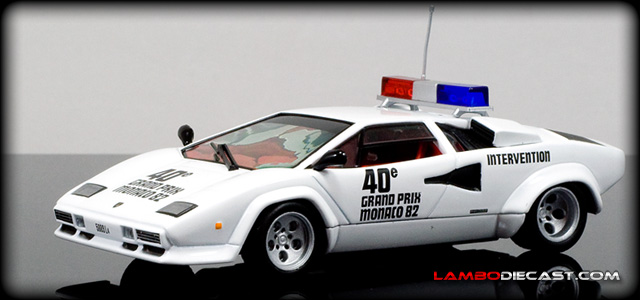 Back in 1982 the Lamborghini Countach LP500 S was used as a pace car for the 40th Monaco Grand Prix, finished in white this mighty car has been nicely reproduced in 1/43 by Ixo.
Lamborghini Murcielago Roadster
1/24 by Jada Toys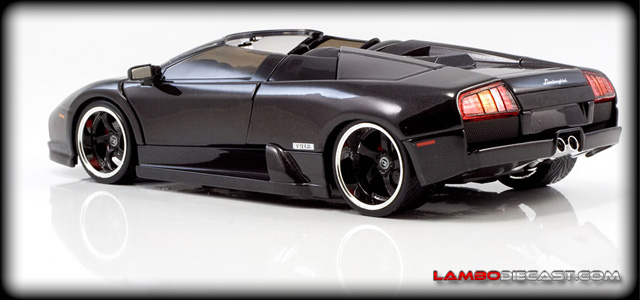 Something different this time, a stunning black Lamborghini Murciélago Roadster with a tuning pack, check out those amazing looking wheels on this 1/24 model by Jada Toys.
Lamborghini Countach LP400
1/18 by Kyosho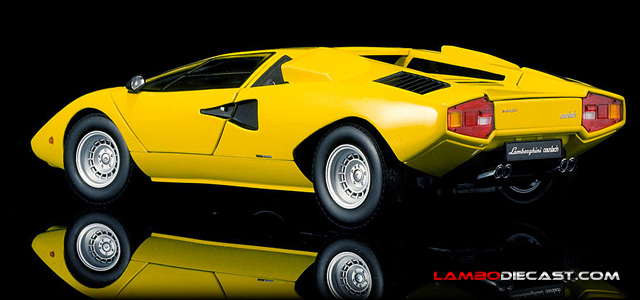 Back in the early Seventies the stunning Lamborghini Countach was introduced as the replacement for the beautiful Miura SV, Kyosho made a stunning 1/18 scale model of this amazing looking supercar.
Lamborghini Miura P400
1/24 by Mondo Motors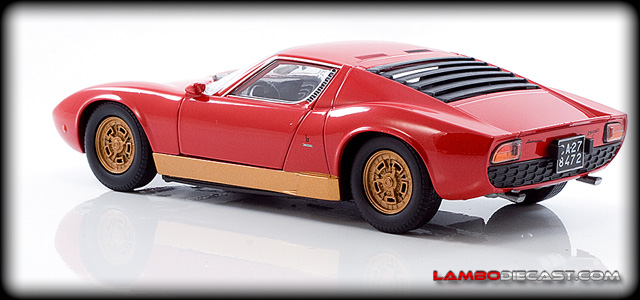 Perhaps not the most popular scale among collectors, but 1/24 sure looks good in some case, this very nice Miura S from Mondo Motors is no exception, it is well finished and deserves a place in your collection.
Lamborghini Murcielago Roadster
1/18 by Maisto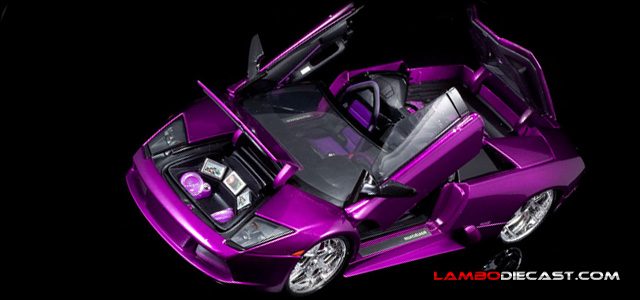 Another Raging Bull from the Playerz collection from Maisto. These models feature massive wheels and special audio installation including LCD screens, also note the very special paint on them.