As you might have gathered looking at some of my earlier additions, I am a big fan of the Lamborghini Aventador LP700-4. I have been lucky enough to be next to it when the covers came off in Geneva back in 2011, the new Arancio Argos shade is just amazing … but I was completely overwhelmed by that Bianco Canopus … a satin mat pearl metallic white.
So when MR released both shades I just couldn't resist them and spent way too much money on getting both the orange metallic one and the white version, expensive for sure, but that mat white was so perfectly scaled down by MR I forgot about the steep price … until I was confronted with by bank statements unfortunately.
When I saw the official demonstrator car from Automobili Lamborghini SpA in the United States finished in Nero Nemesis … a mat black, with orange brake calipers I almost jumped in my seat, and my luck went on as an US based MR dealer ordered this exact same combination in a limited production run from MR … but it was again a serious investment, and as it would come from the US I would be faced with a steep invoice from our local customs office … this would translate into about €500 spent before I would be able to admire it … sadly I couldn't afford it to be honest.
I did have one small issue with this mat black Aventador, apart from the orange brake calipers the car was entirely black, both on the outside as on the inside, and I must say I would have put some color on the seats to make it look less sinister … and behold, all of a sudden I read about FrontiArt offering yet another 1/18 resin made Lamborghini Aventador … their first one finished in Arancio Argos, so I wasn't really interested … but then I learn about a Nero Nemesis version.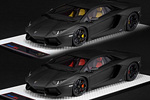 This mat black shade received yellow brake calipers (not my first choice, but I can live with them) but more importantly the interior was a combination of black and orange, both on the seats as on the central console and the door panels … I really liked that combination to be honest. But again I ran into the same problem as the MR version, it was being sold from the Far East, and at MR prices, so by the time I would have received it from our loyal customs office I would have spent at least €500 … too rich for me, so a bit depressed I gave up on having this shade on an Aventador any time soon.
But as always it isn't important what you know, it is who you know that counts … and Rob from Carmodelz.nl contacted us … he was preparing to receive a shipment of models from FrontiArt, including the different shades of their 1/18 Aventador, and at a very interesting price … this would mean shipment from the Netherlands, hence no customs, and as this model was over the benchmark Rob offered free shipment too … safe to say we jumped on this and ordered the mat black one instantly.
The shipment would arrive in February 2012, so a bit of waiting would be required, no problem, at least this beauty was on its way … however things turned out differently … early February was also time for the Nurnberg Spielwaren messe event where all important scale car builders show their upcoming models … and for the first time FrontiArt was present too … and Rob being a professional scale car dealer he went to the show too … and managed to pry away a mat black 1/18 Aventador which he sent us as soon as he got back.
So you are looking at one of the first FrontiArt 1/18 mat black Lamborghini Aventador models delivered in Europe … and we just happen to own it now !
Time to take a close look at this new 1/18 Lamborghini Aventador LP700-4 on the market, made by FrontiArt in resin, all closed but on this model the wheels do turn unlike on the MR counterpart, and while we are comparing these two it has to be noted the FrontiArt comes in a nice white cardboard box inside a wrapping sleeve, double protection. The MR models come inside a classic black box that tilts open, a nice touch, the FrontiArt box is a two part deal, you lift the top lid to unveil the car inside … not quite, there is so much padding you don't even see the car inside until you remove some of it, these FrontiArt models are very nicely protected inside their box … and you even get a small cloth with it to clean the dust from it.
I did discover a small issue with the mat black paint … just like on the mat black Miura SVJ I got in 1/43 it is very delicate … each fingerprint remains on the paint, it wipes back off naturally, but I didn't have this problem with the Nero Nemesis on the AutoArt made Super Veloce, so I think the satin top coat is different … but I have those nifty white cotton gloves to counteract this, so it isn't a big problem anyway, just a small detail.
We know the regular MR models are mounted onto a nice leather plinth, the recent one on black leather with white stitching … FrontiArt puts this black Aventador in a plastic plinth with a nice carbon fiber look decal on top, in white which contrasts perfectly with the mat black paint, also note the very nice plaque in front of the model, that Lamborghini crest is simply amazing, and it is in 3D, not just a flat decal … a really luxurious touch I do appreciate to be honest.
If I'm honest I like the headlights on this model better than those on the MR, however the interior of the MR version is better detailed, especially the stitching FrontiArt put on the seats is a bit big … you have to look really close to notice, but that's what we do here. The embossed Raging Bull logo on the headrests is just awesome on this model, just like the real deal, also the Lamborghini script on the dashboard is perfect … so I would say the interior is very, very close to the MR version, only the fake stitching on the seats isn't perfect looking to me.
But that engine … so detailed, so nice, and let's not forget those red springs on the race car suspension on the Aventador, FrontiArt made them look so real, they also put in red and blue piping … very nice and impressive, but these are all black on the real car … however I don't mind some color in there, so I'm not complaining here, just stating the facts.
As far as I can tell the dimensions of the FrontiArt look right, I have it on display between my two MR models and it sure doesn't look out of place, the only thing I noticed was the fact the Raging Bull crest at the front was bigger compared to the MR ones … and I think it actually is a little too big.
Bottom line : is this new FrontiArt a competitor for the MR models on the Lamborghini Aventador ? I would say yes, it looks really nice, the wheels turn, the stance looks good and that colorful interior is just perfect inside this intimidating looking mat black shade … and it is cheaper than the MR Aventador, so that's another plus for the FrontiArt.
Is it perfect ? No, of course not, none of these 1/18 models are perfect, I don't think this is even possible, but I have no problem advising you to add one of the shades FrontiArt offers on the Lamborghini Aventador to your collection, it isn't cheap, but it is worth it in my eyes … and if all goes as planned FrontiArt will be releasing a nice Sesto Elemento in 1/18 with opening doors and removable engine cover … something to add later on.
our RATING
| | | |
| --- | --- | --- |
| Overall rating | | 10/10 |
Original price : € 249