When I saw the announcement Bburago would be doing a scale model of the Lamborghini Terzo Millennio I was a bit upset to be honest ... I waited a long time to finally decide on spending a lot of money on getting the 1/18 scale model Lamborghini Terzo Millennio Concept from MR. I did go for the normal plinth version because the carbon fiber one was even more expensive, but still, that's a lot of money for a sealed resin model ... the reason I finally bought it is simple ... I'm still regretting not being able to buy their 1/18 Lamborghini Egoista back when new, and today it is priced way too high, so I wasn't going to get into the same predicament with the Terzo Millennio.
But things worked out fine as it seems Bburago is only doing a 1/24 scale version, and not a 1/18 model ... so I bought both shades Bburago released, this more correct matt grey one and the bright green fantasy shade, now I am not a fan of fantasy shades on concept cars or limited edition models ... I love to buy the official color as seen on the press release car or on the car used for the auto show where the factory introduced it, but in this case, I bought a Terzo Millennio in green, and that doesn't exist in real life ... but I have my reasons for breaking my own rule ... just wait and see.
The scale model
So back to this smaller, 1/24 scale model of the all-electric Lamborghini concept car of the future, the Terzo Millennio, a preview of things to come from Sant'Agata? Probably not as they will first be doing hybrid models when it comes to the successor of the Aventador or the Huracan, but by the third millennium we probably be looking at an all-electric powered Raging Bull.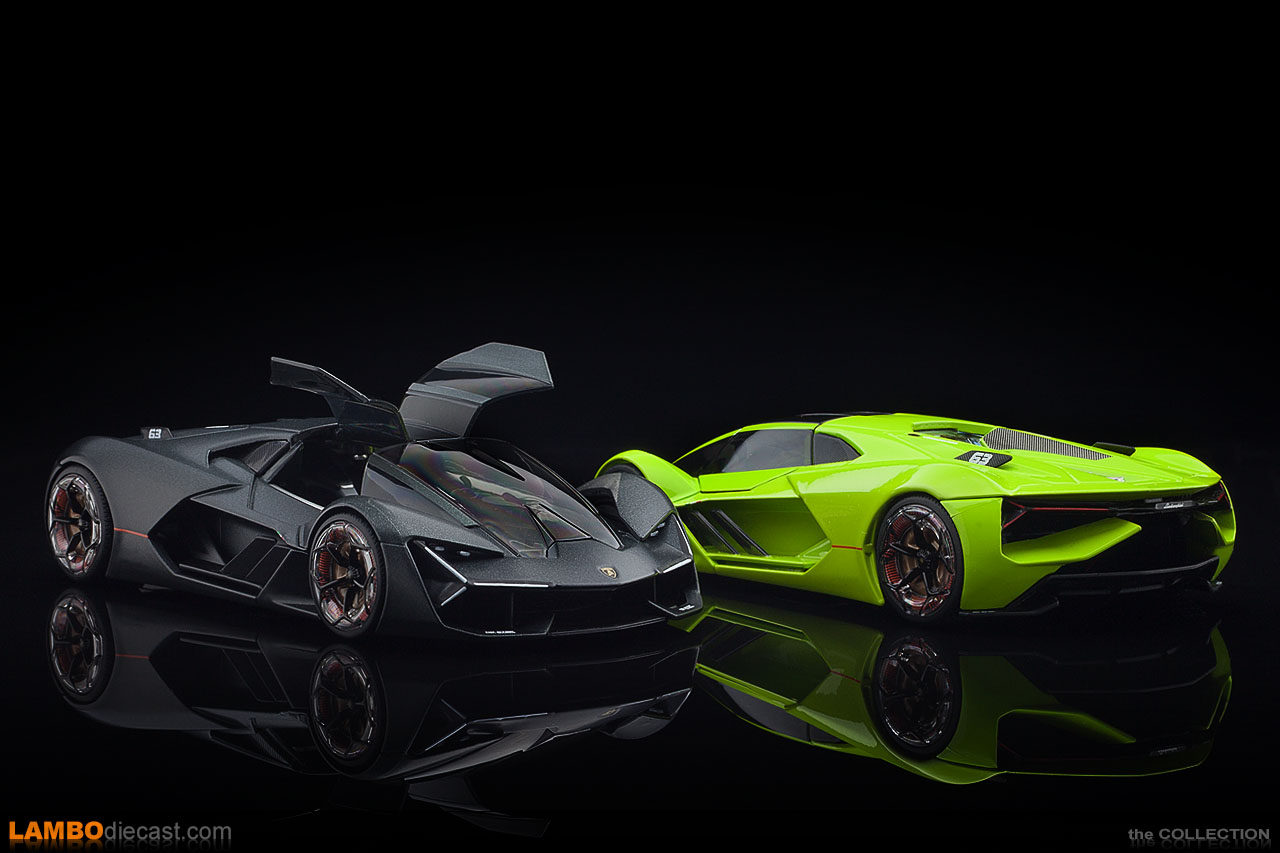 I have had one question posed a few times after I published my review on the green Bburago made Terzo Millennio, and it's about the doors ... this model comes with gullwing doors, they open upward, but not forward as on the V12 flagship models from Lamborghini since the Countach, that type of door opening would not be possible on the design of the Terzo Millennio, so fellow collectors asked if this is the way the door open on the real Lamborghini Terzo Millennio.
Well ... no. That is, I don't know, and to be honest, nobody knows as the real Lamborghini Terzo Millennio is a concept car, it doesn't drive, it does not have an engine (not even electric ones, it's a static mock-up with working lights) ... but more importantly, the real Terzo Millennio has no interior ... and no doors. So only the people at the Lamborghini design studio know if the Terzo Millennio has doors, and how they open ... but if you look at the car from every angle, this type of gullwing doors would work ... either that or the entire canopy opens up as seen on either the V12 Vision Gran Turismo concept or the Egoista.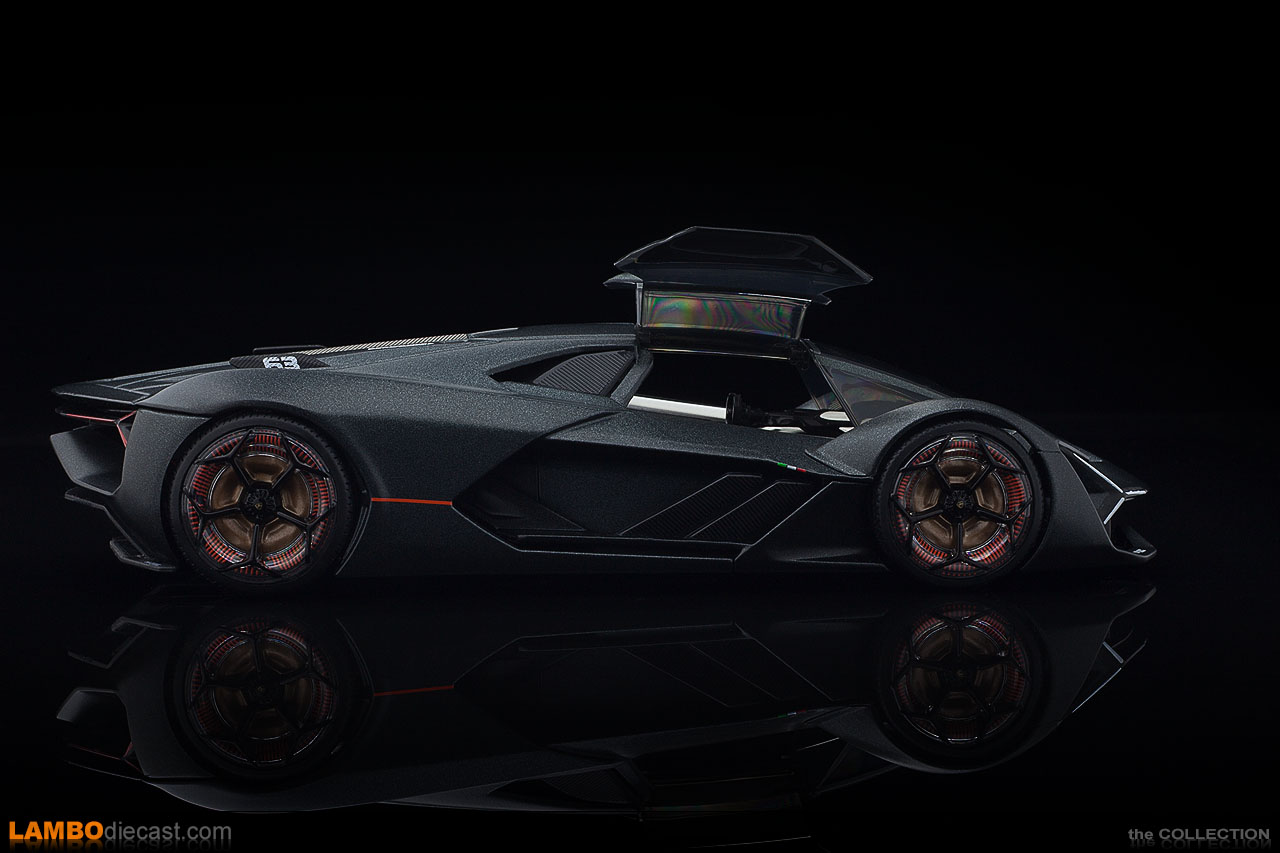 So where did these doors and the interior seen inside the Bburago came from? I can only guess they talked to the people at the Lamborghini Centro Style and used their input to create this scale model ... in the end, every scale model made has to be approved by Lamborghini, so I would think they took a close look at these 1/24 scale models too in Italy?
This model comes with those impressive, orange wheels like the real car, just keep in mind on these 1/24 scale Bburago models there is no working suspension and the front wheels don't steer, they are fixed in place, also apart from the small, roof hinged doors, nothing else opens up, you can't look underneath the rear hatch to find ... the batteries?
Bottom line
This Bburago made 1/24 scale model of the one and only Lamborghini Terzo Millennio is being sold at €15 at the time of writing, and despite this being a toy, I really like it, and I have no regrets adding it to the collection, I can be just as happy with a €15 model as with a €300 model ... it's all about Lamborghini for me, and if the model looks good, I'm happy, and these small Bburago toy cars do look good lately ... just don't compare them to 1/18 models that are ten times the price or even more ... that's not the point of these models, and that's not the market Bburago wants to reach with them.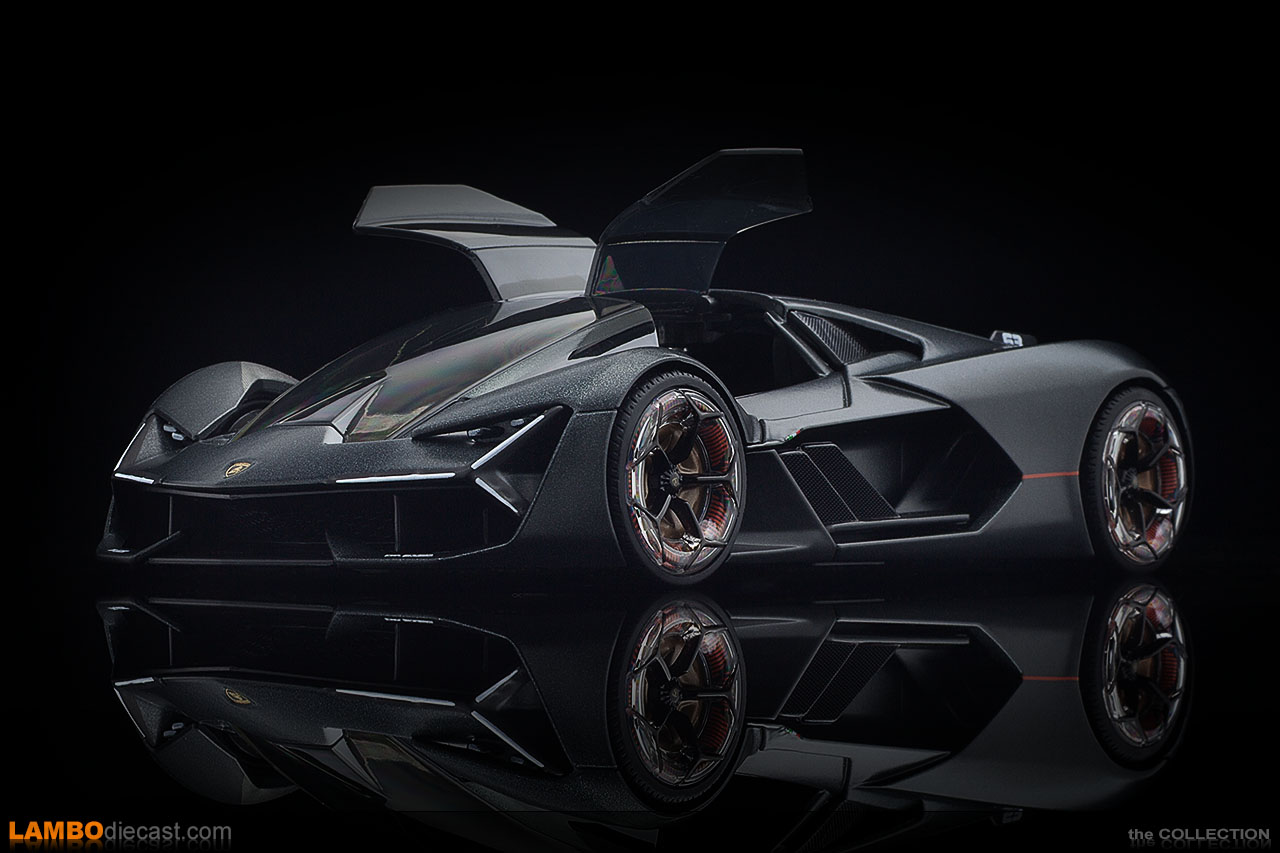 Too bad Bburago isn't doing a 1/18 scale model of the Terzo Millennio, or even Maisto in their Exclusive Series (the Centenario from the latter is really a very good model for the price), but I did hear we'll be getting the Sian in larger 1/18 scale, so that's good news too.
So should you buy this 1/24 Terzo Millennio by Bburago? Well, it's not a collector's item, it's not that perfectly finished and finely detailed, but for me, it's a Lamborghini scale model, and that's enough for me, if you are a collector with 1/18 AUTOart, MR and other high-end makes like that, this 1/24 scale Bburago isn't for you.
our RATING
Exterior
7/10
Interior
6/10
Engine
Not visible
Accuracy
6/10
Overall rating
7/10
Original price : € 15