At one point in history Walter Wolf was interested in buying Automobili Lamborghini SpA altogether, but in the end that never happened, and apart from a few very special cars the major influence of Wolf on Lamborghini was the development of the Countach S back in the late Seventies ... the customisations Wolf requested on his personal cars would eventually be commercialized as the Countach S model.
The real car
This Canadian owned his own Formula I racing team bought several Lamborghini, his first Countach was a white LP400, a fairly standard model that came with a roof wing, but Walter Wolf became famous for his 'special' Countach, he had three of them made, all equipped with an especially designed 5.0-Liter engine. In September 1974, Wolf received his first 'customized' Countach, a bright red LP400, chassis nr. 112.0148, this car was equipped with the special 5.0-Liter engine and large Pirelli P7 tires, which required enlarged wheel-arches. A front spoiler and an adjustable rear wing were also installed. Along with a special F1-type steering wheel with 'Walter Wolf' engraved in it, special AP disc brakes with eight calipers and a Borg & Beck double-disc clutch, it all added up to a unique Countach.
In April 1975 Wolf received a Lamborghini Miura SV, this car with chassis number 5092 was built from spare parts three years after the Miura production was halted ... only a year later, in early 1976, Walter Wolf bought his second 'special' Countach, this one with chassis nr. 1.120.202, was modified the same way as his first car, the 5.0-Liter engine was put into this chassis, but it remained a Lamborghini property, it wasn't owned by Wolf himself.
This car was finished in a brilliant Bugatti light-blue, with natural leather upholstery, gold-colored wheels, and gold pinstriping. The wheel-arch extensions were black and this time the rear wing was electrically adjustable from within the cockpit. This car also featured Walter Wolf signets and Canadian flags, a 1/18 scale model from Kyosho is the one we are looking at here.
Wolf's third 'special' was actually the first LP400 S built. He had the same 5.0-Liter engine installed, together with his double-disc Borg & Beck F1-type clutch and the eight-caliper disc brakes, which were now fully adjustable from within the cockpit.
The scale model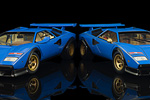 The bright blue Lamborghini Countach Walter Wolf was originally delivered with small, gold painted exterior rearview mirrors, that is the version Kyosho made originally and it came with order number 08323BL, but many years later Kyosho did a re-release of this blue Countach, this time with aerodynamic rear view mirrors that were added after Wolf sold this car ... keep in mind the engine was removed by Lamborghini at this time and a 4-Liter version was fitted, now called 08323BLL by Kyosho.
I know AUTOart also released the two Walter Wolf Countach (red and blue), but as I already own these exact models from Kyosho I haven't made the AA ones a priority, but when Kyosho released this second version of the blue WW Countach I wanted to add it to my collection ever since ... but it seemed other models always came first and I never managed to get one ... until recently I saw this very model highly discounted online ... and I couldn't resist anymore.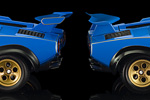 Upon closer inspection the exterior rearview mirrors aren't the only difference between these two Kyosho 1/18 Countach WW models ... the rear wing is different too, on the earlier release there are no endplates on either side of the rear wing, on this second release there are large vertical fins installed ... but the struts are an error on this second release, Kyosho should have left the struts from the original release on this wing too.
Also, note the interior ... the shade is different, the new model comes with a much lighter shade of tan leather, and also the seat-belts are different, originally Kyosho used blue seat-belts, but this more recent model comes with blue seat-belts fitted ... both do still feature the gold plaque on the door sill of the driver's side however.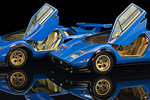 One more detail is the black ... the wheel arch extensions and front bumper ... on the original Kyosho model these are glossy black, but on the new release Kyosho turned to a more satin finish ... which in my opinion looks better, and is correct with the real car in fact.
Today the real Countach 1.120.202 is a mix between these two Kyosho models ... the rear wing still has the vertical fins, but the exterior rearview mirrors have been returned to their original form, albeit painted a satin black now instead of gold.
Bottom line
So should you add this Kyosho 1/18 scale model of the Lamborghini Countach LP500S Walter Wolf special to your collection? For me, a definite yes, all of the WW Countach are a part of Lamborghini history, so I have to add them to my collection, but should you try to get the original release from Kyosho or this second, modified version?
Well, I think not many people actually like the rear view mirrors of this second release, I wanted to add this specific model because I already owned the original one, but if you don't have a Bugatti Blue Walter Wolf Countach in your collection I would opt for the first release, especially the detail on the dashboard is much better compared to the more recent model ... but these days prices on the 'older' Kyosho models are so high I would advice you to get the AUTOart version instead, AA did an amazing job on their Countach models, and as they also offer this specific blue Countach Walter Wolf I would go for that one now.
Originally released in August 2012.
our RATING
| | | |
| --- | --- | --- |
| Exterior | | 6/10 |
| Interior | | 7/10 |
| Engine | | 6/10 |
| Accuracy | | 8/10 |
| Overall rating | | 7/10 |
Original price : € 110