Welly has been a source for some nice 1/18 scale diecast models for quite a while already, I have two of their Diablo SV models that look rather nice ... and are a lot less expensive than their AutoArt counterparts, while the Welly Miura SV might be a low cost model ... but that doesn't mean bad quality and their more recent Aventador LP700-4 is one of the best quality 1/18 models in that price range.
And they eve have a higher quality series called FX Models with a little better paint quality and a better finished interior, complete with carpets inside this 1/18 scale white Aventador LP700-4, the latest release from Welly is in their NEX series and shows a 1/18 version of the new Lamborghini Huracan LP610-4 ... while available in green metallic and yellow metallic in most countries, for Europe the only shade available at this time is this red metallic.
And to make things even worse, in the USA prices for this model are around the €30 mark ... in Europe they sell her at €40 to €50, problem is shipping costs and import taxes make it way too espensive to buy outside of Europe these days on models in this price range ... but I got reallly lucky with my red metallic Welly made 1/18 Huracan ... she was listed as an auction and I managed to secure her for just under €30 in the end from a seller in Germany.
Took only two days for the DHL parcel to arrive on my doorstep, so I could enjoy this new Lamborghini Huracan LP610-4 scale model really quickly ... and I have to say this model really surprised me in a very positive way ... the quality of this Welly diecast is in fact really, really good.
Keep in mind we are talking about a Bburago/Maisto price level diecast model, so we should compare with those models and not with anything AutoArt or MR builds ... I did put her next to my new 1/18 Kyosho Huracan ... but more on that later on.
Let's get the first thing out of the way here ... Welly models come with half open side windows, which to be honest I don't like, you either have no side windows, like Bburago for instance, or you have fully closed side windows like Kyosho and AutoArt ... but I knew that beforehand, so I don't think it is something to dwell upon as being an issue ... with a Welly model you have half open side windows ... period.
First impressions are really good on this Welly NEX 1/18 Lamborghini Huracan LP610-4 model, the red paint looks really nice and has a lot of metallic sparkles in it, the wheels, which are the optional Mimas ones, look nice and show detailed disk brakes and nice calipers ... as with the 1/18 Kyosho Huracan these calipers are black while a nice red caliper would look so much better on this shade.
All grilles on the Welly model are solid, just like on the Bburago model and on the Kyosho one in fact, but do note Welly did put a grille inside the small triangular intake in front of the rear wheel ... unlike Kyosho who simply painted that section black, while the flat intake behind the small side windows is present on this Welly model ... while Kyosho managed to keep the bodywork in one piece along the rear side windows Welly had to revert to an inset part here ... just like Bburago did in fact.
The engine cover on this Welly Huracan is once again the optional glass unit from Lamborghini, it would have been nice to have the standard black louvered model for once, but I guess nobody is making that one, even AutoArt is bringing there model with this optional glass unit ... and once again the Forged Composite that comes with the glass engine hood hasn't been implemented by Welly ... seems like only AutoArt will be giving us that detail in the end.
Other than that the engine detail on this Welly model is reasonable, it isn't the best ... but it isn't the worst either, and for a model in this price range I think it is adequate ... the engine inside this Welly model is more detailed than the one in the more expensive Kyosho model, which reflects the fact Kyosho left something to desire if you ask me ... with the earlier models made by Kyosho all being so highly detailed it is a pity their new Ousia series is rather poorly detailed.
Also the interior found inside this Welly model, which can be admired thanks to the opening doors naturally, is even better detailed than the Kyosho model I compared it too, in fact I like the Welly interior a little more than the Bburago one ... but they are very, very close in the end, so that shouldn't be a deal breaker if you are considering one of these models ... once again a nice two tone interior combining red and black would have been nice.
Because the Welly model is fully opening we can also look at the luggage space under the front hood, two large dog legs to hold up the hood, but what do you expect from a €30 model ... so I don't complain about that, I really like how Welly detailed the luggage space a little.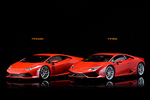 As I mentioned earlier I have put this new Welly model next to the Kyosho model of the Huracan in the same Rosso Mars shade to compare both models, one being a €30 diecast and the other being a €70 sealed diecast ... so what are the differences, and which one should you add to your collection?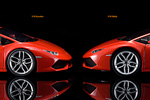 If you look very closely to both models you will notice the Kyosho model has finer details, the Welly metallic paint has larger sparkles while the Kyosho comes with a finer metallic shine.
The wheels look nicer on the Kyosho model too compared the the Mimas wheels on the Welly model, while I prefer the disk brakes on the Welly model. I do admit the stance of the Kyosho model pleases me more ... it looks like the Welly is riding a little high on her wheels while the Kyosho sits nice and low, but do keep in mind the Welly has functional suspension, so I'm sure lowering her isn't that hard to do.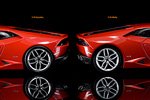 While the taillights on the both makes look good, I think the Kyosho ones look more realistic when compared to the actual Huracan, but the headlights on the Welly are just much better than any other model I have seen on the Huracan to date ... sure the AutoArt 1/18 will be better, but at what price ... €150 or more ... you can buy 5 Welly models for that amount.
If you look closely at these photos you will notice a slight difference in hue between the red metallic paint on the Kyosho model and the Welly model ... if they are trying to pass this shade as Rosso Mars I have to admit Kyosho is the closest to the real paint.
Conclusion
In the end I am really happy with this 1/18 Welly NEX model on the Lamborghini Huracan LP610-4, for €30 this is hands down the best looking diecast in this price range, I have four shades on the Bburago made Huracan, and they are all very nice, but this Welly model is just that little bit better, if you are doubting between a Bburago and this Welly made Lamborghini Huracan in 1/18 scale I would go for this Welly model.
At the same time Welly shows it isn't impossible to create a diecast model that doesn't cost €150 or €200 and still look reasonably well detailed ... comparing her to the Kyosho model, which costs twice as much unfortunately shows Kyosho isn't quite at the level they should be ... however news has come to our attention the next series of Ousia models from Kyosho will be offering photo-etched grille openings and more detailed headlights and taillights ... if Kyosho manages to do that and keep their price at the same level they will once again become great, even if their models are sealed, if the quality is good I really don't care about not being able to open the doors.
Bottom line ... at this moment if you want to get a red metallic 1/18 scale Lamborghini Huracan I would say get the Welly made one, if you want better details ... still get this Welly one and admire it until the AutoArt one comes out ... and spend at least 5 times more on that one, but I'm sure no other model out there will come close to the AutoArt 1/18 Huracan ... but it isn't available yet, and this Welly one is ... so I now own two red Huracan ... and will probably get another shade on the AutoArt one when they are available.
our RATING
| | | |
| --- | --- | --- |
| Overall rating | | 6/10 |
Original price : € 30