Red - page 1
Lamborghini 350 GT
1/18 by Ricko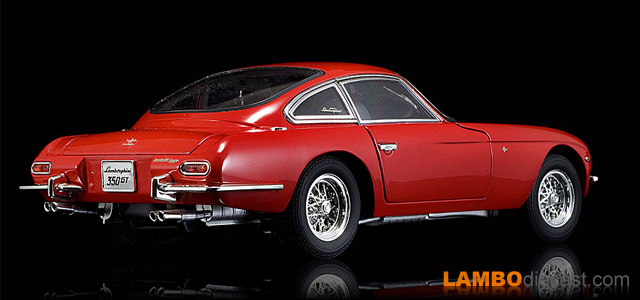 Back in 2009 there was only one builder making a 1/18 model of the Lamborghini 350 GT, Ricko and I must admit that it looks really nice with some great details.
Lamborghini 350 GT
1/43 by Small Wheels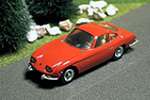 A very old white metal scale model of the Lamborghini 350 GT in 1/43 made by Small Wheels
Lamborghini 3500 GTZ
1/43 by Looksmart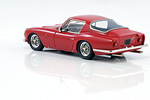 The very rare Lamborghini 3500 GTZ by Zagato reduced in the nice 1/43 scale by Looksmart, this is the red version.
Lamborghini Acosta
1/43 by White Box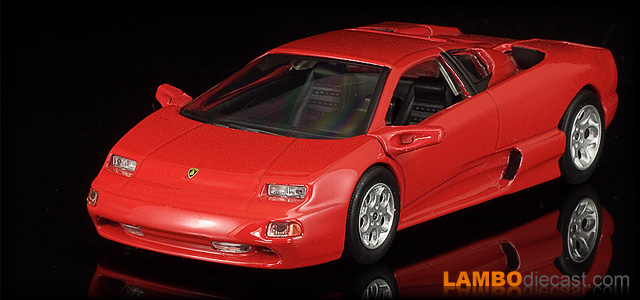 A rare scale model of the unique Lamborghini Acosta concept prototype shown in the factory museum
Lamborghini Aventador J
1/18 by AUTOart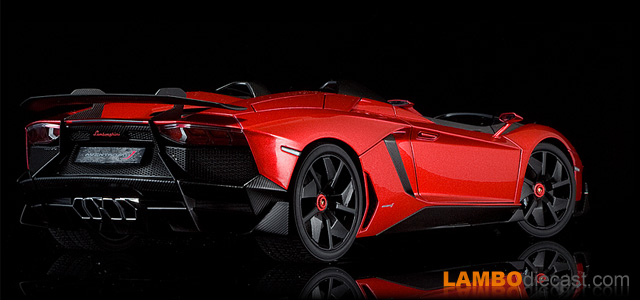 I didn't get the expensive MR model of the amazing looking Lamborghini Aventador J or Jota, but when AutoArt released the model I was eagerly awaiting this dark red metallic shade.
Lamborghini Aventador J
1/43 by AUTOart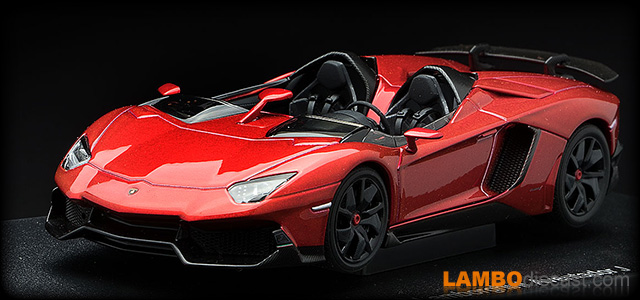 I already had the larger 1/18 scale model from AUTOart on the stunning Aventador J in my collection, but this smaller 1/43 version just had to be added.
Lamborghini Aventador LB-Works
1/18 by AUTOart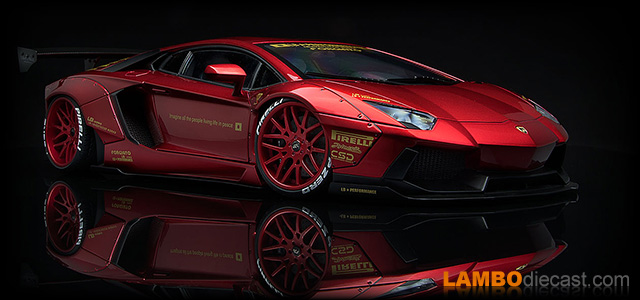 I had my eye out for this special, metallic red version of the Lamborghini Aventador LB-Works from AUTOart for a while now, finally added it to my collection.
Lamborghini Aventador LP700-4
1/24 by Maisto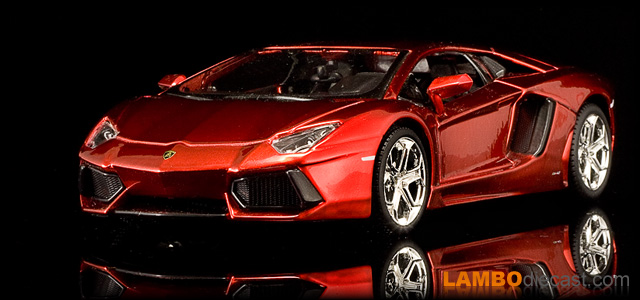 A very nice, red metallic shade on this Lamborghini Aventador LP700-4 made by Maisto
Lamborghini Aventador LP720-4
1/64 by Bburago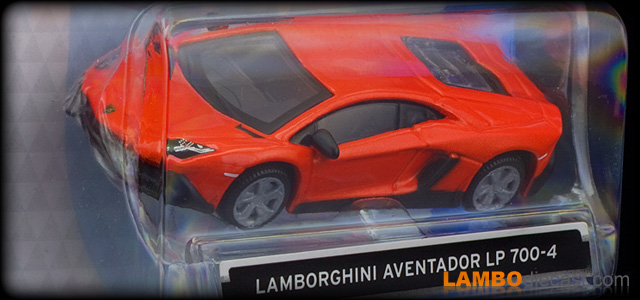 Bburago lists this as an Aventador LP700-4, but it is in fact a model of the LP720-4 version.
Lamborghini Aventador LP750-4 Superveloce
1/18 by Kyosho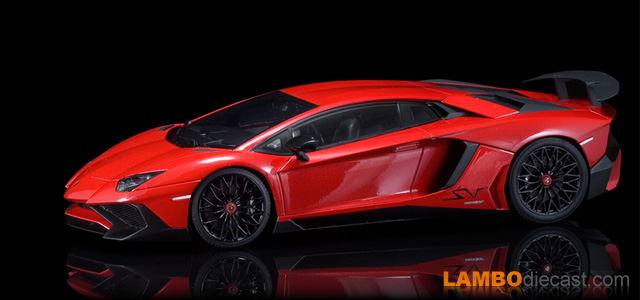 The impressive Lamborghini Aventador LP750-4 Superveloce in Rosso Bia nicely scaled down to 1/18 by Kyosho
Lamborghini Aventador LP750-4 Superveloce
1/24 by Bburago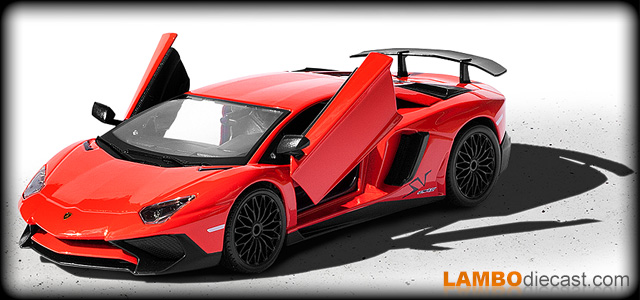 A rather nice 1/24 scale model of the impressive Lamborghini Aventador LP750-4 Superveloce finished in red made by Bburago
Lamborghini Aventador LP750-4 Superveloce
1/64 by Kyosho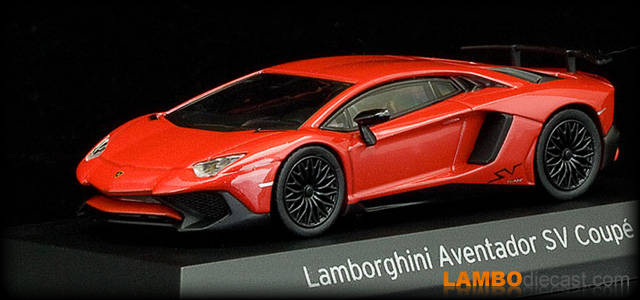 These 1/64 scale models from Kyosho can hardly be called toy, these are nicely detailed collector's items, like this Rosso Bia Aventador Super Veloce
Lamborghini Aventador LP750-4 Superveloce
1/64 by Tarmac Works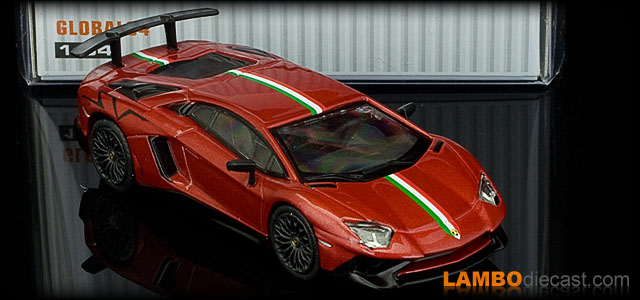 The Lamborghini Aventador LP750-4 Superveloce in Rosso Bia with Tricolore stripe in 1/64 scale from Tarmac Works
Lamborghini Aventador LP750-4 Superveloce
1/64 by Majorette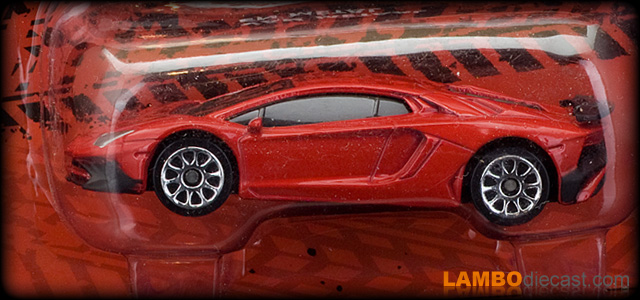 The Lamborghini Aventador LP750-4 Superveloce from Majorette in 1/64 scale made for Dreamland in Belgium
Lamborghini Aventador Miura Homage
1/64 by Hotwheels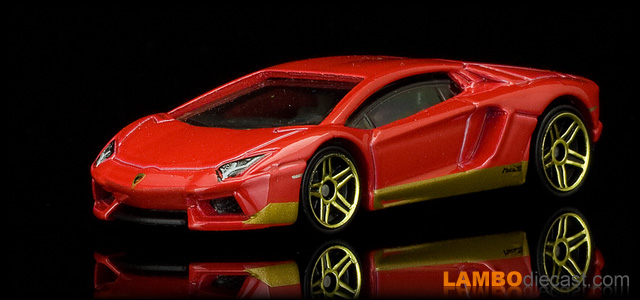 Lamborghini released a special edition of the Aventador to celebrate the 50th Anniversary of the Miura, this is the Hotwheels scale model for that one