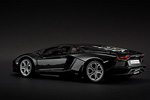 The one of a kind, custom hand built Lamborghini Aventador Roadster concept was based on a regular 1/18 scale black Aventador, but with the rumors about the Roadster being unveiled at the 2012 Geneva Auto Show I started playing around in PhotoShop to see how it could look ... and I really liked what I came up with ... to the extend I imagined I would be able to create it in real life ... 1/18 scale that is.
So I took one of my Aventador models and took it apart completely before I started looking at how I could get the look I was thinking about, after several hours of careful measuring, taping and finally cutting my first attempt at the Aventador Roadster was finished. Naturally the cutting left some scares around the roof part of the Lamborghini, so they needed to be covered up.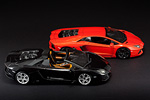 I took a black model as I really like black, and decided to put mat black paint on some sections ... by hand, which sadly didn't turn out to be my best idea in the end, apparently I'm not as good with a pencil as I imagined. But the look was there, and I honestly was rather happy with the result, sure it was a bit rough, but as a concept it looked just the way I wanted it to look.
Days later I was standing eye to eye with the amazing looking Lamborghini Aventador Jota at the 2012 Geneva Auto Show and started thinking about my Roadster concept ... which as it happened didn't get unveiled in 1:1 scale at the show, so no Aventador Roadster at the moment, only a one off custom made Jota edition that was sold on the spot for a lot of money.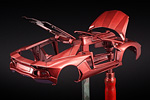 Back home I took a second look at my black Aventador Roadster and took it apart completely once more, it was time to put the details right and get rid of the rough look from my hand painting, so I perfected the arch at the top of the windshield and stripped the car of its paint ... to put on a very special shade of red, in a stunning metallic shade. Sure this isn't the same shade as the Jota, but I wasn't attempting that look anyway, I did add some extra mat black on the bodywork however.
This red metallic was a very nice shade, but I wanted to go the extra Mile on this one, so after carefully polishing and waxing the model it had the shine I wanted, combined with the intimidating looking mat black my Roadster looked ready ... almost.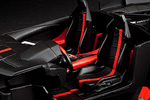 I put in several hours to get to this point, a very good looking exterior, so while I was at it I also attacked the interior with some red and black paint ... which took hours to mask I might add, but the result is so worth the time and effort. I really like the combination of the dark black look with the bright red shade ... I know some people don't like the red metallic against the bright red details on the inside, but I think it 'clashes' just enough to look good.
So almost finished? Nope, not really ... I had some 1/18 seat belts in bright red around, so I installed these in the Aventador Roadster, continued with some drilled pedals and made my own decal for the dashboard cluster ... from an actual photo of the real display, how's that for authenticity ?
Another detail I added were the side windows, on a closed Aventador you might get away with no side windows, but an open version like this Roadster just screams for correct side windows, so a lot of measuring and fitting later I had two decent looking windows in place.
The final touch were the wheels and disk brakes, as the original black Aventador I used for this Roadster concept didn't have brake calipers and rode on silver wheels I decided to swap them with a newer model I received ... stunning glossy black wheels covering drilled disk brakes and black calipers, just the dark look I wanted.
A didn't like the chrome exhaust either so I went for a mat black paint and made a nice interior for it resembling the new quad pipes found on the Aventador Jota, and finally I put some red paint on the engine to really make a difference ... it might not show at first sight, but these small details make the overall look so much better.
Finishing the concept with a nice custom made license plate and new door sills and I now have a truly one of a kind 1/18 diecast model that depicts the stunning Lamborghini Aventador Roadster ... probably only a concept, but I think the real car will have a similar look when we finally get to see it.
our RATING
| | | |
| --- | --- | --- |
| Overall rating | | 8/10 |
Original price : € 199