| | |
| --- | --- |
| 135 items listed | Page : 1 2 3 4 5 6 7 8 9 |
Black - page 6
Lamborghini Gallardo LP550-2
1/64 by Kyosho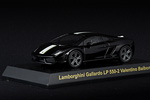 Black always looks good on a Lamborghini, especially on the limited edition Valentino Balboni special, the Gallardo LP550-2.
Lamborghini Gallardo LP560-4
1/18 by AUTOart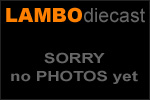 Black always looks mean on a Lamborghini, and this 1/18 scale AUTOart version of the Gallardo LP560-4 is no exception ... she looks amazing.
Lamborghini Gallardo LP560-4
1/43 by Looksmart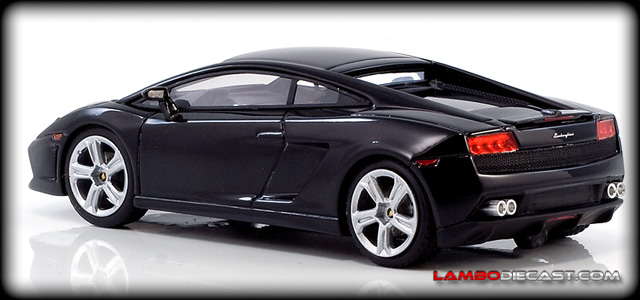 The stunning Lamborghini Gallardo LP560-4 finally made it into a scale model, this stunning 1/43 unit made by Looksmart is an excellent addition to your collection.
Lamborghini Gallardo LP560-4
1/43 by Minichamps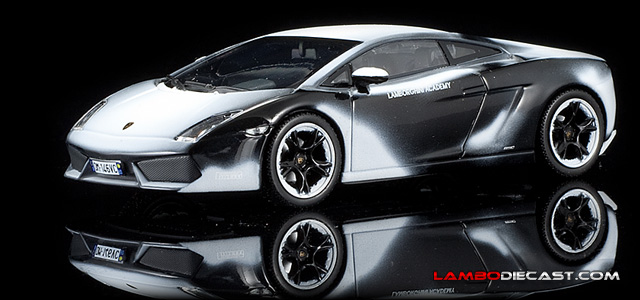 This isn't the regular 1/43 scale Gallardo LP560-4 from Minichamps, it is in fact a replica of the Lamborghini Academy of ice car, complete with snow and dirt on it.
Lamborghini Gallardo LP570-4 Blancpain Edition
1/43 by Looksmart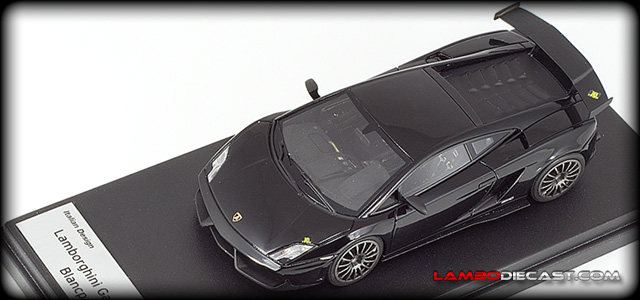 Check out this amazing scale model by Looksmart of the very limited edition Lamborghini Gallardo LP570-4 Superleggera Blancpain edition.
Lamborghini Gallardo LP600
1/18 by Minichamps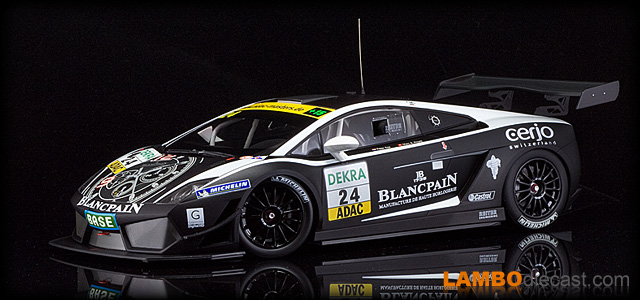 The 1/18 Gallardo LP600 GT3 2011 by Minichamps in the black Blancpain livery driven by Peter Kox and Marc A. Hayek.
Lamborghini Gallardo Nera
1/18 by Norev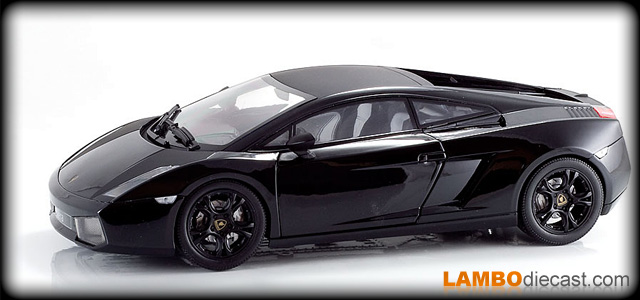 The limited edition Lamborghini Gallaro Nera has been nicely rendered in 1/18 scale by French based Norev, even the Q-Citura stitching on the seats has been reproduced.
Lamborghini Gallardo Spyder
1/18 by Bburago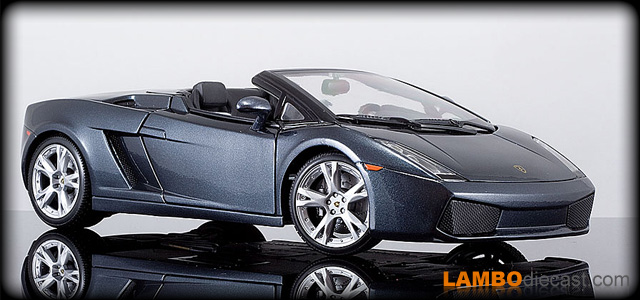 Personally I like a black Lamborghini, so when Bburago made a black Gallardo Spyder in large 1/18 scale I didn't hesitate to add it to my collection, and with the dual tone interior it looks amazing too.
Lamborghini Gallardo Super Trofeo
1/18 by Mondo Motors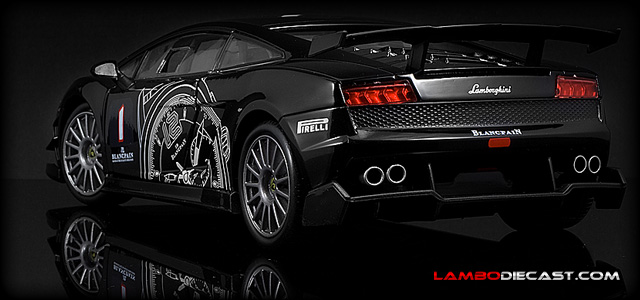 It came as a total surprise to me when I discovered a big 1/18 scale model of the Blancpain Super Trofeo race car made by Mondo Motors. For the asking price these are really well finished by the way.
Lamborghini Gallardo Super Trofeo
1/18 by AUTOart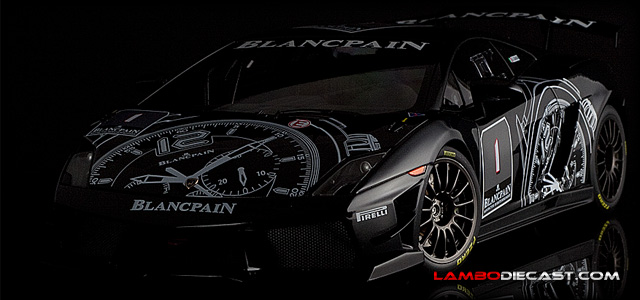 I finally received my black Lamborghini Gallardo Super Trofeo in 1/18 by AutoArt, but the wait was worth it, this is one amazing looking track car.
Lamborghini Gallardo Super Trofeo
1/24 by Maisto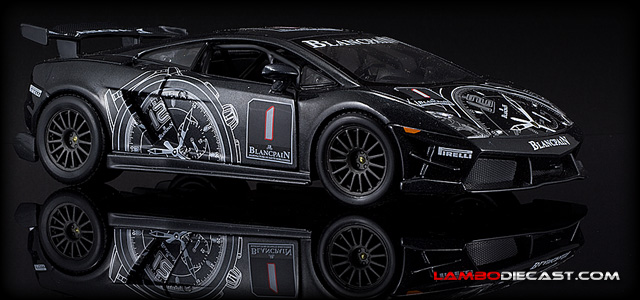 The Lamborghini Blancpain Super Trofeo is one of the most recent additions to the one-make championship scene, based on the Lamborghini Gallardo this race car has been nicely scaled down to 1/24 scale by Maisto.
Lamborghini Gallardo Superleggera
1/18 by AUTOart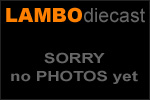 The Lamborghini Gallardo Superleggera in black is an intimidating looking V10 Bull, AUTOart captured this very nicely in this 1/18 scale model.
Lamborghini Huracan LB-Works
1/18 by AUTOart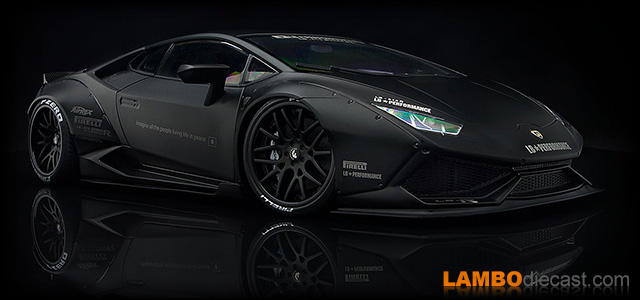 I didn't buy this Nero Nemesis finished Lamborghini Huracan LB-Works in 1/18 scale from AUTOart when they came out ... but now I finally added it to the collection anyway.
Lamborghini Huracan Super Trofeo EVO
1/32 by Lego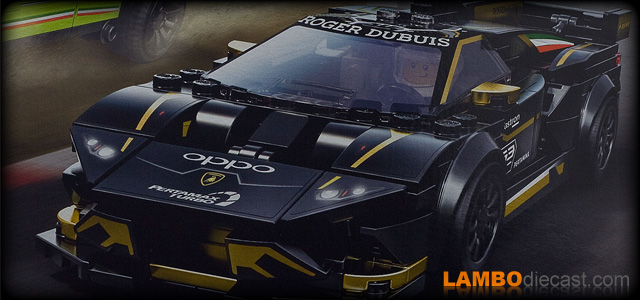 A nice Lamborghini Huracan Super Trofeo EVO model from LEGO in their Speed Champions series, this one comes together with the Urus ST-X concept.
Lamborghini LM 002
1/18 by Kyosho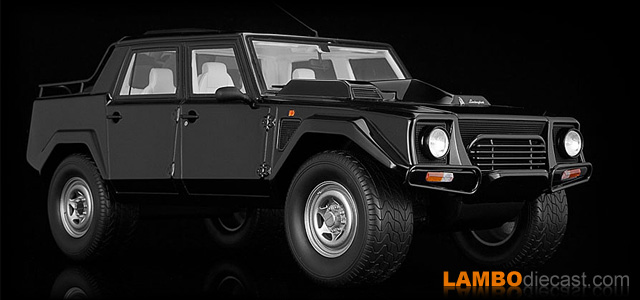 Finally, another large 1/18 scale model of the Lamborghini LM002, the predecessor for the Urus we know today, this black Kyosho model is just amazing.
| | |
| --- | --- |
| 135 items listed | Page : 1 2 3 4 5 6 7 8 9 |