I know I have been reluctant about both the Turquoise shade and this Verde Sandag shade on the Lamborghini Murciélago LP670-4 Super Veloce made by AutoArt in 1/18, I saw the Turquoise shade on a hand sample before they were available on the market, and let's just say I was not too impressed with it ... I even went as far as cancelling my pre-order on it, replacing it with the Rosso Targa shade, which I really like by the way.
Over time I managed to buy six shades on this AutoArt model, but when I encountered the Turquoise shade again during an Italian car show, where I could take a look at the shade outside in the sunlight I was impressed, sure this wasn't a metallic shade, but it did look great, so it was added to the collection ... AutoArt SV number 7 was a fact ... now only the Verde Sandag was still missing.
The problem with this green shade is that it looks so different if you look at photos on the internet, sometimes it looks like Verde Ithaca, a shade I really love on the Lamborghini by the way ... but on other shots it looks so pale that I really don't like it. And keep in mind this is a flat shade too, no metallic flakes in Verde Sandag, so I set my mind on waiting for AutoArt to release the Super Veloce in Verde Ithaca and pass on the Verde Sandag.
But life can sometimes have some strange turns ahead ... one day my brother in law visits Rob from Carmodelz.nl, and Rob still had the Verde Sandag in stock so my fellow collector could see and judge the shade in real life ... so he bought it ... and gave it to me as a present ... how cool is that?
And I must admit it looks close to the metallic Verde Ithaca shade, but it is surely different too, both shades are not similar, for one the Verde Sandag lacks the metallic flakes, but the latter is also a shade paler ... just as I saw in some photos of this car, but in the photo booth under decent, calibrated light this shade looks good, trust me.
Just as with the Turquoise shade you really have to see the Verde Sandag in real life to decide if you like it or not ... and I like it, can't say I really love it, but it does look beautiful on the Murciélago Super Veloce nonetheless.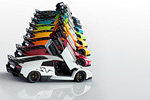 With this green shade our collection of AutoArt made Lamborghini Murciélago LP670-4 Super Veloce is complete, we now have all 8 shades on our collection, and you have to admit the overview shot looks very, very impressive.
I can't really say which shade on these Super Veloce I like best, but I have to admit the classic yellow isn't the best looking in this row for me, it is an important shade as it was the one used for the Geneva Auto Show and in the official Press Release, but other than that I would prefer getting one of the other shades if you are only buying one.
Just like on the Turquoise shade, this Verde Sandag got the small SV decal on the door, which is the standard one from the factory, the large SV script seen on the side of some shades was a factory option, also note the brake calipers are also yellow and the wheels are glossy black ... I have seen photos of the Nero Nemesis shade with black wheels, however mine is one of the first releases in Europe and it has a kind of dark gun metal gray shade, these aren't black.
Other than that this Verde Sandag has the same pro and con as all the other shades, there is still the 'error' of the side sills being completely black, the engine cover and rear wing shouldn't be so glossy carbon, the dashboard lacks a small carbon section on the sides ... and it would have been nice if the serial number between the seats didn't read 000/000, but this is all 'looking for something bad' ... when I for one really love this AutoArt model ... heck we bought 8 shades of it, which if you look back at it ... was really too expensive.
So bottom line : should you get this Verde Sandag shade ? YES, you should, but go about it in a similar way as we did: make sure to see it in real life before paying it, this is one of those shades you have to see before you can say you like it ... or you hate it.
our RATING
| | | |
| --- | --- | --- |
| Overall rating | | 8/10 |
Original price : € 90