The late Ferruccio Lamborghini didn't want to race any of the cars he created in Sant'Agata, but still, some of his legendary cars were entered into competition ... the massive LM002 SUV was no exception, and in total no less than three of these gargantuan Bulls went racing. The first one was a factory official entry (HLA12047) into the 1987 Rally of Greece driven by Sandro Munari, a second time the LM002 was entered into the 1988 Paris-Dakar rally Marathon category, which meant the car was almost factory standard, finished in bright orange and driven by Concet and Kurzen ... they were forced to retire from the race.
In comes the Lamborghini LM002 chassis HLA12046, built in 1987, this SUV was sold to Madame Mimran ... yes, the same Mimran family that actually owned Automobili Lamborghini SpA at that time (well her husband, in this case, owned a majority of the shares). One of only 301 Lamborghini LM002 ever built, this specific one would become a collector's item by 1996 ... when Andrea Barenghi spent over a year to prepare this LM002 for the famous Dakar Rally.
Barenghi had the 455 hp V12 engine originally based on the Countach QV unit completely taken apart and revised for racing, new ECU units, a special injection system and the removal of the catalysts on the exhaust resulted in a power output of about 600hp now. Add custom AP brakes up front, a modified cooling and lubrication system and a massive 800-liter fuel tank (the LM002 has always been a bit of a gas guzzler) ... and the result is the LM002 Competition version we see here.
Entered into the 1996 Granada to Dakar Rally as number 246, this white Lamborghini LM002 managed to conquer the floods in Southern Spain and the dry desert of Africa ... before it too had to retire before finishing the rally due to spare parts problems.
The LM002 Competition was so powerful it was jumping over the dunes with great ease, but because of the high weight of the SUV, each impact was putting the suspension through a really difficult time ... rumor has it they used up 24 sets of shock absorbers ... before they ran out and had to retire.
Later this rare Lamborghini LM002 was bought by Gildo Pastor, a famous tycoon located in Monte-Carlo and owner of Venturi, he intended to convert this Bull to his personal ATV, but in the end the project was abandoned ... the unique LM002 would reappear for sale at Autodrome in France ... in 2013 she was listed at €160,000 (US$ 209,000 at that time) ... today the listing shows this Lamborghini LM002 HLA12046 is sold.
The scale model
I have seen a 1/18 scale model of this Lamborghini LM002 a few times offered online, but usually at a rather steep price, and from fellow collector's I've seen this model arrive in pieces, ruined during shipment, so as much as I wanted to add this rare LM002 to my collection, I just couldn't risk it ... until I found a listing from a seller in China, for a very reasonable price ... so I contacted them and asked if they could secure the model before shipping, explaining my worry about arriving damaged because of the weight of this model and the use of four screws to hold her down ... these didn't keep the model secure during shipping, hence many of these arrived broken.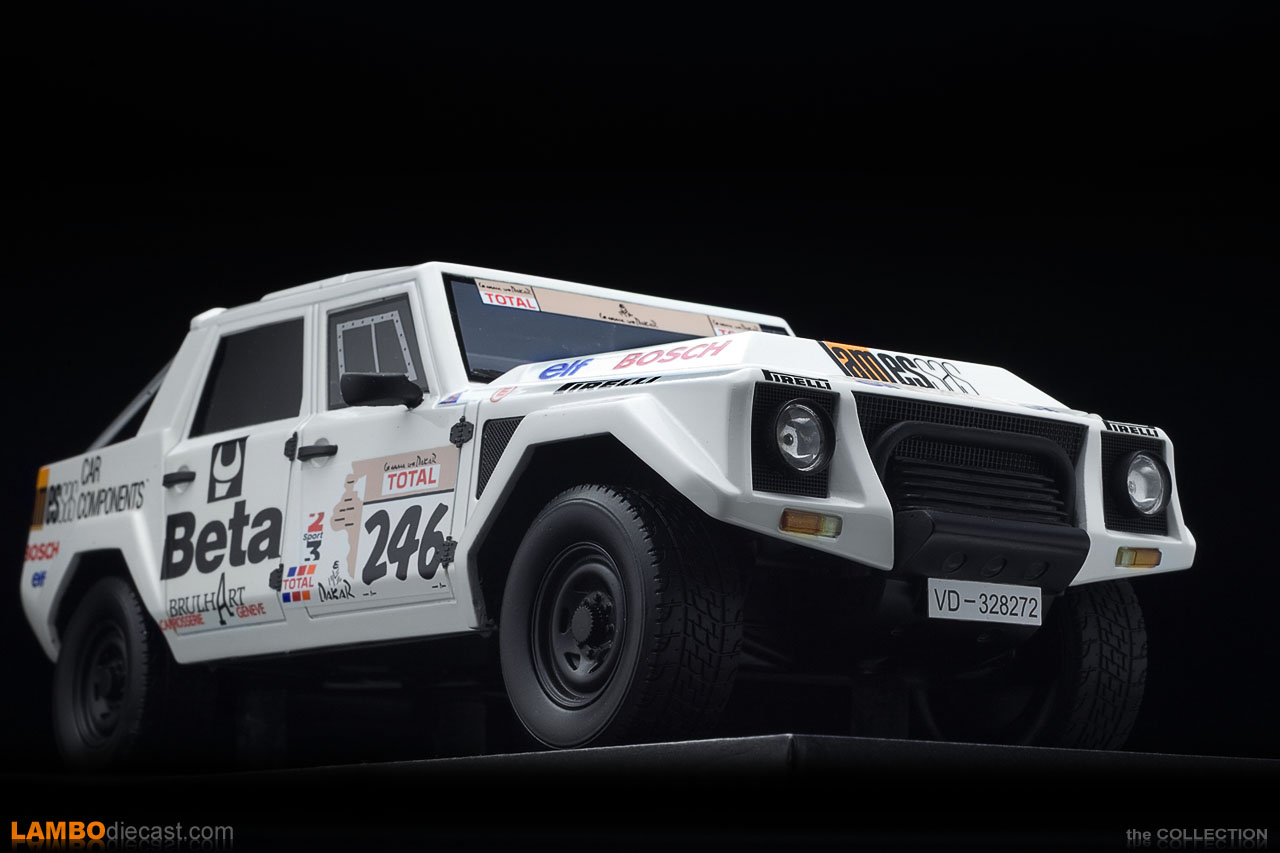 They confirmed me the model would be securely fixed, adding soft straps to hold her down to the plinth during shipping, still I worried for a few weeks as this one traveled all the way from China to my doorstep. Safe to say I was rather stressed opening the box ... but they kept their word, the model was very securely fixed with several additional straps. Which was very lucky indeed, as during shipment three out of the four screws still managed to get loose ... if they didn't have added the straps this model too would be totally ruined.
If you look very closely to this large 1/18 scale model of the Lamborghini LM002 Competition you'll notice several differences between this car and the regular LM002 model, like the new engine cover ... because this LM002 Competition has a modified cooling system the original, boxed engine cover no longer fitted the race-spec engine, so they fitted a new design, this scale model has a perfect replica of that engine cover, very nice.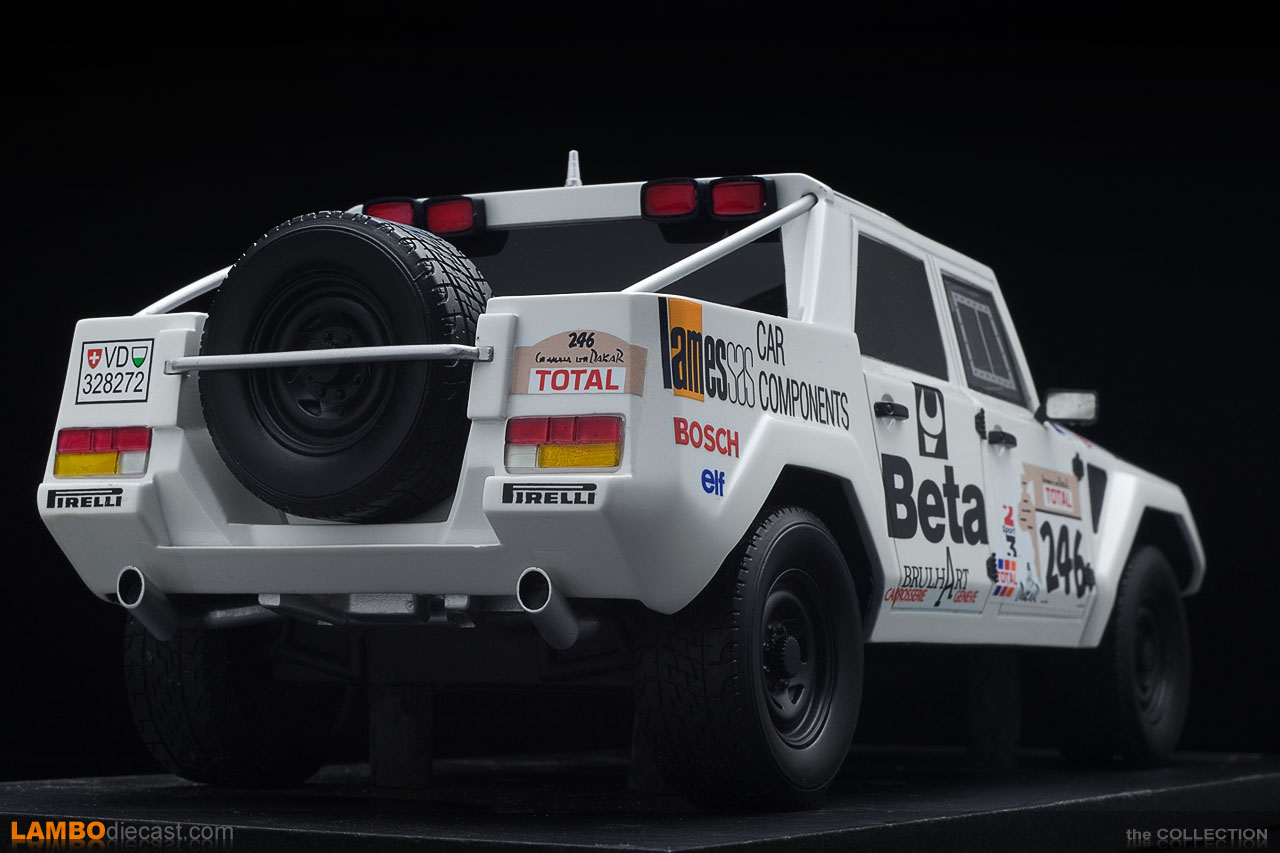 At the rear there are some differences visible too, like the spare tire now has a bar running across it, they fitted a better roll-over cage at the rear and a cover over the section that usually has the small, additional seats ... under that cover they fitted the large 800-Liter fuel tank probably ... all of this is nicely scaled down to 1/18 on this model. Four additional brake lights are fitted at the rear of the roof on this LM002 Competition.
Naturally the biggest difference between the LM002 Competition and the factory original LM002 can be found inside, the Competition version comes with two bright red racing seats with multi-point Sabelt seat belts, and that's not even all of it, check out the dashboard ... a lot of additional dials and switches are fitted in front of the passenger (or should we call it the navigator) seat ... and once again this scale model has them too, very nicely done, and some great attention to detail.
Bottom line
I'm really happy this model arrived without any damage, it is truly a very special version of the Lamborghini LM002, the first SUV made in Sant'Agata back in the Eighties, and while this is another sealed resin model and nothing opens, I firmly believe that at this price it was a bargain.
Sure it has sealed grilles, and the paint is applied a bit thick (as usual with white on less than high-end models), but still, I like it a lot, the decals are fitted nicely and don't have a large transparent section surrounding the letters, these have been applied very nicely indeed.
Is this a must-have then? I would say it's a very, very nice to have model, it's part of a brief moment in history when Lamborghini cars were entered into racing or rallying by private owners ... I love it because it is so over the top.
our RATING
Exterior
8/10
Interior
7/10
Engine
Not visible
Accuracy
8/10
Overall rating
8/10
Original price on August 5, 2019 : € 120