Back in 2011 Reiter Engineering had their Lamborghini Gallardo LP600+ GT3 race car competing in various tournaments all over the world, so when Minichamps released a 1/18 scale model of the black and white Gallardo LP600+ GT3 entered into the ADAC GT Masters season for 2011, driven by Peter Kox and Marc A. Hayek I just had to add it to my collection, normally I don't collect livery race cars, but this one was special as I've met and talked with Hans Reiter, Peter Kox and Mark Hayek on a few occasions, and I've seen that car in real life ... so I had to add it.
Minichamps also made a plain white livery version, and I just love a white race version of any Lamborghini, without any sponsors or decals, so that one has been part of my collection for a few years now too, and that one stands proudly next to my AUTOart Gallardo GT3 FL2 and my original Meko Models Gallardo GT3 ... two stunning models, and the white Minichamps doesn't look out of place at all.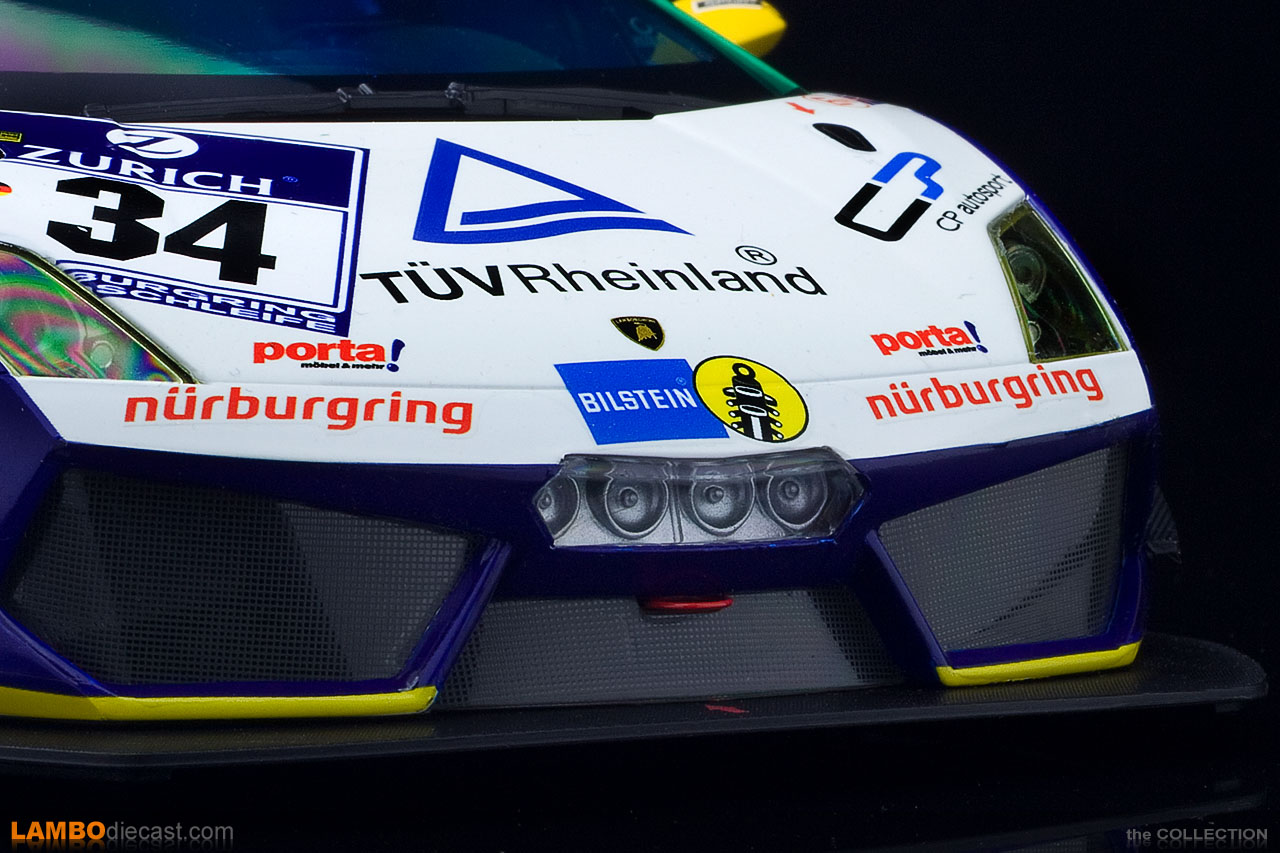 So I had two of these Minichamps made Lamborghini Gallardo LP600+ GT3 models in my collection, and I was quite happy with that ... until I discovered one of them had a feature that neither of the models in my collection had ... additional, center mounted lights. These are used for 24h racing when you need the extra light during the night, and only the 2011 24 Hours of Nürburgring version came with these lights.
So I set out to add this car to my collection too, the real car was entered into the 39th edition of the 24 Hours of Nürburgring by Reiter Engineering and had four drivers behind the wheel, Ferdinand Stuck, Johannes Stuck, Hans-Joachim Stuck, and Dennis Rostek, entered into the SP9 GT3 class, this special V10 race car would complete the entire 24 hours race with 148 laps, securing a 15th place overall and a 10th in class result.
During this weekend of 25-26 June 2011 no less than 202 cars were racing for glory on the Nürburgring, only 135 would reach the finish on Sunday, and Audi R8 LMS would take the SP9 GT3 class win with 155 laps ... only 7 more than the Lamborghini Gallardo LP600+ GT3.
The scale model
So Minichamps decided to create a scale model of this very race car, complete with full livery ... and it comes with a lot of sponsors on the bodywork, and even a gradient like from green to white to blue, personally I'm not a fan of the livery, but the additional front lights were my reason to add this model.
I have to admit this specific model is the least good looking when compared to the plain white livery or the black and white ADAC livery ... the latter two actually look really good, but this one just looks more like a toy, as far as I can detect most of the livery is made up from decals glued to a white body, and Minichamps managed to trap a lot of dust particles under the decals.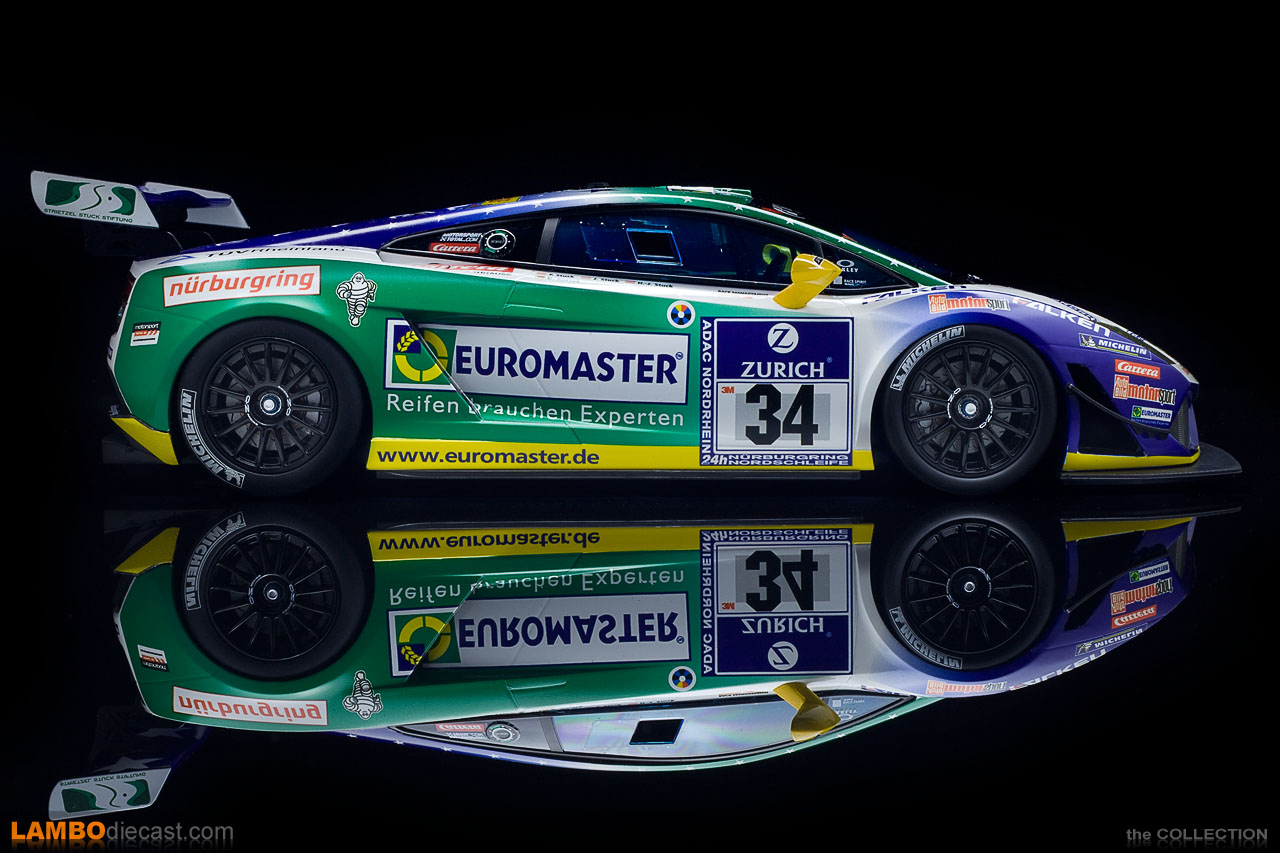 One detail I really like about this model is the window tint, neither of my two other Minichamps Gallardo LP600+ GT3 have this, only this one comes with a bluish green window tint, making it very hard to photograph the interior, but I love it nonetheless.
Bottom line
So should you add this model to your collection too? Now that's a difficult one to answer, for me it's a nice to have, I haven't bought it when it came out, but now I wanted to add it anyway because of the unique detail of the light in the front bumper and the tinted windows ... but as a stand-alone model, I would have to admit I would get either the plain white one or the black ADAC version, they look so much better up close.
One more thing, you might have noticed on the photos the aerial on the roof is missing on my model, and if you look at the photo of the model inside the box ... you'll see the box is damaged and the rearview mirror has left the driver's door and is located in the right corner of the box ...
That's what you get from looking for the cheapest available, which happened to be on Amazon.de ... they shipped it inside a plastic bag! Yep, the box without any protection inside a grey plastic bag ... this caused one of the top bars inside the box to break, probably hit the rearview mirror clear from the door (which I have glued back into place already) and the thin aerial on the roof ... well, that one is gone forever, I will have to put a small pin in it's place.
So my final piece of advice ... don't go for the cheapest out there if it comes from Amazon (or a seller on Amazon) ... they didn't even want to publish my review on my purchase, probably because it wasn't positive ... I will stick to the online dealers I know and eBay from now on ... I have over 800 Lamborghini scale models, and this was the first one I bought from Amazon ... and it will be my last one.
our RATING
Exterior
6/10
Interior
6/10
Engine
Not visible
Accuracy
8/10
Overall rating
6/10
Original price : € 55