At the E3 in the Los Angeles Convention Center from July 14 to July 16 a real Lamborghini Centenario LP770-4 was on display ... in fact that was the first time this 100th Anniversary Bull was shown to the public in North America ... this very rare car would be the star of Forza Horizon 3, a driving simulator for Xbox and PC.
The game would be available from September 27th, 2016 only, but you could pre-order it ... and if you did order the special, limited edition game ahead of the launch you would receive a very nice, 1/43 scale model of the star in the game ... the Lamborghini Centenario LP770-4.
This model was made by Bburago, and we all know their 1/43 scale models ... they are toys in fact, but in case of this limited edition model for Forza Horizon 3 Bburago worked closely together with Microsoft and actually created a very nice, detailed model, sure it isn't a Looksmart, but in real life this model does look really good.
Problem is ... I don't have an Xbox, and I don't like playing games on my PC ... so I didn't order the game to get hold of this special edition Bburago Lamborghini Centenario ... I did keep an eye on eBay and other online sources, but the prices people have been asking for this model are totally ridiculous ... fortunately, I have a really good friend who managed to get hold of two units for a normal price ... and he sent me this one ... completely for free! Thank you again, my friend.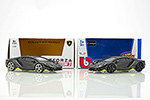 Just to compare this special edition Bburago model against there regular 'Street Fire' series I took this photo ... it clearly shows the massive difference between the two editions, and it also explains why the prices for the Forza Horizon 3 version are still high while the regular 'Street Fire' edition is about €5 each only.
If you are able to locate one of these Forza Horizon 3 they are surely worth adding to your collection, but not at €45 or more as these are usually being listed these days.
our RATING
| | | |
| --- | --- | --- |
| Overall rating | | 6/10 |
Original price : € 25