March 2013 ... Ferrari is getting ready to unveil their pride and joy at the Geneva Auto Show, a car they want featured on the cover of all automotive magazines for months to come, appear on TV all the time ... and what happened next ... Automobili Lamborghini SpA shows the Veneno LP750-4 at the press conference on March 4, 2013.
Suddenly all those hypercars from Ferrari, McLaren and Porsche seem like toys compared to the Lamborghini Veneno, a car that looks more like a LeMans race car than a street car, and still, the Veneno is completely street legal ... Lamborghini used their Aventador chassis to create this exclusive 50th-anniversary model ... only 3 to be built with an MSRP of €3,000,000 before taxes ... and sold out before the public even got to see the car.
In the end 4 Veneno LP750-4 have been built, one that remains property of Automobili Lamborghini SpA with red livery and 3 customer cars ... Verde, Bianca and Rosso ... green, white and red livery, the Rosso and Verde ones were sold to customers in the United States while the Bianca one was initially sold to a client from the Middle-East ... but somewhere along the line rumor has it he sold the Bianca back to the factory for another customer to buy it ... the Veneno Bianca was seen in Hong Kong but no resides in China apparently ... not too many photos exist of this one.
At the time of writing the Veneno Rosso was owned by Antoine Dominic of Lamborghini Long Island while the Veneno Verde was still owned by Kris Singh from Miami ... so there are three different Veneno in the market (there are 9 Veneno Roadster customer cars by the way) and it would be nice to have scale models of those wouldn't it?
MR naturally was the first one to release a 1/18 scale model of the Lamborghini Veneno LP750-4 ... I didn't buy one this time, I felt it was too expensive, but when AutoArt released their version I ordered it immediately ... and fortunately I reacted quickly as stock ran out very, very quickly on the 1/18 Lamborghini Veneno LP750-4 by AutoArt, when the new shipment from AutoArt arrived the price went up by 20%.
AutoArt initially modeled their scale version after the Geneva show car, the one that would remain at the factory and came with the Rosso livery ... however, AUTOart made a few mistakes (read about thos in the review I published) but it is still an amazing looking scale model ... too bad AutoArt couldn't resist creating a series of fantasy shades ... in real life the Lamborghini Veneno only exists in a shade called Metalluro ... so what's the point of buying a scale Veneno in green ... or white ... that does not exist.
After a while, Kyosho released a sealed diecast version of the Veneno in 1/18 scale, but at a much lower price point, naturally the Veneno Rosso was made together with a few fantasy shades ... but Kyosho also offered the Veneno Verde ... Kris's car with the green livery, and while I didn't buy it instantly, when I saw CK offering this specific one at a serious discount I just couldn't resist adding her to my collection too.
We all know the Kyosho 1/18 Veneno isn't really a match to the AutoArt version, if you are looking for fine details and near perfect carbon fiber looks than the AutoArt is the model you should get, and pay over €200 for one ... but shelve presence of these Kyosho models is just amazing nonetheless ... and this green livery version was only €50 in the end.
Sure there is nothing that opens on the Kyosho model and the carbon fiber pattern is a 3D print while the grilles are closed ... ok, I knew all that already, and I still went ahead and got this Veneno Verde ... and I was impressed by the attention to detail Kyosho put into this specific version.
The real Lamborghini Veneno Verde was sold to Kris in the United States of America ... this means orange and red side lights to the front and rear ... Kyosho got this spot on! In fact on the earlier release Kyosho did of the Metalluro Rosso version they left the side lights clear ... so that is a replica of the Lamborghini owned production prototype shown in Geneva because the Rosso owned by Dominic has red side lights at the rear.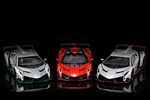 So the Kyosho made Veneno Verde shows same great attention to detail, but still these aren't as finely executed as the more expensive AutoArt version, but should that be a problem? I don't think so, recently AutoArt released a matte black Veneno with green livery, so it might be possible AutoArt will create a regular Veneno Verde too, that would really be interesting ... but at €240 that would still be an expensive model.
I have the AutoArt 1/18 Veneno Geneva show car on display next to this Veneno Verde from Kyosho and the Veneno Roadster from Kyosho ... and from a normal viewing distance they all look really amazing, and that is what counts ... I like to walk by my display case and enjoy my models ... and they all put a smile on my face, despite some being sold for €250 and others for only €30.
Originally released in September 2015.
our RATING
| | | |
| --- | --- | --- |
| Overall rating | | 8/10 |
Original price : € 50