Bburago has released three shades on their 1/18 model of the Lamborghini Aventador at this time, the original Arancio Atlas shade, a Grigio Estoque and this glossy black version, normally within a month or so Bburago should also release a white version however, but for now we'll have to make do with the three colors at hand.
Only the orange version rides on glossy black wheels, both other shades have silver painted wheels, which do look a bit better to be honest, at least they give the impression of being larger, and I must admit the model by Bburago looks nice, but it has one default : the scale isn't correct !
If we measure the model completely and check the real life measurements on the Lamborghini Aventador it looks like Bburago made this one in 1/19 scale instead of 1/18 ... one possible reason could be that it wouldn't fit in the standard Bburago box anymore, a pity really as this model is very nicely detailed and finished for a die cast model ... if only it would be scaled down correctly.
Anyway, the black shade with a two tone brown over black interior is a very nice combination, this is a standard gloss black lacquer, perhaps a nice metallic black shade would be a bit more impressive, but this looks nice too ... let's hope they bring out a metallic white or a matte white version too, that would really be nice.
For now these are the only 1/18 scale models of the new Lamborghini Aventador on the market, MR will be releasing their sealed model too in a few weeks, talk on the internet is that Mondo Motors and Maisto will also be building a 1/18 model but my guess is that the Maisto model will be identical to these Bburago models but in a different box.
I'm almost sure AutoArt will be building this Raging Bull too in the future, but looking at their recent releases ... LP640, LP670-4, LP570-4 ... and the time they need to put them on the market I'm not too sure we'll be seeing an AutoArt Aventador in 2011, let alone in 2012 ... but I sure hope they make it anyway, and I'll surely add it to the collection too.
UPDATE March 2012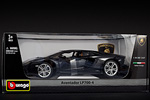 Bburago has been releasing updated versions of their 1/18 Aventador, first seen on the white shade : the improved disc brakes, actual brake calipers and also larger wheels and different thread tires have been mounted. I was able to locate an 'updated' Aventador in black, so take a close look when you are buying one of these, make sure to get the new release.
our RATING
| | | |
| --- | --- | --- |
| Overall rating | | 8/10 |
Original price : € 45