When you try to have a complete series of a certain Lamborghini model things can get expensive very quickly, case in point is the Lamborghini Aventador SVJ from AUTOart on a 1/18 scale, initially released in five shades including the Verde Alceo launch specification, a little later they decide to add a very nice dark metallic blue to the list, only to announce three more shades on top of those.
So in total, there will be nine different colors on the Aventador SVJ from AUTOart, eight of those have been released at the time of writing (August 2023), and the final shade, Arancio Atlas should arrive in a month or so, and I have to admit the new shades look amazing, the Bianco Asopo is my absolute favorite 'non-launch' specification while this intimidating looking Nero Nemesis is just stunning with the all-red SVJ logo on the fender.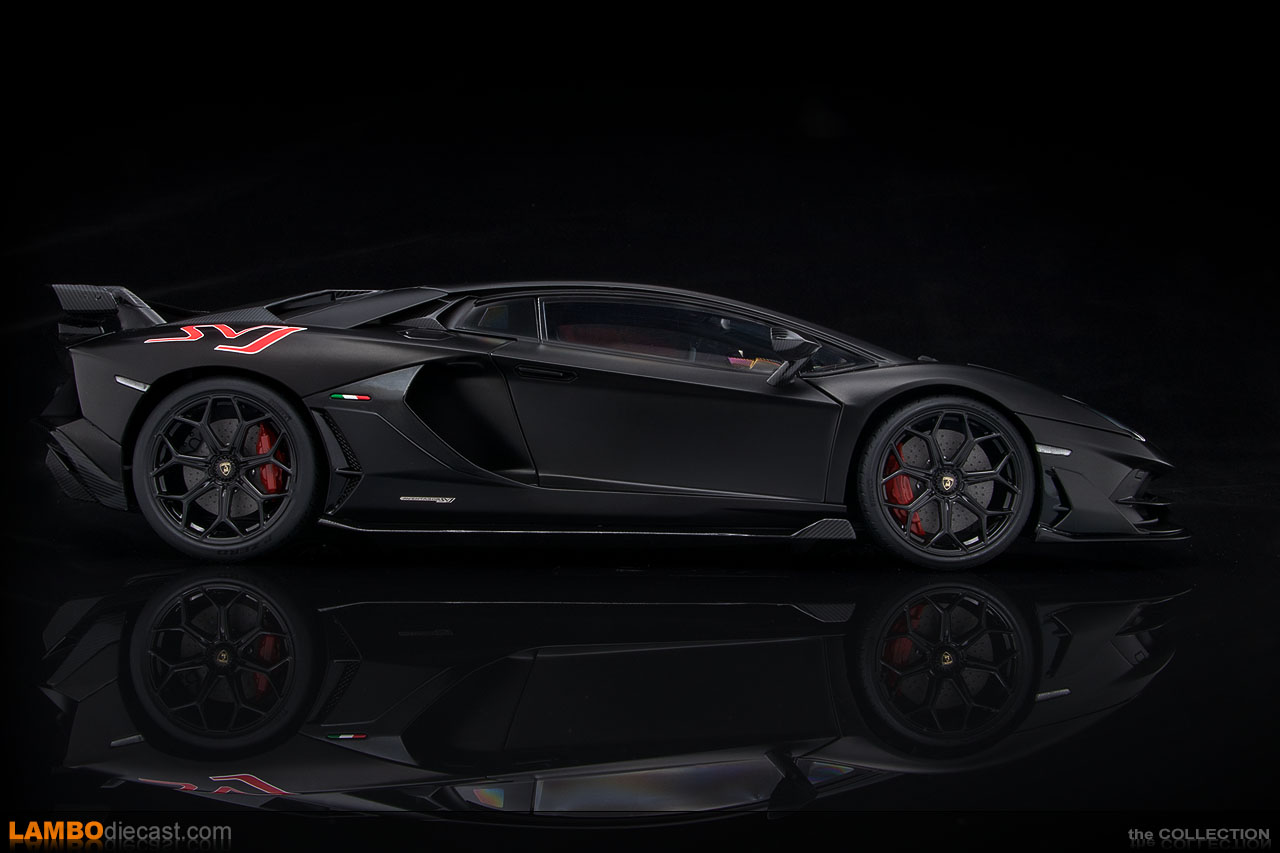 Back when AUTOart released the original Lamborghini Aventador LP700-4 in December 2012 there were two shades to be released first, the launch spec Arancio Argos and Nero Nemesis, I managed to be able to afford both, Arancio Argos because that was the must-have being the launch spec, and as I love satin black Nero Nemesis on a Lamborghini almost as much as Bianco Canopus, I added that one too, remember these were €150 back in 2012, a little over 10 years later an AUTOart Aventador model is €300, exactly double.
But back to this new for 2023 Lamborghini Aventador SVJ in Nero Nemesis, AUTOart fitted glossy black Leirion forged center-lock wheels over red calipers to match the all-red SVJ logo above the rear wheels and the special interior, where we find a lot of red on the seats too, only strange thing is the door pull strap ... it's yellow, why is that?
Did AUTOart make a mistake here? Putting a yellow door strap while there is absolutely nothing to match it to, not even the springs for the suspension which you could order in yellow, but they are black on this model, so where did the idea of putting a yellow strap on the doors came from, that doesn't make sense if you ask me, but other than that, this is an amazing looking model.
Originally released in August 2023.
our RATING
| | | |
| --- | --- | --- |
| Exterior | | 9/10 |
| Interior | | 9/10 |
| Engine | | 8/10 |
| Accuracy | | 9/10 |
| Overall rating | | 9/10 |
Original price on August 18, 2023 : € 300