The Lamborghini Countach LP400 was released in 1974 as a successor to the Lamborghini Miura, the world's first supercar, today this version of the Countach has become the most valuable in real life, with prices well into the 7-figure roam, and because of the rather special way the interior rear view mirror 'looks' through a small window in the roof, the Countach LP400 is also known as the Periscopio, or periscope version.
Other sources refer to the original Countach LP400 as the narrow body, because on the later S model, there were wide wheel arch fenders, a deep front chin spoiler, and massive wide wheels, 345mm at the rear, the widest available at that time, also note that many of the Countach LP400 S were ordered with a massive rear wing, although according to popular believe, that rear wing wasn't homologated, so it wasn't fitted inside the factory.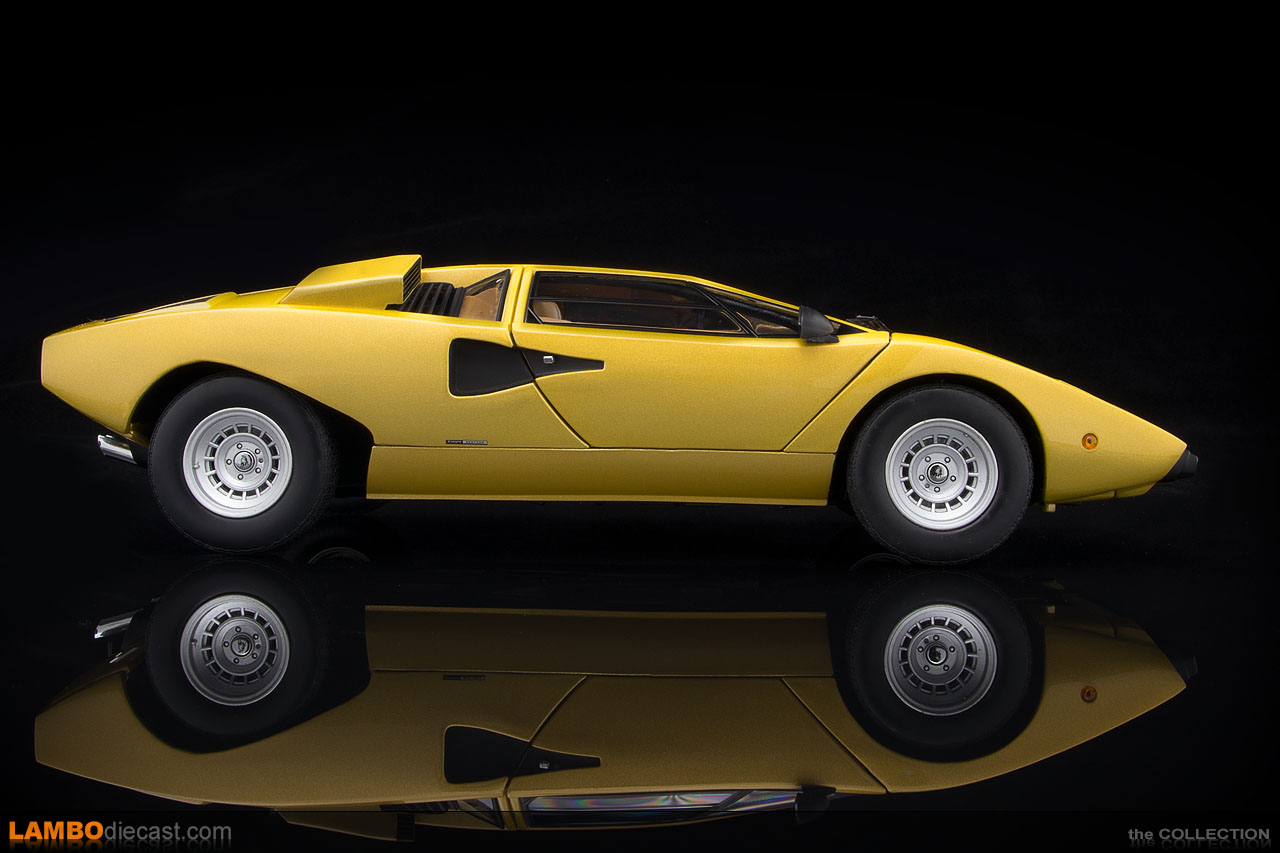 Personally, I was always more a fan of the wide fender versions of the Countach, it was the Quattrovalvole that actually got me into collecting Lamborghini scale models, books, and other automobilia, but over time I've come to understand the original LP400 too, this was the ultimate supercar back in the Seventies, so it had to be part of my collection of scale models, initially I got a red one from Kyosho from their opening diecast release, but over time I've added a few more, until I started looking for the final shades I was missing, like this amazing Oro release.
It was released many years ago, I'm not sure when exactly, but over time this gold version from Kyosho on the 1/18 scale Lamborghini Countach LP400 has become quite rare, and demands a premium over the other shades as it doesn't come up for sale often.
I was fortunate enough to find one in Germany, being located in the EU I could avoid import costs on this beautiful model, I really like the gold over tan color combination on this classic Lamborghini Countach from Kyosho, and now the hunt starts for the Kyosho-made Lamborghini Urraco in the same shade, but that one seems to even more elusive these days.
our RATING
| | | |
| --- | --- | --- |
| Exterior | | 9/10 |
| Interior | | 8/10 |
| Engine | | 9/10 |
| Accuracy | | 9/10 |
| Overall rating | | 9/10 |
Original price on July 23, 2023 : € 200