One of my most prized 1/18 scale Lamborghini Countach models is the classic white-on-white diecast LP500S model from Kyosho, such an iconic color combination that was very popular back in the early Eighties when this 5-Liter S model was in production, and Kyosho nailed it with this model that is about 15 years old at the time of writing.
I think most of you know that it was the Lamborghini Countach that got me hooked on this amazing brand, a healthy competitor to the Prancing Horse from Maranello, the Raging Bull has always been the more irrational option for a supercar, remember the Countach came out when Ferrari was building the Daytona ... the two V12 models couldn't be more different at that time, in the early Seventies there was nothing comparable to the Lamborghini Countach, and honestly, even today, fifty years later, nothing comes close to a classic Countach either.
Now I know many prefer the original Countach LP400, the narrow-body, periscope roof version, personally, I was always more drawn to low-slung, wide-fendered, winged versions of any car, so the S version, and especially the more powerful 5-Liter version is just right there at the top of my wishlist, preferably as the later Quattrovalvole version, but keep in mind the Countach LP500S is a lot rarer than the later QV, only 323 units of the 5-Liter S were made between 1982 and 1985 while almost double that number, 610 units of the Quattrovalvole were built between 1985 and 1988.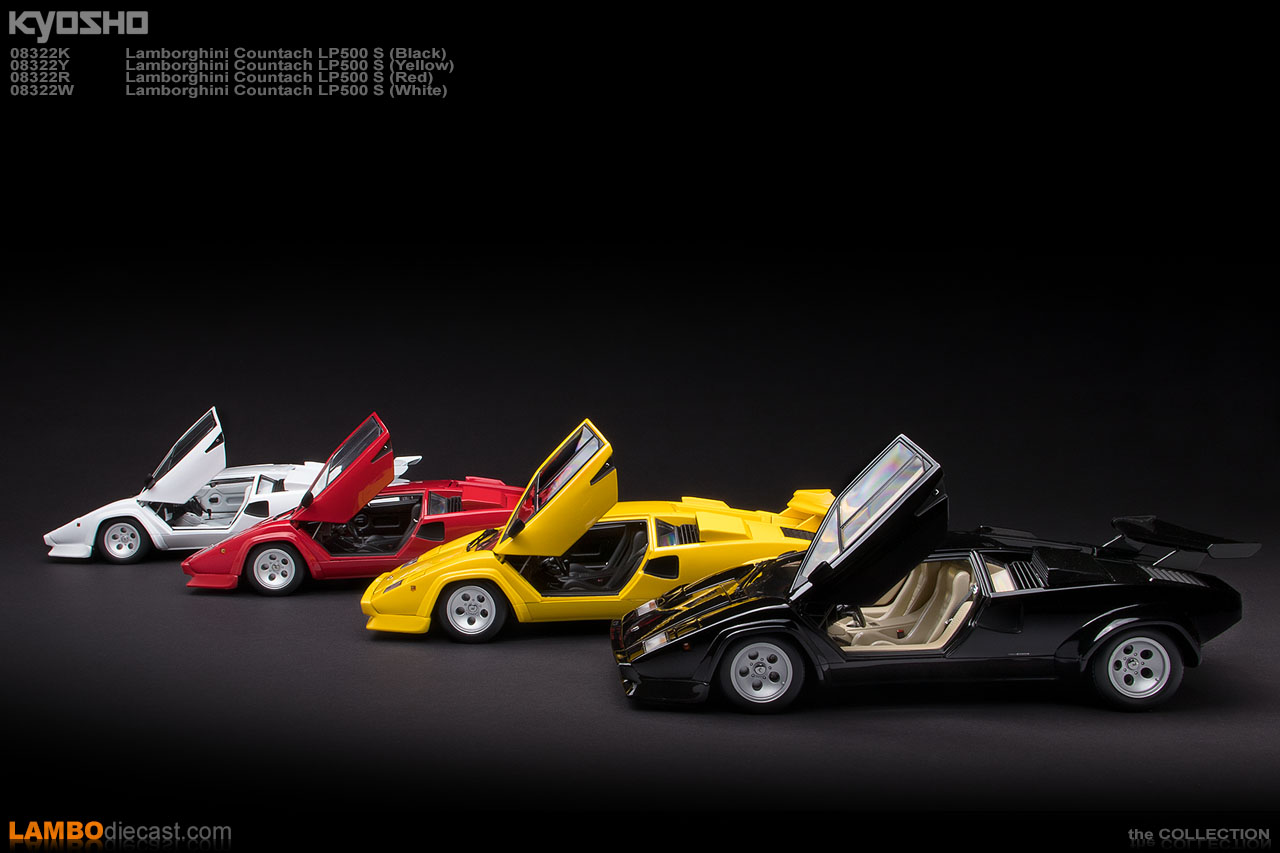 Over the years, I managed to find the four different shades Kyosho released on the Lamborghini Countach LP500S on a 1/18 scale, with the black one being rare over here in Europe, these days all the classic diecast Kyosho models have become rare until Kyosho decided to do a new production run of this model in late 2022, starting with the classic red-on-black one, which was also made 15 years ago, subsequently, Kyosho also released a new version, white-on-red ... which is a color combination I absolutely love, so the moment I was able to, I put in a pre-order, and waited for it to arrive in Europe, which as usual took several months.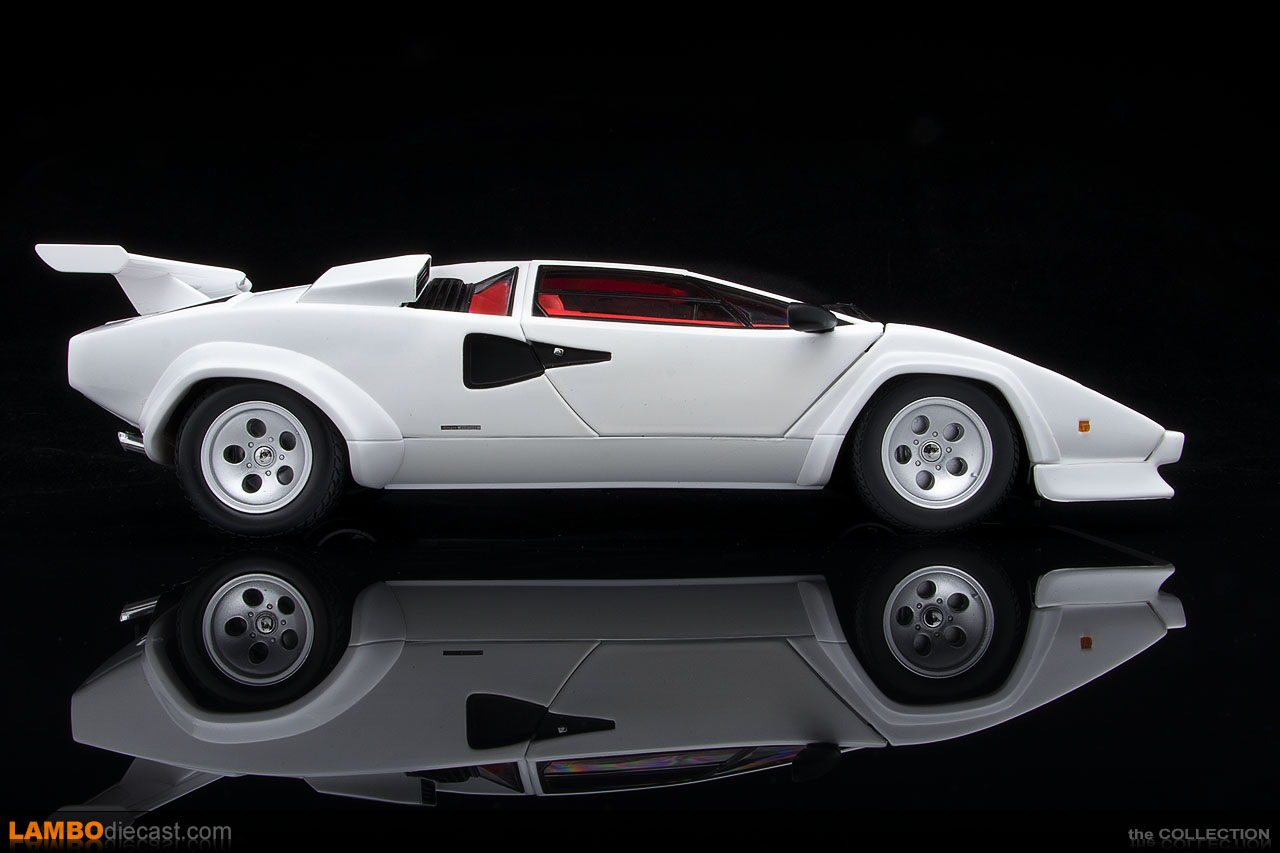 I actually received the third Walter Wolf Countach from Kyosho, the dark blue one, a few days before this white-on-red would arrive, and honestly, I was disappointed by the WW Countach, it just didn't put a smile on my face, it was a let-down, so I got worried about this new white release, but I shouldn't have, it is without a doubt an amazing 1/18 scale Lamborghini Countach model, and the red interior is just amazing, I love it.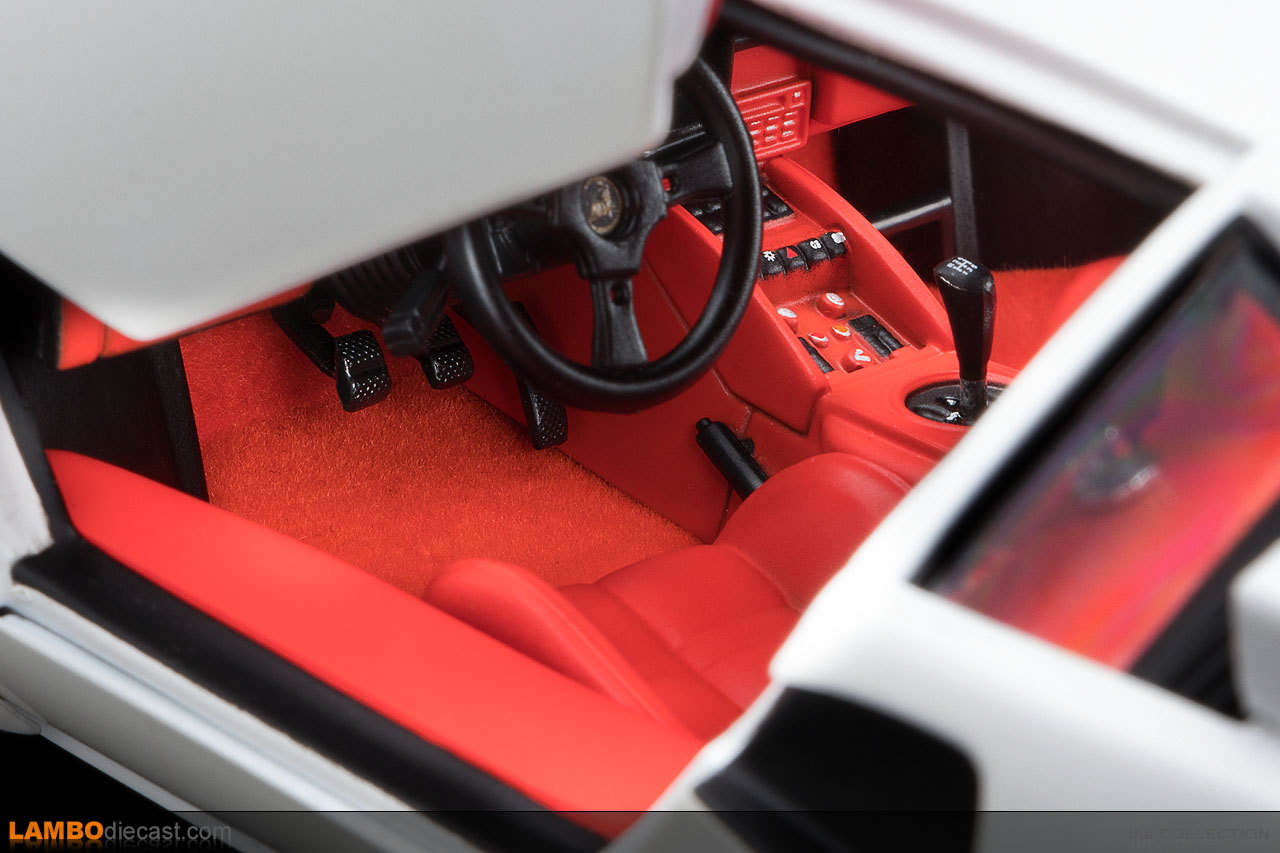 There is one thing I do have to mention, I have the impression the old diecast release was just a little more detailed on the interior, especially the radio in the dashboard looks odd in this new release while it looks good on the 15 years old model, but other than that, this is a beautiful model of a classic Lamborghini, and if you missed out on the early diecast release, this is the perfect model to get a Countach LP500S into your collection.
Originally released in March 2023.
our RATING
| | | |
| --- | --- | --- |
| Exterior | | 8/10 |
| Interior | | 8/10 |
| Engine | | 7/10 |
| Accuracy | | 8/10 |
| Overall rating | | 8/10 |
Original price on March 17, 2023 : € 225