Lamborghini unveiled their first hybrid V12 at the 2019 IAA in Frankfurt, but it wasn't a production model as we have with the Revuelto in 2023, the Lamborghini Sian FKP37 was a limited-production model, only 63 would be built for the entire world, and by the time the general public could admire the satin green metallic or Verde Gea car at the IAA all of them were already sold out, and it didn't come cheap either, a Sian before options would set you back €3,300,000 or about US$ 3,600,000.
Usually, we get to see a 1/43 scale model of every new Lamborghini rather quickly from Looksmart, with the 1/18 counterpart from MR not too long behind, but this time things would be different, it would take MR two years to finally produce the LAMBO042A, the launch spec in Verde Gea on bronze wheels over a Terra interior, I've been told because the model itself is intricate to make, and the color is difficult to get right too, if that's true or not, I don't know, all I know is that their V12 Vision Grand Turismo is the same shade, and she looks amazing.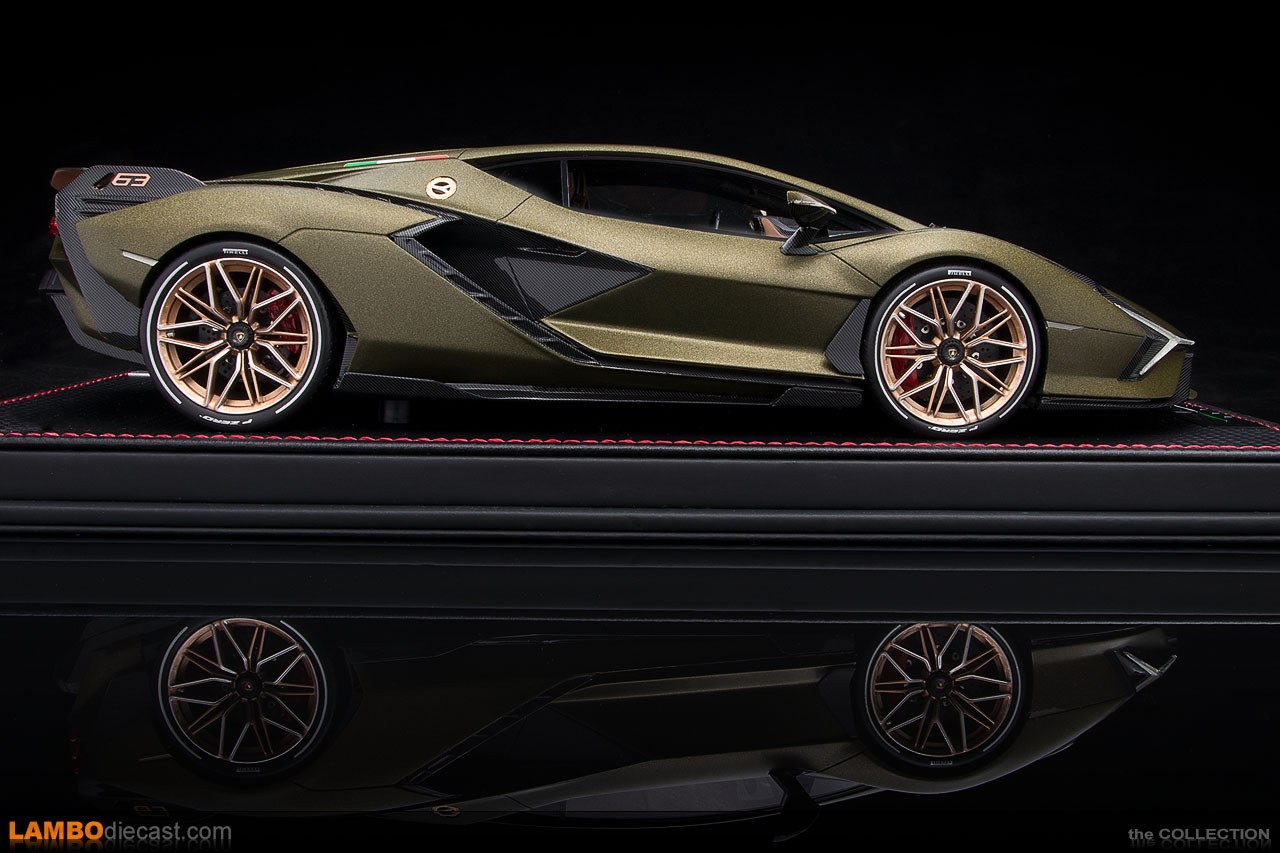 I had the MR-made Lamborghini Sian FKP37 on order ever since 2019 when they announced it, but it just wouldn't come around, eventually prices were raised by MR and I got fed up with it, so I canceled my orders, among them this Sian ... save to say I regretted this decision later on, but MR listed the Sian as sold out, so I was out of luck.
So I settled for the Bburago model, which for just €40 isn't too bad, but the itch to get a high-end 1/18 scale Lamborghini Sian was still there, only a handful ever came up for sale over the years, and usually very expensive, MR lists 399 were made, but I've been told they haven't even produced all of them yet while it has been sold out for years now, but a fellow collector decided to part with several of his personal models and got in touch with me, this Verde Gea launch spec Sian was one of them, so I managed to add #39/399 to my collection, finally.
We all know MR are sealed resin models that are built at a rather high level of detail and finish, and their Lamborghini Sian is no different, the carbon fiber weave is amazing, the paint finish is just about flawless and the overall stance of this model is beautiful, MR chose to have the rear wing in the 'up' position that reveals the underside as being bronze to contrast with the satin green metallic of the body.
As at the time of writing we are still waiting for the Lamborghini Sian from AUTOart, a model that has been announced many months ago, I'm really happy I was able to add this MR version to the collection, at least I now have a very nicely detailed 1/18 scale model of Lamborghini's first-ever V12 hybrid in my display case, and yes, I have it next to their Countach LPI 800-4, a totally different car on the outside, but very similar underneath.
Originally released in September 2021.
our RATING
| | | |
| --- | --- | --- |
| Exterior | | 9/10 |
| Interior | | 9/10 |
| Engine | | 7/10 |
| Accuracy | | 9/10 |
| Overall rating | | 9/10 |
Original price on February 17, 2023 : € 400