I had to think about adding this specific model for a while, it would be the very first time I ordered a model from AliExpress ... yes, I know, in all my years of collecting Lamborghini models and buying online, I've never actually bought something from there, but in the end, I took a chance, I really liked this black on red version of the Lamborghini Countach LPI 800-4 on a 1/18 scale from Maisto, and as a bonus, it looked like this one came with side windows, while my other three shades, red, yellow, and white, didn't have those.
But this does come at a premium, while the usual 'European' shades are all about €45, this 'Chinese' version was €80, but that does include shipping, fortunately nowadays when you buy from AliEpress, they add the VAT already, so no additional import costs or taxes to clear customs, that's a nice bonus, but in the end, it's still a lot of money for a 1/18 Maisto model.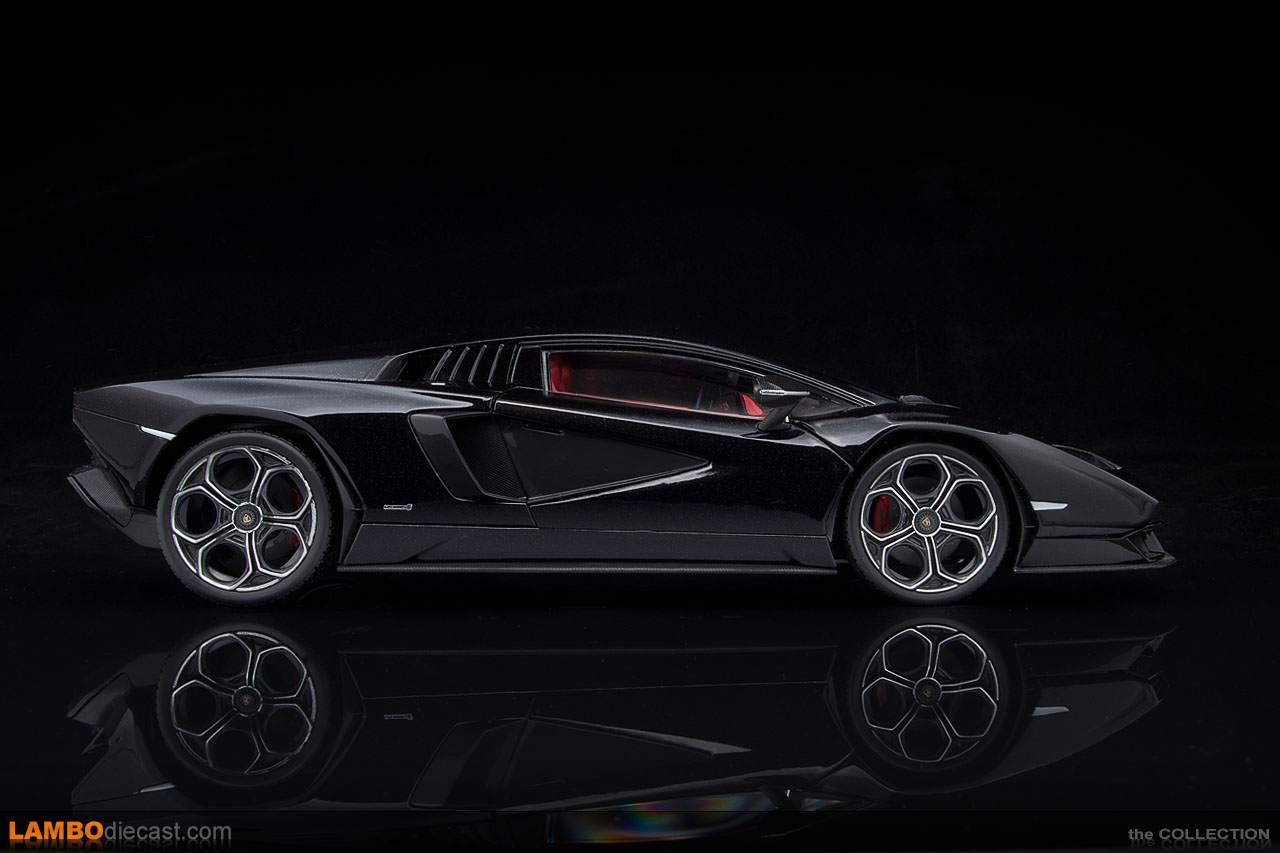 I do have to admit this metallic black on red is the best-looking of the four shades I have today on this Maisto model, sure the white on red looks great as it's the official press release/show car color combination, and that red metallic looks really nice too with the red interior, but somehow a yellow car with a red interior just doesn't work for me, and black on red is my favorite color combination, apart from Bianco Canopus of course.
The brake calipers on this one are red too, so they match the interior, and while these two-tone black and silver wheels mimic a diamond-cut fascia as seen on the real car, just imagine how beautifully a set of gold wheels would fit on this metallic black Countach?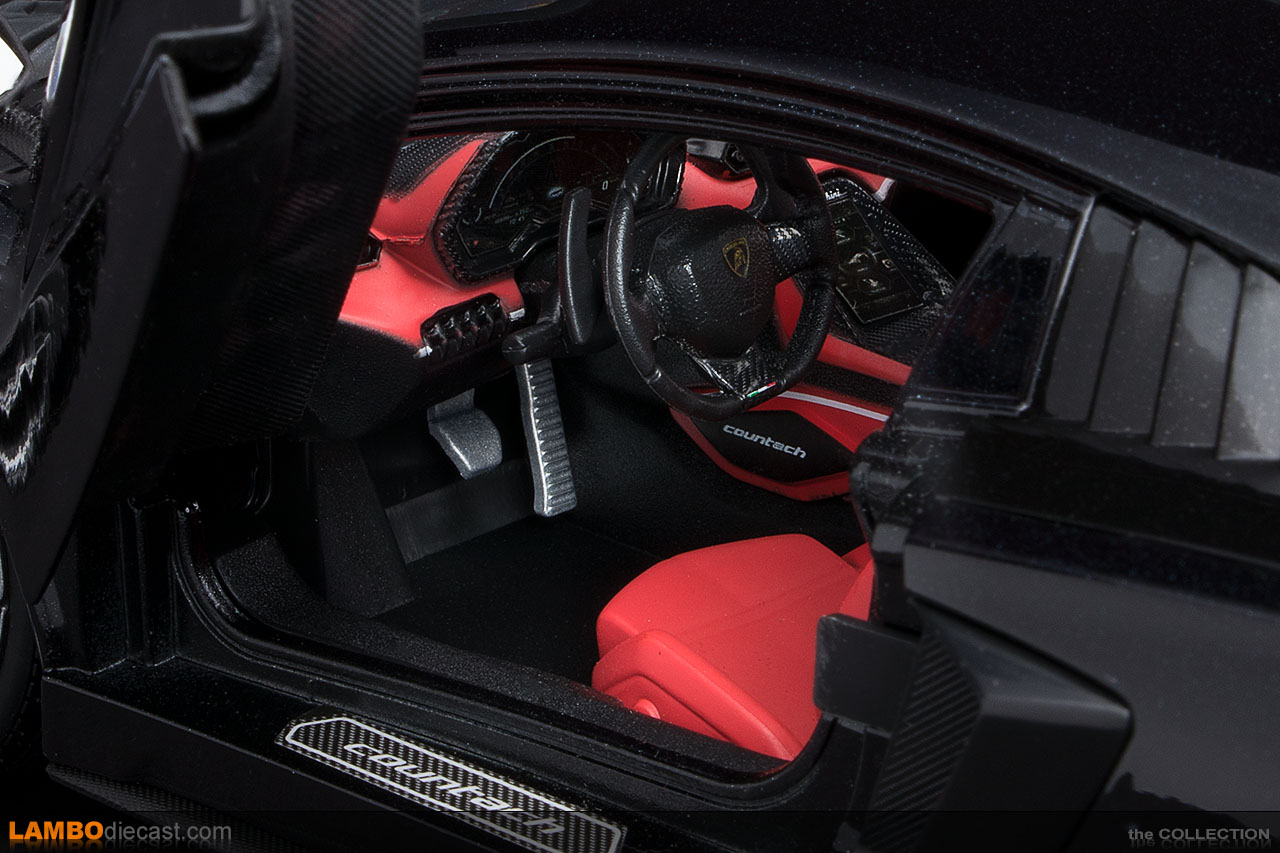 It seems Maisto can't be bothered with changing the interior for any of the exterior shades, they all come with a red interior, with carbon fiber details and white piping, and that looks absolutely amazing inside this black metallic model, and it is a very nice metallic flake that can be seen on some of the detail shots in this review, with dark blue flakes, I almost mistakingly thought the model was dusty underneath the bright photo lights, but it was the metal flake instead.
A very nice touch from Maisto is the fact they even supply a door opening tool with this model, complete with a small picture manual, inside a plastic bag taped underneath the plinth, now that's really nice, as you have to take care when opening these doors, the windows tend to catch the small triangular windows behind the exterior rearview mirrors on the door, having this plastic tool makes it a little easier.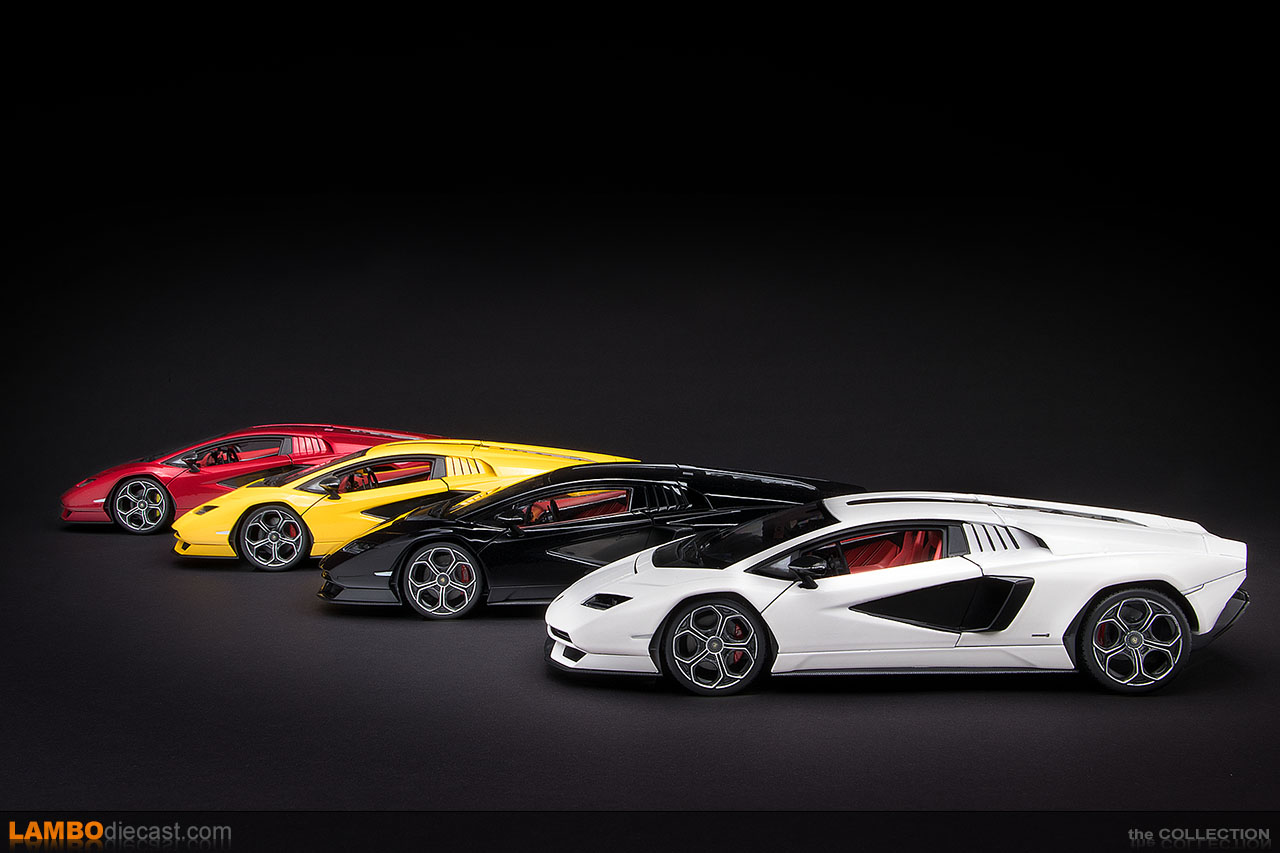 So far I've been able to collect four shades on the Maisto-made 1/18 scale Lamborghini Countach LPI 800-4, but rumor has it there will be an orange one coming early 2023, so I might add that one too when it's available.
Originally released in October 2022.
our RATING
| | | |
| --- | --- | --- |
| Exterior | | 7/10 |
| Interior | | 7/10 |
| Engine | | 6/10 |
| Accuracy | | 8/10 |
| Overall rating | | 7/10 |
Original price on October 19, 2022 : € 80