Back in 1971 Lamborghini completely took the automotive market by surprise by unveiling their new concept car, the Lamborghini Countach prototype at the Geneva Motor Show, they had just revealed the Miura SV too, but most eyes were pointed at the Countach, the car that introduced the famous 'Lamborghini doors' to the world.
It would take a few more years before the Countach was ready to be delivered to clients, and along the way, the 5-Liter V12 engine was replaced with a more reliable 4-Liter unit, hence the LP400 name, for Longitudinale Posteriore 4-Liter, this model was also known as the Periscopio for the fact there is a small glass window in a recess in the roof, intended to look through with the interior rearview mirror, much like a periscope.
Another name that was used for this initial version of the Lamborghini Countach was narrow-body, because once Walter Wolf got his way and Lamborghini started building the Countach S, we had wheel arch extensions fitted, making the car a lot wider compared to the original design, personally, I love the S and QV models on the Countach, but the original, narrow body Countach LP400 is the most valuable one in real life.
And things get even more interesting, back in the days Rod Stewart, a famous singer, who ordered a Countach to be converted into a Targa style convertible with a removable roof panel, and wide wheel arches fitted to an original LP400, complete with the wider wheels and everything ... recently this car has been restored back to original narrow-body specs, with a new roof and everything, just because it would be worth more in the factory specs.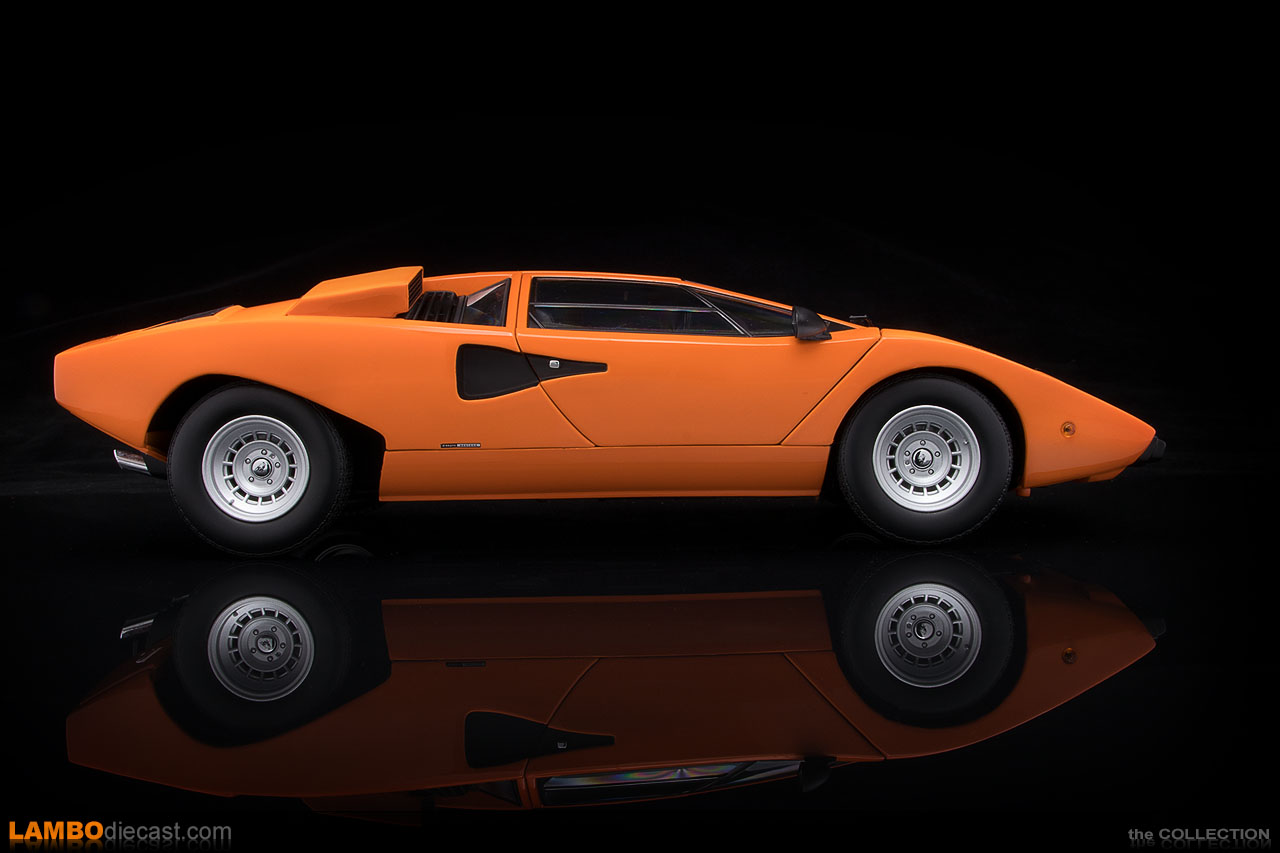 A few years ago Kyosho did an Ousia series of Lamborghini models, they had the Aventador LP750-4 SV and the Huracán LP610-4, but also the Countach LP400. Ousia models are sealed by the way, so nothing opens, but that also reflects in their price, around €100 for most of these, but since I already owned the older, diecast all-opening Kyosho Countach LP400 in black, yellow, and red, I never got around to adding the Ousia Countach, and honestly, I don't see the point either.
Over the years I have been keeping an eye out for two more of these diecast Kyosho Countach LP400, there is a very nice gold metallic one and an absolutely stunning blue metallic over white one, but both of them are rarely offered for sale, and usually come with a serious asking price. While browsing my usual sites looking for models I came across this orange Countach LP400 by Kyosho, in the original 'window box'.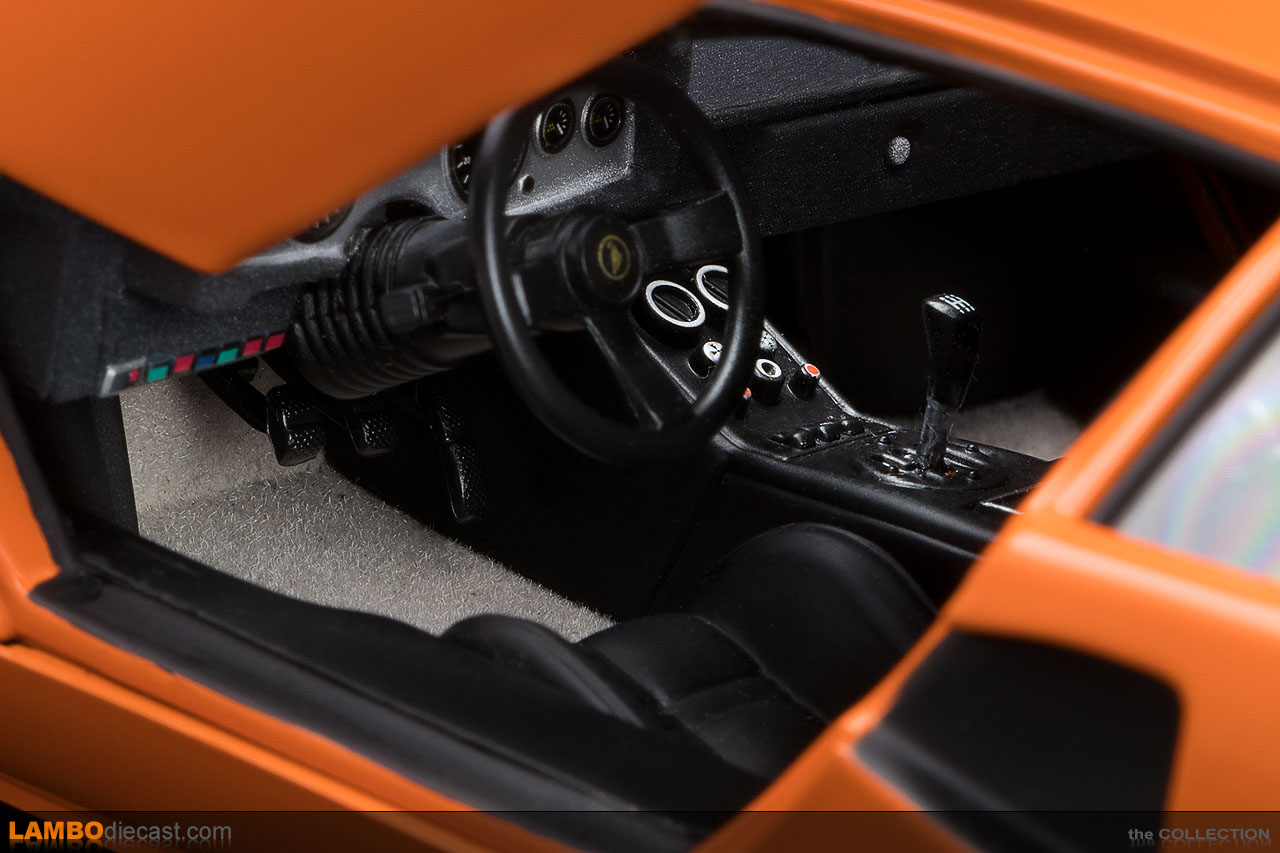 A color I previously completely forgot Kyosho released so many years ago, and the seller was only asking €105 for it, a complete steal in my opinion, so I arranged to pick it up in person, expecting to see some paint rash, as this is rather common on older Kyosho models, especially in this color. But this model was pristine, the box shows a little shelve wear as we say, but the model itself is absolutely perfect, not a single spot of paint rash anywhere, the doors stay open nicely, the engine cover and luggage space cover open as they should, and even the front hood, over the spare tire and bright red horns opens nicely, just one minor detail, the pop-up headlights suffer from a bit of laziness, they don't stay open all the way, but that's an easy fix anyway?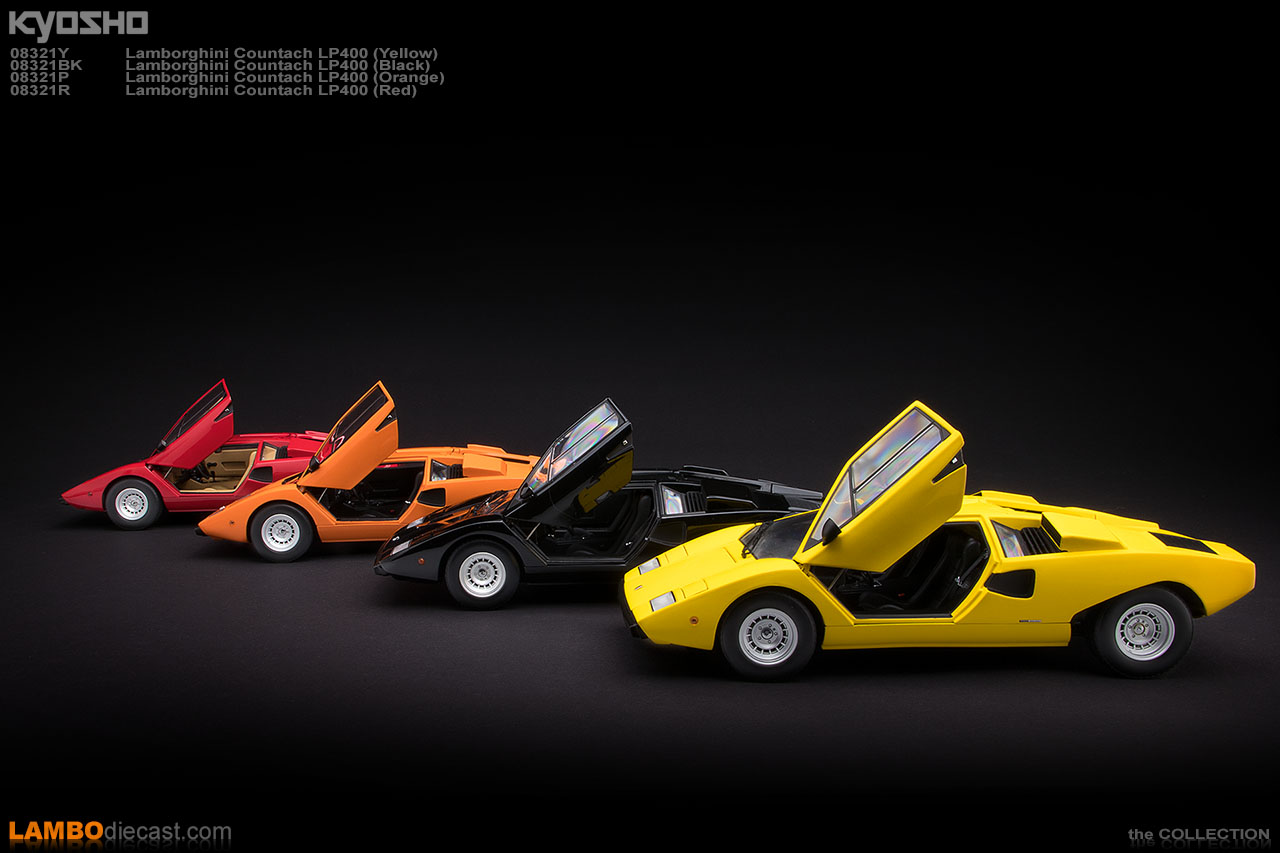 I already own the orange color on the AUTOart-made Lamborghini Countach LP400, but this Kyosho one boasts a more saturated hue of Arancio, and I actually prefer this one, also I just love how this one comes with black seats, but a grey carpet inside, that's such a nice detail only Kyosho did, so in the end, I'm very happy with this new addition, and I now have four out of the six shades Kyosho released decades ago, time to start looking for the remaining two more actively.
our RATING
| | | |
| --- | --- | --- |
| Exterior | | 9/10 |
| Interior | | 8/10 |
| Engine | | 8/10 |
| Accuracy | | 8/10 |
| Overall rating | | 8/10 |
Original price : € 105