When Automobili Lamborghini SpA unveiled the Countach LPI 800-4 during Monterey Car Week in August of 2021, there was a lot of controversy around this limited edition homage to one of the most important classics from Sant'Agata, as a tribute to the original Countach from the Seventies, internal code LP112, they were building just 112 units of this V12 flagship, which like the Sian, came with a 34hp electric motor and a supercapacitor to store the power.
Because the Countach LPI 800-4 used the chassis from the Aventador, the overall dimensions were completely different from the Countach prototype from the Seventies, which was celebrating here 50th anniversary in 2021, so many people from the Countach generation were somewhat disappointed with this new model, and even stated Lamborghini shouldn't have used the name for this one at all, just call it a Countach homage, but not a new Countach.
Another decision that didn't go down too well was the choice of color for the presentation model, Bianco Siderale, a pearl metallic shade of white with a slight blue hue, chosen because Ferruccio's personal Countach was also finished in white, but the actual Countach prototype was finished in yellow, so why not use Giallo Countach for this homage model?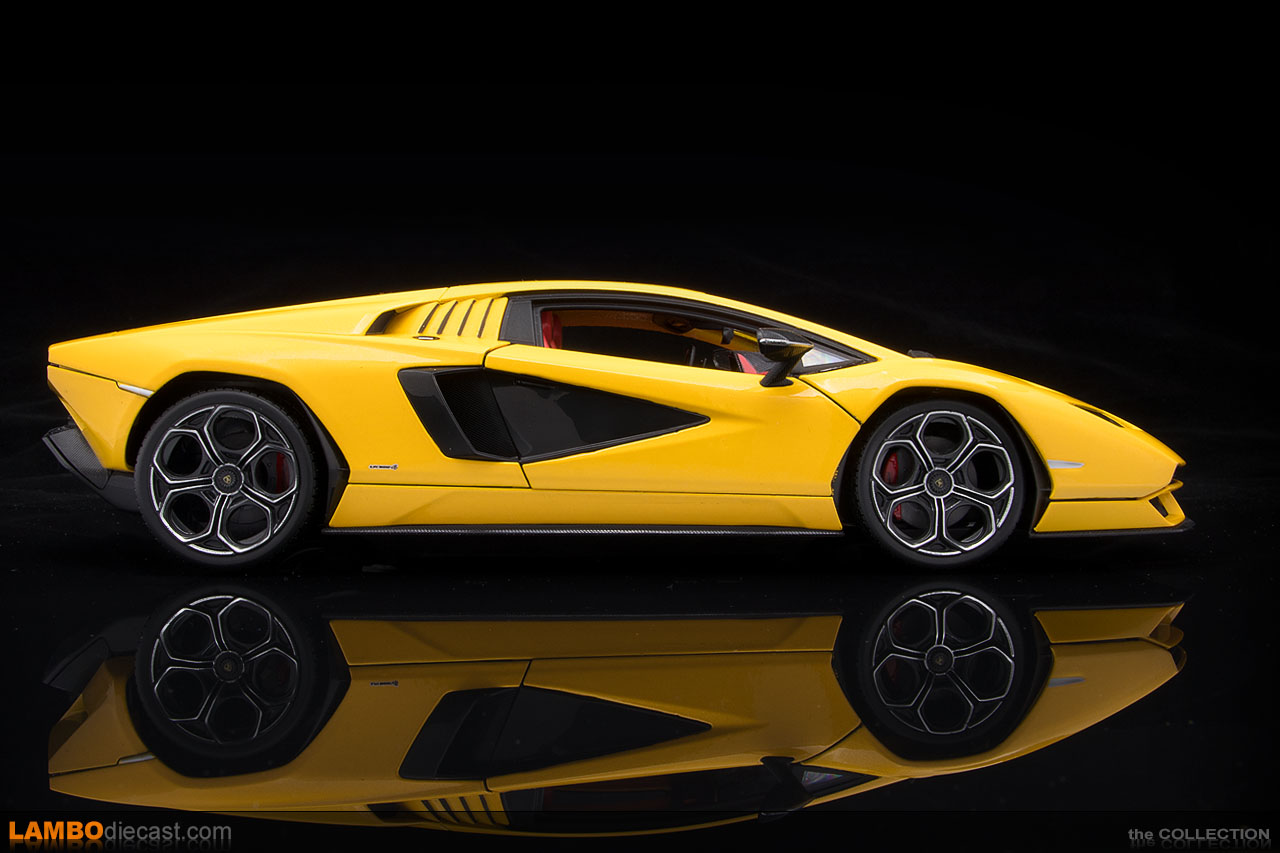 That is why, when I found out Carmodel.com had commissioned a limited series from Maisto in yellow, I knew I had to add it to the collection, only 1,500 units were made, and I put in my order the moment I saw it online, together with the dark red metallic one, also a special for Carmodel.com and also limited to 1,500 units.
Sadly both arrived without side windows although the 'samples' did show them, but ok, nothing I could do about that, but I have to be honest about this Giallo Countach LPI 800-4 from Maisto ... there are two things that don't seem right to me.
For one this yellow car comes with red calipers, now that's somewhat reasonable as the regular Maisto model which is finished in white over red also comes with red calipers, so my initial thought was they just used red on all of them, but not, the dark red metallic car comes with yellow calipers ... why not do the inverse and color-match the calipers?
But the second thing really makes me think about taking this model apart and modifying it ... a red interior inside a yellow car, who came up with that? Now I have to admit, I know of an original Countach QV from the Eighties that was finished exactly like this, Giallo on the outside, Rosso on the inside ... but I just don't like it, sorry, so I'm thinking about switching the calipers between the red and this yellow one, and then redo the interior in black so it looks more like the original 1971 Countach Prototype.
Other than that, these 1/18 scale Maisto Lamborghini Countach LPI 800-4 are rather nice models for their price, even without side windows, while the 'Chinese' version does feature them, and even comes with a door opening tool, so I invested in a stunningly beautiful Nero over Rosso version to add to the collection, the seller did mention only the Bianco and the Nero ones come with side windows, he was also offering this Giallo version, but it didn't feature them either.
Originally released in August 2022.
our RATING
| | | |
| --- | --- | --- |
| Exterior | | 7/10 |
| Interior | | 7/10 |
| Engine | | 6/10 |
| Accuracy | | 8/10 |
| Overall rating | | 7/10 |
Original price on August 27, 2022 : € 46