If you create a 'Limited Edition' widebody kit for the Lamborghini Aventador, and they are all sold, what do you do next? Leave it to Kato-san from LB Performance to come up with something even more extreme, meet the LB-Silhouette Works Aventador GT Evo ... taking the track-inspired 'Silhouette' look onto the road with a massively wide conversion kit for any Aventador type, from the early LP700-4 right up to the latest S or SVJ if you like.
With the first LB-Works Aventador from 2014 we got some wheel arch extensions that were riveted onto the original bodywork (after cutting into the original fenders), a deep front chin spoiler, and at least two versions of a large rear wing ... and last but not least, an air ride suspension and deeply concave wheels for that 'Asia' look, and it worked, lots of Aventador owners added this kit to their car, at about $31,000 ... later Liberty Walk also offered a version with 'replacement fenders' so you didn't have to cut the original ones anymore, at $37,000.
Four years later, it was time to get more extreme, and at the 2018 Geneva Motor Show Kato-san himself unveiled the LB-Works Aventador Limited Edition, with a list price of $55,520 for the FRP version and $59,400 for the CFRP or Carbon Fiber, but there was a catch, only 20 would be sold in Japan, and an additional 30 for the rest of the world, and rumor has it they are all sold out by now.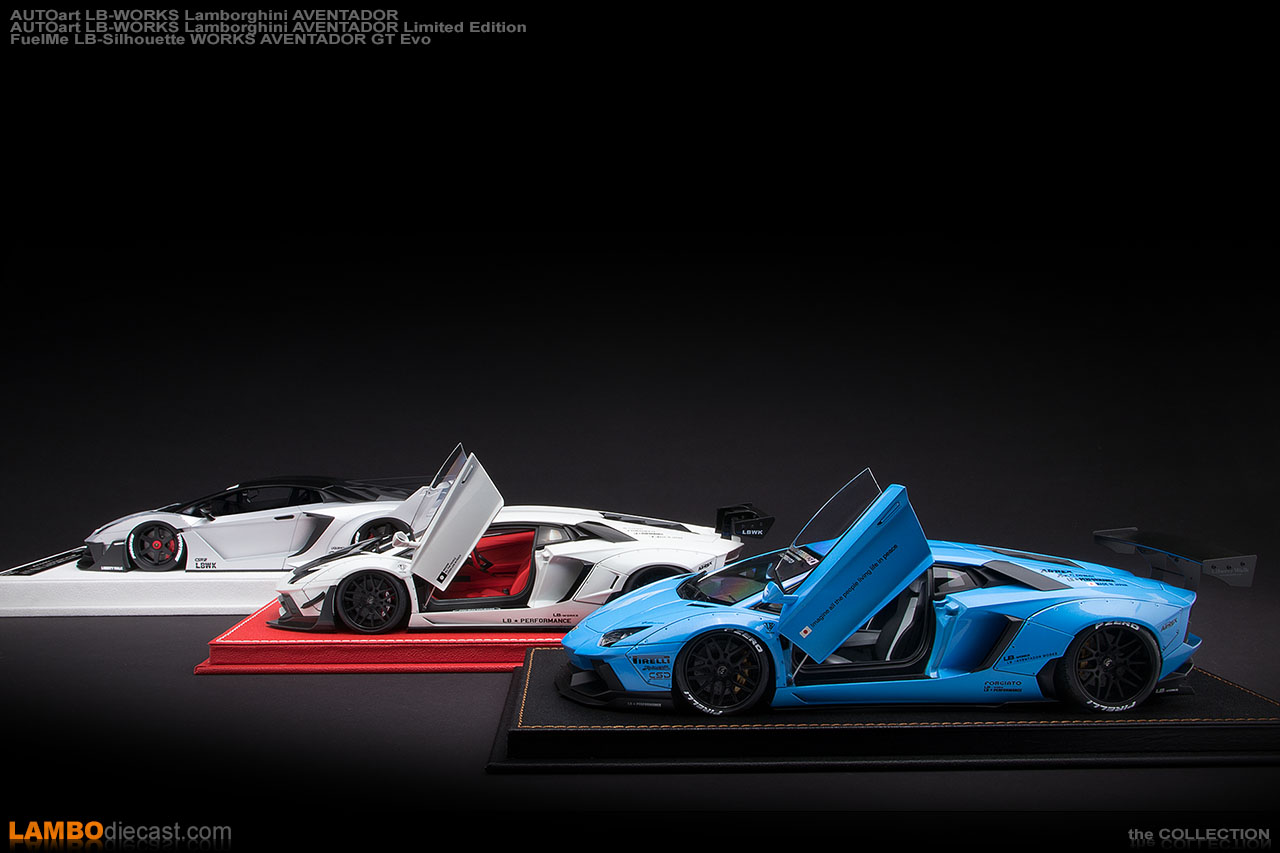 On January 19, 2021, Wataru Kato, the founder, and CEO of Liberty Walk turned 54 … and for his birthday he unveiled the final edition of the LB Aventador. Only 20 of these kits for the LB Silhouette WORKS Aventador GT EVO will be made, for the entire world, and it's available in either FRP, DRY Carbon Fiber, or a mix of both … from $95,700 up to $198,000 … and yes, that is without the Aventador donor vehicle.
Add another $15,400 for a set of those impressive center-lock, forged LB Wheels, and $18,700 for the titanium LB Exhaust ... all you need to get now are the tires, and the air ride suspension ... and an Aventador, this isn't a kit for the fainthearted I guess.
If you look closely at this car you'll notice not too much of the original Lamborghini Aventador remains once you've fitted this one of 20 LB-Silhouette WORKS GT Evo kit, I guess the roof is still original, and the base part of the doors, but just about everything else is replaced, so perhaps starting out with a crashed Aventador with mainly body damage might be a good idea.
Taking another look at the design of this LB-Silhouette WORKS GT Evo it becomes clear Kato-son got inspired by the Lamborghini SC18, just about from every angle you recognize parts from that Squadra Corse one-off model, and that's not necessarily a bad thing, I rather like the Alston, and I can't wait for AUTOart to release their 1/18 model of it, but I also see some Veneno inspiration in this limited edition GT Evo.
The scale model
If you are looking for a scale model of this new LB-Silhouette WORKS Aventador GT Evo you'll end up at FuelMe Models, at the time of writing they are the only ones that offer a 1/18 scale model of this one, in a lot of different 'liveries' as they call it, some real, some fantasy, but all of them are numbered and limited, as Kato-san unveiled this car in a matt grey with black details, that was the one I wanted to add, and with only 30 made in 1/18 scale, I was really fortunate to find one from my local supplier, this #22/30, and it didn't come cheap.
I now have a total of 1,161 models in my collection, almost 500 of those are in the nice 1/18 scale, but this specific scale model sits at nr 3 in my most expensive top 10 list, go figure, we are talking way above MR pricing and just below D&G pricing (when bought new, not the inflated prices on the second-hand market), so is this FuelMe Models sealed resin worth such a high price?
First, let me iterate that if you can buy a D&G model at retail, so for the normal MSRP, they are worth the money, the paint is flawless, the detail is mind-boggling, and the model just looks amazing, on the shelve and up close ... so what about this FuelMe then ... it's not, sorry, it is overpriced in my opinion, but wait, I'll explain why:
The paint finish on this matt silver combined with matt black and glossy black just isn't at the same level as a D&G model, not even close, there are a few dust speckles embedded in the paint, the matt black finish isn't flawless, the TOYO Proxes script on the tires is 'hazy' ... don't get me wrong, this is a very nice model, but it just lacks those small details that make it near-perfect like a D&G, and at a price difference of just €100, that's really not acceptable.
So why did I get this model if it is overpriced then? Simple, there is no other manufacturer out there that makes this LB-Silhouette WORKS Aventador GT Evo, I asked AUTOart about it, since they are doing the LB-Silhouette WORKS Huracan, but they couldn't tell me if they plan to do the V12 too, and with their timetable, we've probably several years into the future before it gets here anyway.
This model also comes with the lightweight carbon fiber sport seats inside an otherwise all-black interior, and I have to admit the center console and the dashboard are really very nicely detailed, way better than an MR for instance, there's even information shown on the small center screen, how's that for attention to detail.
Bottom line
So I don't have any regrets about adding this model to the collection, I love the work Kato-san does with Liberty Walk, LB Performance, LB-Works, or LB-Silhouette, and yes, I do know these elaborate conversion kits aren't to everyone's taste, and I would probably not install them on my own Lamborghini without having a second, factory original one, but think about this for a second: a Miura is priceless, the Countach is getting more and more expensive, a Diablo is rising in price too, and the Murciélago is just about the only remaining V12 you can still find for a decent price, as an e-Gear ... but none of those previous V12 flagships from Sant'Agata have been built in the same numbers as the Aventador, there are thousands upon thousands of Aventador out there, so it isn't sacrilege to cut one up and create an LB-Works or LB-Silhouette version, at least that's my opinion.
our RATING
Exterior
10/10
Interior
9/10
Engine
Not visible
Accuracy
9/10
Overall rating
9/10
Original price on August 7, 2022 : € 565