When Automobili Lamborghini SpA unveiled the Aventador SVJ as the ultimate evolution of their V12 flagship they held a dynamic launch event to offer test drives to customers and members of the press, they had several cars available, most of them in specific configurations, like the Verde Alceo press car, the satin green, but also a very nice looking Grigio Telesto one.
At the time the Lamborghini Ad Personam studio had put together six preset configurations customers could opt for, Mercurio was the Verde Alceo on black Leirion wheels with red livery on the seats, while the Grigio Telesto preset was called Urano and came with Leirion wheels over orange brake calipers and an interior finished in Nero Ade with a combination of Arancio Leonis and Grigio Octans details combined with orange stitching on the lightweight sport seats, and it is this configuration I'm reminded of when I admire the GT Spirit model in question.
But something went wrong with this GT Spirit model, there is a touch of color on the sport seats, but it's the Y shape on the seat and back like we've seen on the earlier Aventador SV model, but on the SVJ Urano that Y is finished in Grigio Octans while the orange part, the Arancio Leonis is on the bolster and outside of the headrest ... and to be honest, it looks more like yellow on this GT Spirit model instead of orange.
But that's fine, the configuration on this scale model is possible on the real car, just sad it isn't the Urano Ad Personam preset, which is also evident on the wheels, sure this GT Spirit model comes with the optional Leirion wheels, but they are gloss black on this model while the Urano option specifies a bronze finish ... now I have to admit GT Spirit used these wheels in bronze on their blue metallic version, and I do think black looks good on this dark grey metallic anyway.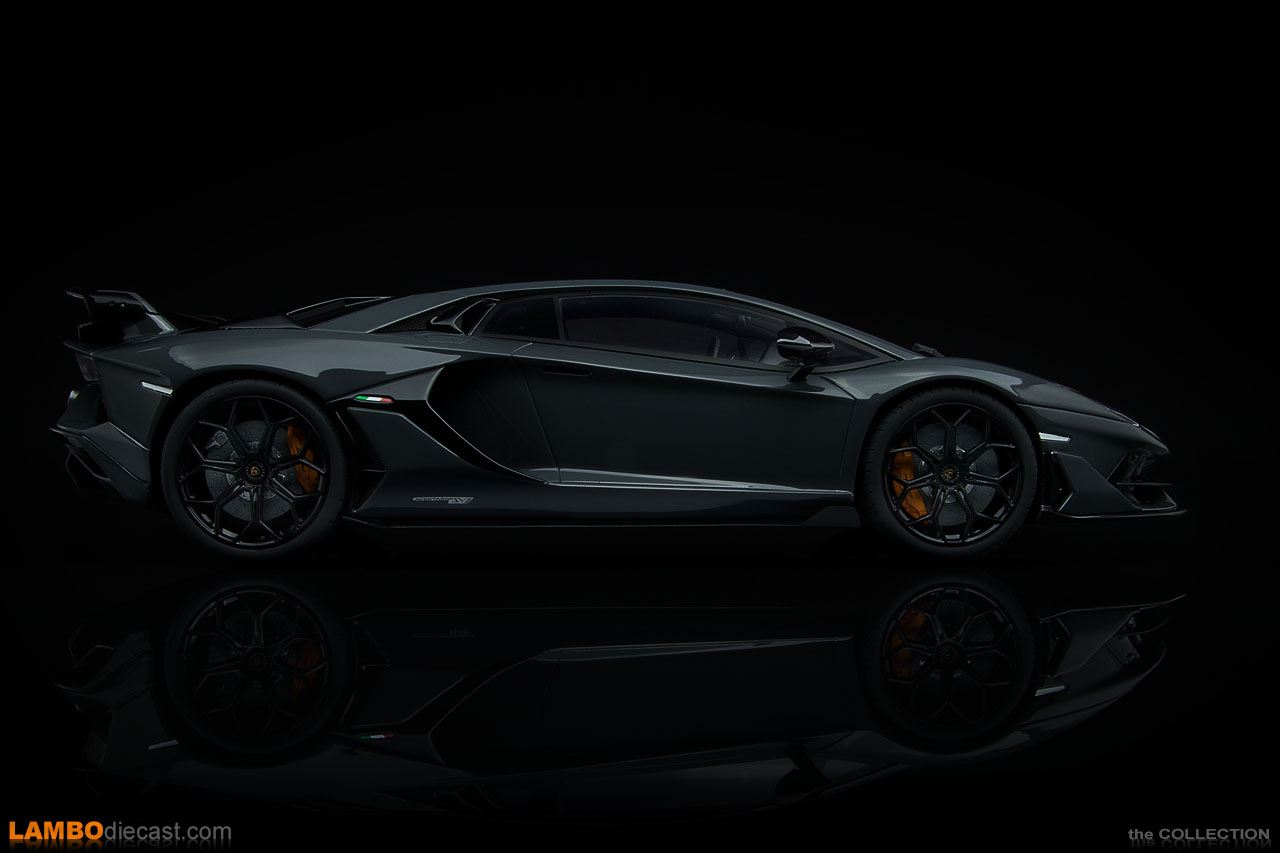 Also note this model comes without the large SVJ script above the real wheel, and that's a feature on the real car too, back in the days of the Aventador SV you could choose between a small SV on the door or a larger version above the rear wheel, with the Aventador SVJ things changed a little, the standard was no decal at all and having the large SVJ in black with a red 'J' was an option, if you really wanted to spend money you could even get the 'SV' in carbon fiber from the factory.
Bottom line
I already bought the blue metallic Lamborghini Aventador SVJ from GT Spirit when these came out originally, and I was good with that, this dark grey metallic version just didn't pop, so I didn't spend the money in 2020, but when I found this grey one listed for a decent price I just wanted to add it to the collection anyway to complete the set, and I'm glad I did.
This Grigio Telesto is a very classy looking combination on the aggressive Aventador SVJ, and keep in mind these GT Spirit are still limited-edition models, mine is number 031/250, a very early unit of only 250 ever made, and while these are really very nice models, do keep in mind these are sealed resin, nothing opens, and don't expect MR or AUTOart level of details, these are great models on their own, but are still put to shame by an MR or an AUTOart, which are also a lot more expensive naturally.
our RATING
Exterior
9/10
Interior
7/10
Engine
Not visible
Accuracy
8/10
Overall rating
8/10
Original price on November 8, 2021 : € 150