You might not expect it, but this white Lamborghini with air ride and some aggressive styling isn't a fantasy model from GT Spirit like their Countach concept by Khyzyl Saleem, also referred to as the Huratach, no, this low riding Diablo K.O. as GT Spirit calls it, is a scale model of an actual car, riding around in Japan, created by Kazuki Ohashi (hence the K.0. naming), you can find his Instagram account at kazuki_crossglow, and believe me, this isn't the only extremely low Lamborghini he made.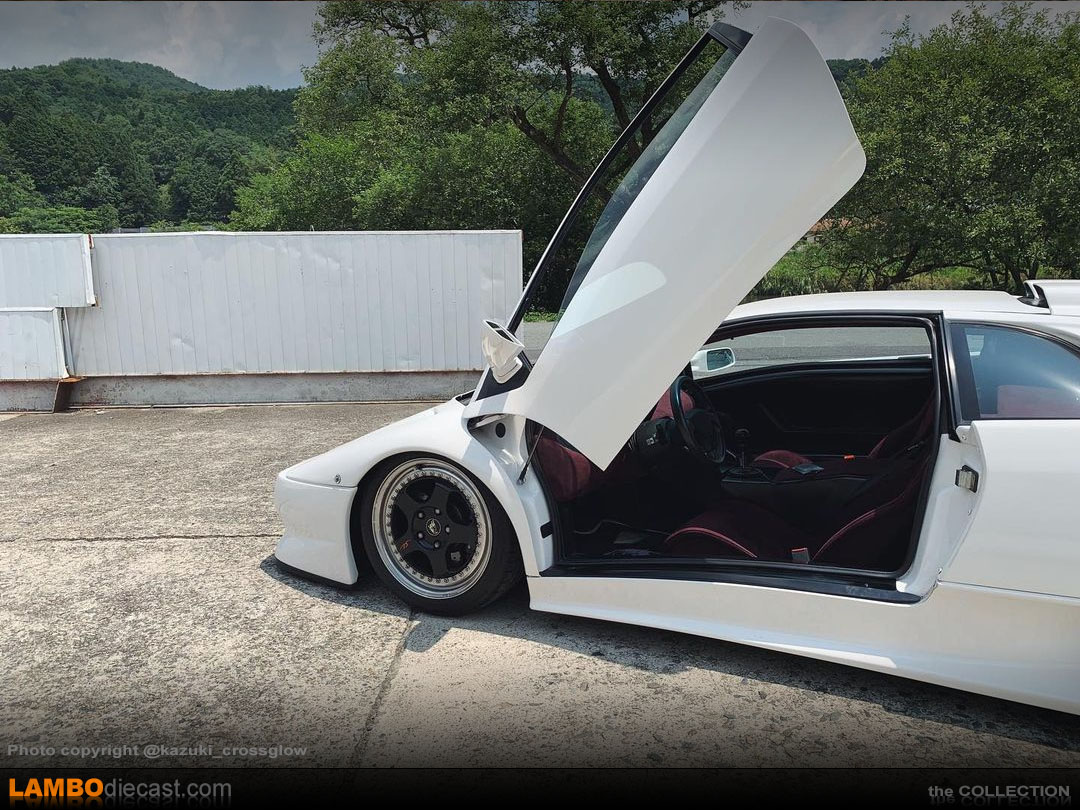 This white 1997 Lamborghini Diablo started life as an SV model, already white over a red Alcantara interior, although it seems GT Spirit went for a brighter shade of red compared to the photos I found on IG for this car, the first appearance of this Lamborghini on his channel was on December 23 2018, when he announced his Diablo SV project, before that he had a red Ferrari Testarossa and a Ferrari 355 that were also extremely lowered.
By January 4, 2019, Kazuki posted a set of AccuAir air suspension with custom bags in front of his white Diablo SV, but it would take until February 1 to show the finished car sitting low to the ground, still boasting the original Diablo SV wheels with their black center.
By June 2019 Kazuki had German based Mario from RD48 working on a set of custom made RAD48 center-lock wheels, inspired by the wheels on the original Bugatti EB110, but these wouldn't be fitted onto the Diablo SV just yet, he wanted to install a special body kit onto this white Bull first, he showed these parts on August 2019, inspired by the famous yellow Rain-X Diablo Jota that raced in Japan before.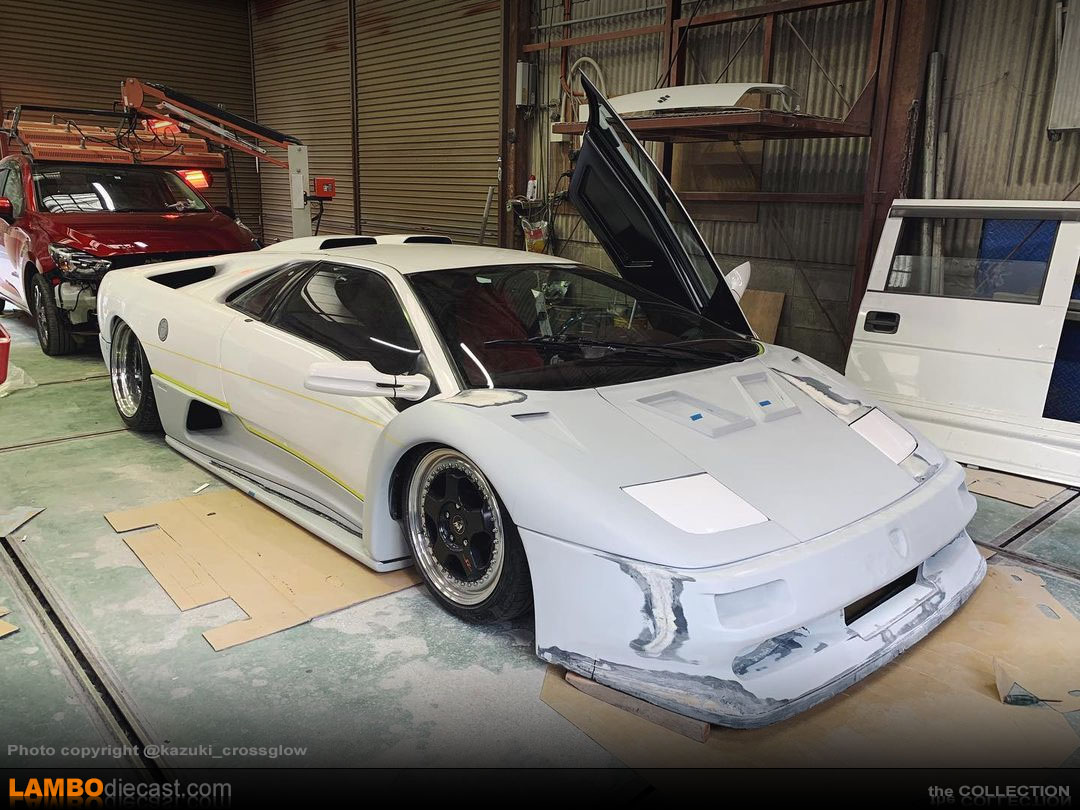 The bulk of the modifications concentrated on the front, the entire front section was replaced, a new front hood with 'faux' air vents in Jota race car style, massively widened fenders from the GTR that flowed into big side sills, the section below the doors that runs into air intakes in front of the rear wheels was replaced too with Diablo GTR parts. Naturally, a deep front spoiler that was based on the Diablo SE30 Jota style just had to be fitted, most of these parts were custom-made from glass-fibre reinforced material, just for this car. A massive Diablo GTR inspired rear wing was also mounted, judging from the 'in progress' photos posted in late November 2019, the struts were attached to the Diablo chassis while the original rear bumper has also been replaced with a Jota unit.
In February 2020 the last touches were being applied to this impressive project, ready for paint after final molding, only a few days later, on the 23rd, the first photo of this bright white Diablo K.O. was shown, complete with the RAD48 wheels with their center-lock conversion, it took about a year from start to finish, but this Diablo SV now looked like a street-legal race car, just what Kazuki Ohashi wanted, but the car was only 98% finished, Kazuki still plans to fit lexan side windows with a sliding part and carbon fiber air intakes drawing air from the side mirrors, just like on the Diablo GTR.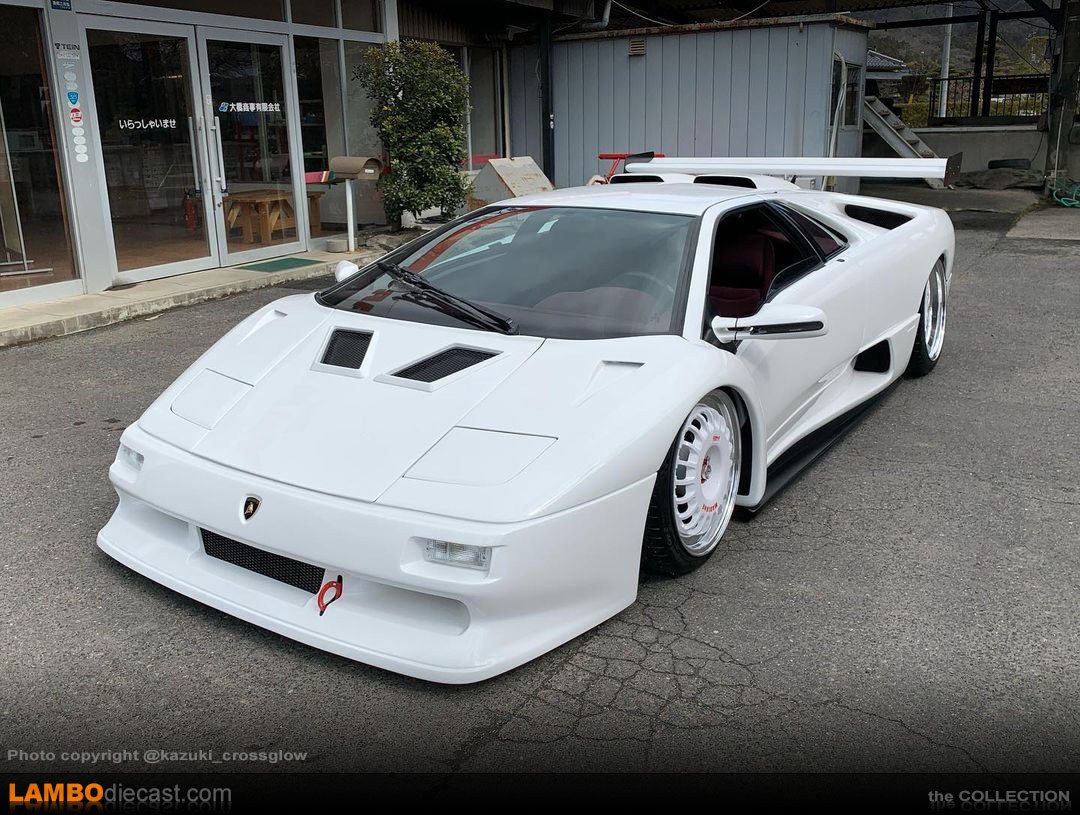 This Lamborghini still had her pop-up headlights fitted, but along the way the front blinker covers were replaced with clear units, just like the taillights, all four of them became white and received a clear carbon fiber surround, and the standard exhaust was replaced with a system that had two tips exit between the taillight clusters, but more importantly, it is now a straight piped exhaust ... so this V12 is extremely loud now ... and shoots flames!
Because the struts for that large rear wing had to be fitted to the chassis, the body panel behind the engine cover, which on the SV already has those two amazing looking air intakes anyway, had to be replaced, so Kazuki designed one with additional air intakes for extra cooling.
The scale model
So how does this new GT Spirit scale model look compared to the real car? I have to admit it is very close, very close indeed, sure there are a few mistakes or omissions, but overall this is a very nice 1/18 scale replica of the real car, and it seems Kazuki agreed because he posted a photo with the scale model in front of his real car, a very nice touch.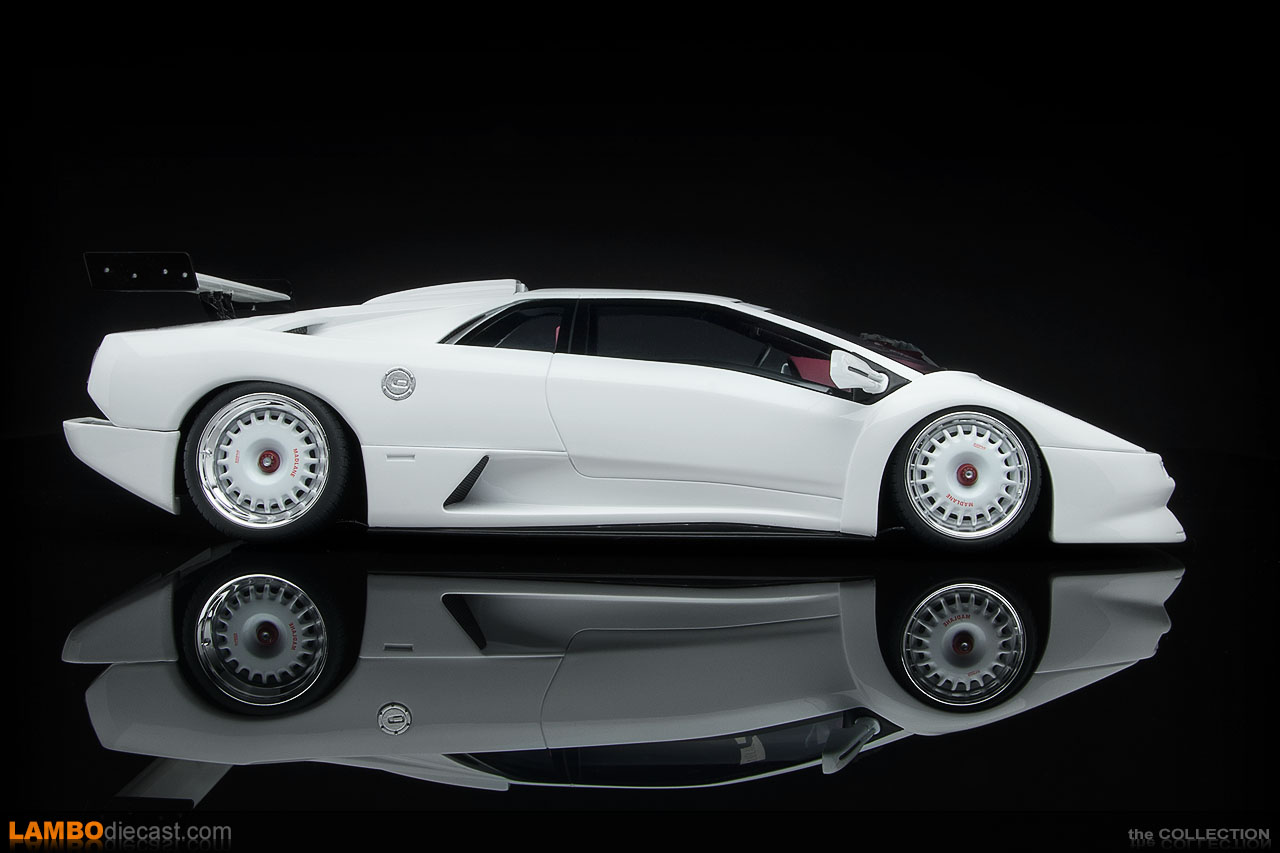 The RAD48 wheels are very nicely made by GT Spirit, the red center bolt and the red Madlane script on the center is crisp, as most of the photos on the Kazuki IG account show the car extremely low, GT Spirit went for the low rider look on their model, which is part of the problem with this model, more on that later, but GT Spirit did get one detail right, it's a staggered setup, the white center part of these RAD48 wheels is actually made for 17-inch wheels, but for the front the outer rim, which is highly polished, brings the diameter to 18 inches, while at the rear that ring goes even further and makes it a 19 inch wheel, and that has been replicated perfectly by GT Spirit.
I was really impressed with the white lenses on all of the lights on this model, those are really very nicely done, and while there are grilles in front of some air intakes, not all have been replicated by GT Spirit, and where there are hexagon style grilles, there is black paint behind, no actual holes, but that's ok, it isn't really visible once on the shelve, and it was like that on GT Spirit's Diablo SVR too, so I knew what to expect.
So overall I'm rather happy with this new addition to my collection, it's a nice looking model and comes with some great shelve presence, I have it on display next to the GT Spirit Diablo SE30 Jota in white, and side by side the extremely low air suspension setting on this Diablo K.O. becomes obvious.
But there are a few remarks I have about it want to point out, first of all, this model sits on three wheels only, not on all fours, and this seems to be due to the fact GT Spirit wanted to put the wheels into the arches as low as possible, but that wasn't enough space inside the wheel well, so at the rear, the right wheel sits about 2 mm too low compared to the left rear wheel, which causes this model to balance on three wheels only, really a shame to be honest.
There seems to be a solution to this, taking the model apart and changing the axles at the rear wheels, if you can bend a metal axle just right it should be possible to bring the left wheel just a little more out from the wheel arch and have a balanced model, just sitting one mm or so higher at the rear, but I'm not ready to do that just yet, it doesn't show too much in my display case, so I'm leaving it as is until it bothers me.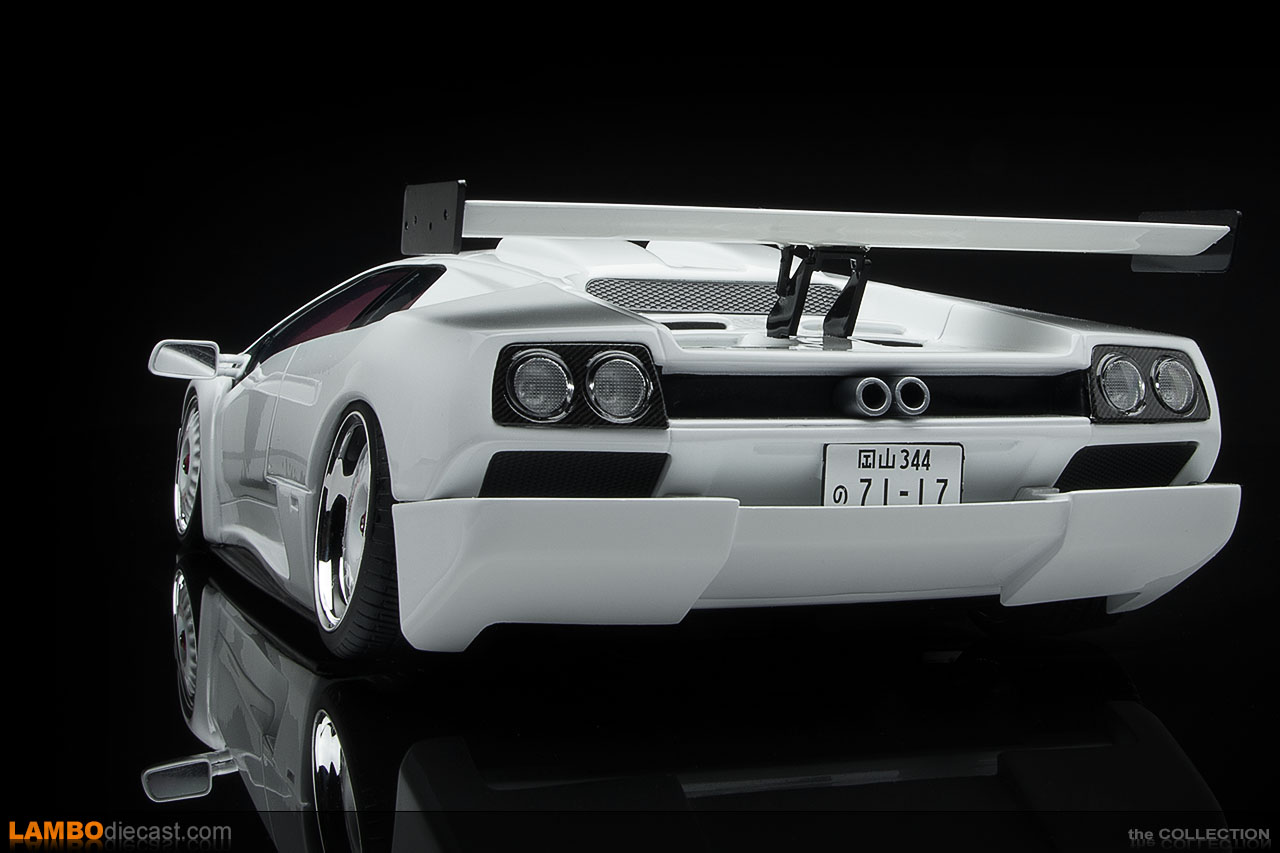 On my specific model, the rear wing became loose during shipping, the struts just sit in two holes on the rear of this model, it seems they didn't use any glue there, just fitted the struts tightly and hoped for the best ... without any foam support during shipping, this didn't work, fortunately, I couldn't find any paint damage, the white paint was good.
Note I didn't say perfect there, because the overall finish of the white paint on this GT Spirit model is far from perfect, which is sad as white isn't that difficult to paint, you just have to make sure to make it cover, which can be tricky. But my model came with a lot of dust particles in the paint, even some very small hair, now I can get those out with an orbital polisher, but I shouldn't have to do this on a brand new model, also the matt black paint isn't applied very nicely, some intakes are 'blotchy' if you know what I mean, it isn't a smooth matt black finish.
I especially don't like the cost-saving shortcut GT Spirit took around the exhaust pipes at the rear, on the real car this entire section is open and has a grille around the tips (that was fitted later on, so I would understand if GT Spirit didn't have this grille), but they just painted that entire surround matt black, and because it isn't set too far back from the rear bodywork, it shows ... a lot. I understand why GT Spirit did this because if they would have left that part open to mimic the real car, there would have to be some exhaust and engine detail visible, and there is no engine inside this scale model ... still that one does bother me a bit.
As for the interior, the real Diablo K.O. has a beautiful dark burgundy red Alcantara on the seats, central console, and dashboard ... somehow the shade of red used by GT Spirit looks too bright but other than that this model's interior is very nicely detailed, the dials inside the dashboard pod are white, the switches and buttons on the central console look good, and there are even multi-point seatbelt harness fitted, and the custom Jota race style steering wheel Kazuki fitted is there, so no remarks there, it is perfectly fine.
What I do want to mention about the interior inside my GT Spirit Diablo K.O. model ... there was a lot of dust inside it, even small hairs, it took a lot of effort to clean that for the photos, and as this is a sealed resin model on which nothing opens, I guess all that dust got into the interior during production ... I just had a laugh finding the QC card in the box, someone actually signed off on this dirty model with only three tires touching the ground.
Bottom line
So am I disappointed with this model? To a certain degree yes, I have come to expect more from GT Spirit lately, I know there were some issues with their early Diablo models, especially the windshield that 'bulbed' out, but all the other models I added after that purple Diablo SE30 Jota didn't have any issues ... until now, I get the feeling this white Diablo K.O. was a rush job, it just isn't up there with their better Lamborghini models.
But I'm still keeping this one, I like modified cars like this, I would never do anything like this on my real Lamborghini should I ever be able to afford one, but I do admire the vision and workmanship that goes into creating these cars, especially a one-off like this that was created by Kazuki and his team, there isn't a second one in the entire world.
Originally released in July 2021.
our RATING
Exterior
7/10
Interior
6/10
Engine
Not visible
Accuracy
9/10
Overall rating
7/10
Original price on July 10, 2021 : € 109