I was fortunate enough to be present at the Geneva Motor Show when Stephan Winkelmann unveiled the Lamborghini Centenario in 2016, finished in an amazing clear carbon fiber body with yellow details, this was a celebration model as an homage to Ferruccio Lamborghini who was born in 1916, only 20 units of the coupe, and later another 20 units of the Roadster would be built, and as usual, they sold out immediately, even with their MSRP of $1,900,000, and that didn't include that clear carbon fiber body, that was a $300,000 option.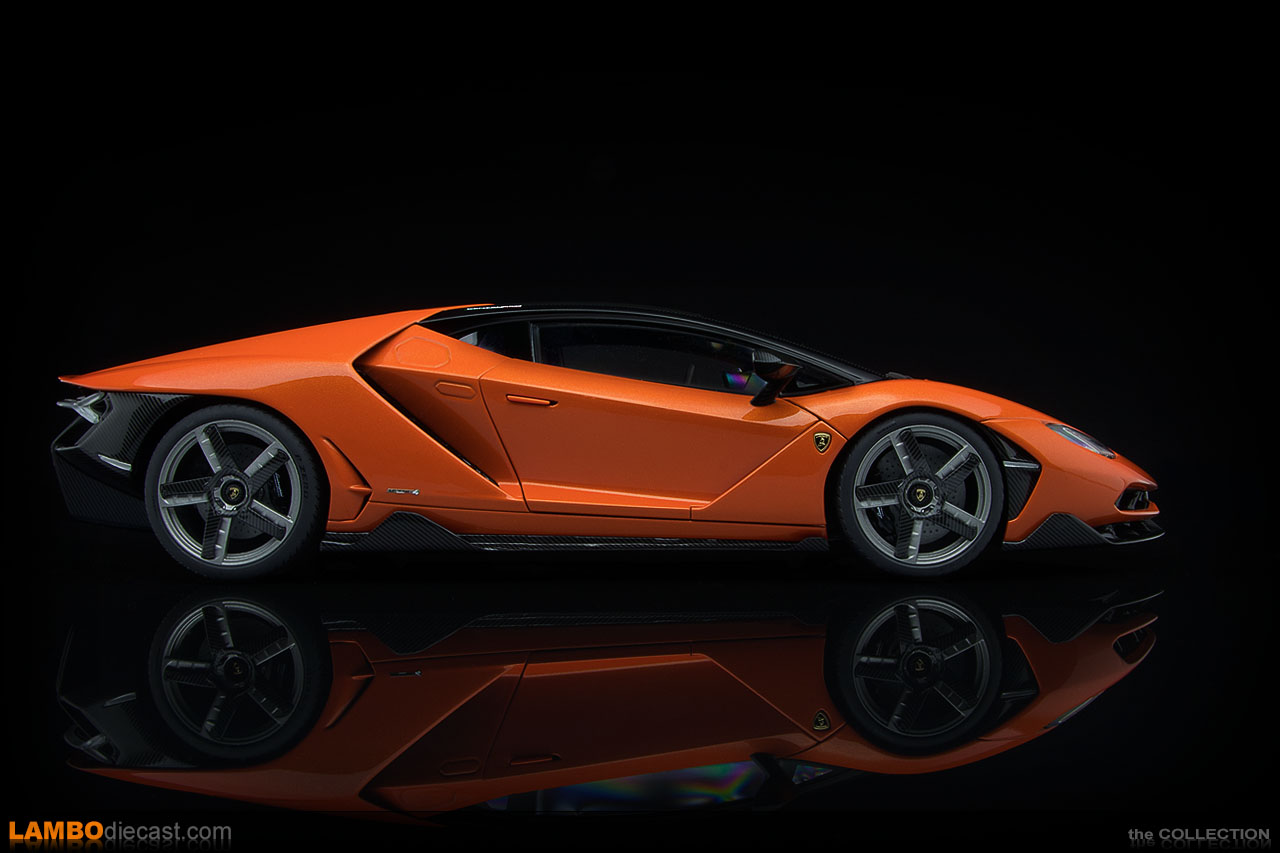 So there were 20 of this limited edition Lamborghini Centenario built, I don't have the exact build sheets for each one of them, but there were some strange orders fulfilled, I love the clear carbon fiber finish, so that's the model I got first when AUTOart released their 1/18 scale model, but over time I managed to add the four other shades too until AUTOart decided to release two more shades, Verde Artemis and this Arancio Argos I just added, for one because I love this saturated shade of orange, and secondly I want to have every 1/18 Lamborghini model AUTOart ever made.
I really like the fact this model comes with a clear, glossy carbon-fiber roof, I nice orange 'Centenario' stripe would have looked good too, but the real Arancio Argos Lamborghini Centenario is similar to this new AUTOart model, complete with the darker, titanium finished wheels and no colored details on the lower sections, which are also glossy carbon-fiber on this model, very nice indeed.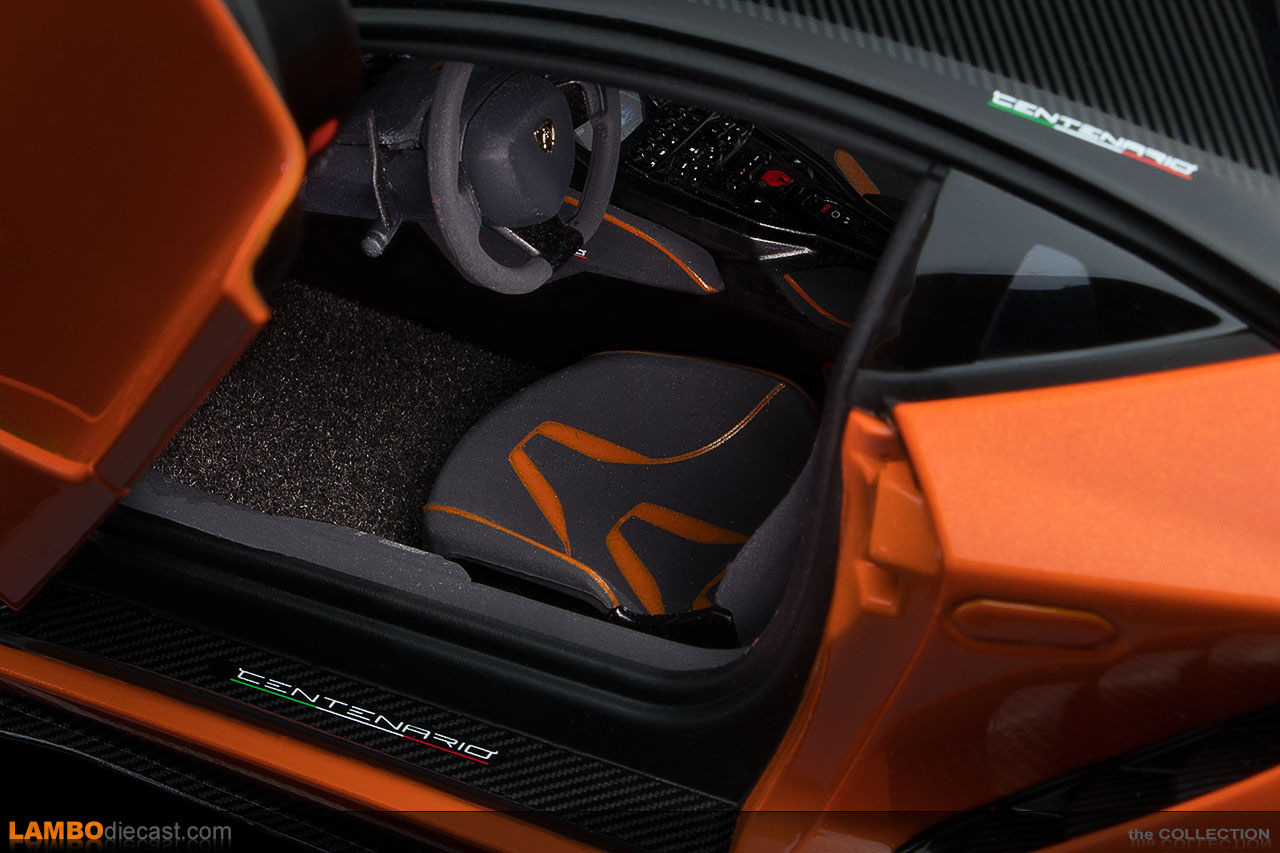 The interior of this car should be a grey Alcantara with orange details, and AUTOart replicated this nicely, even down to the orange Raging Bull crest on both headrests, and despite every interior inside these 1/18 models is a real dust magnet, it does look decent on this specific model, down to the cross stitching on the dashboard and the orange piping on the lightweight carbon-fiber seats.
But then we get to the color, AUTOart released this model as Arancio Argos, but if compared to the AUTOart Aventador LP700-4 in this shade, it doesn't look the same, so I pulled out actual Automobili Lamborghini SpA paint samples for the Aventador, and set this new Centenario between the Aventador LP700-4 in Arancio Argos and their Aventador LP750-4 Superveloce in Arancio Atlas, with the corresponding paint sample next to them.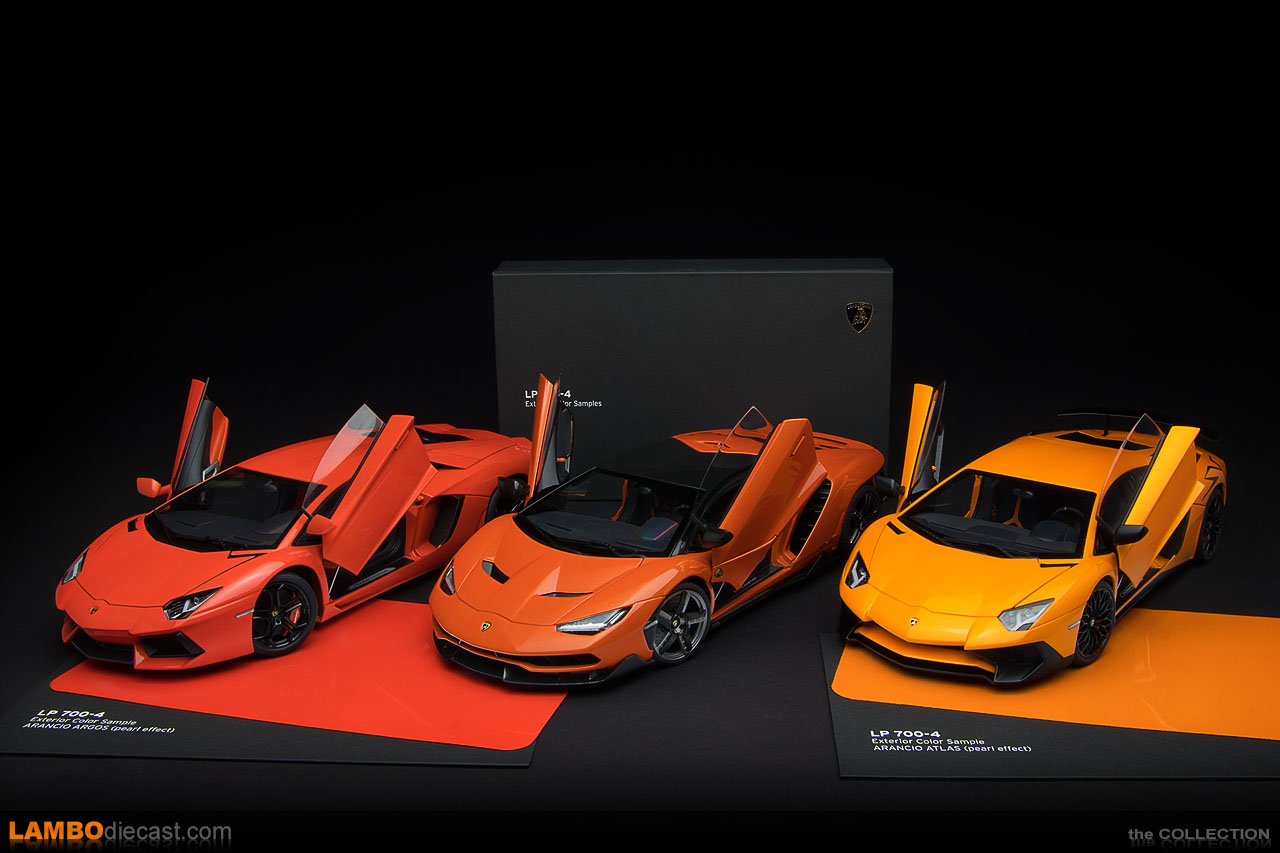 The new Lamborghini Centenario LP770-4 from AUTOart which should be Arancio Argos as they list just isn't that shade, it's somewhere in between Arancio Argos and Arancio Atlas, a friend suggested it might be the Centenario finished in Arancio Fuoco, but that one does come with the stripe on the roof ... so did AUTOart get the shade wrong?
All in all, this is still a very nice Lamborghini Centenario model from AUTOart, perhaps not as impressive as the carbon fiber one or the Blu Cepheus finished one, but this shade of orange doesn't look too bad on the Centenario.
Originally released in May 2021.
our RATING
| | | |
| --- | --- | --- |
| Exterior | | 9/10 |
| Interior | | 8/10 |
| Engine | | 9/10 |
| Accuracy | | 8/10 |
| Overall rating | | 8/10 |
Original price : € 270