Collector - page 32
Lamborghini Reventon
1/18 by MR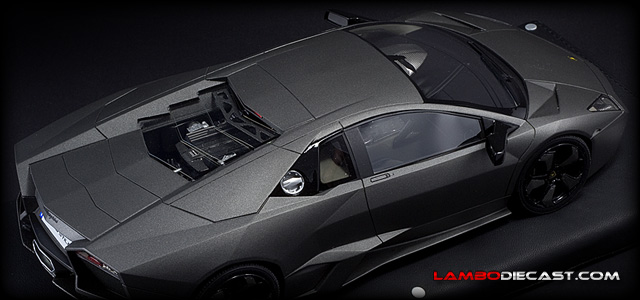 This is probably the most sought after 1/18 scale model of the legendary, one million Euro Lamborghini Reventon, built by MR in very limited quantities it only keeps climbing in value.
Lamborghini Reventon
1/18 by AUTOart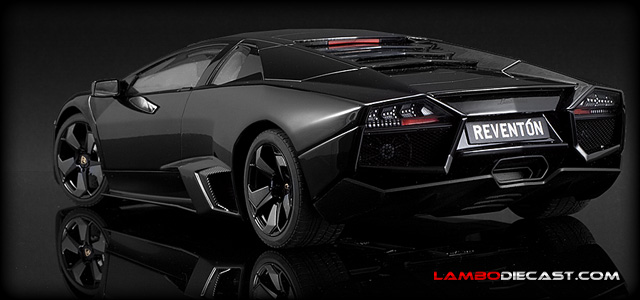 I was not going to get this one as I still have serious doubts a black Reventon even exists, but the AutoArt 1/18 model in this shade just looks so nice I couldn't resist.
Lamborghini Reventon
1/43 by Hotwheels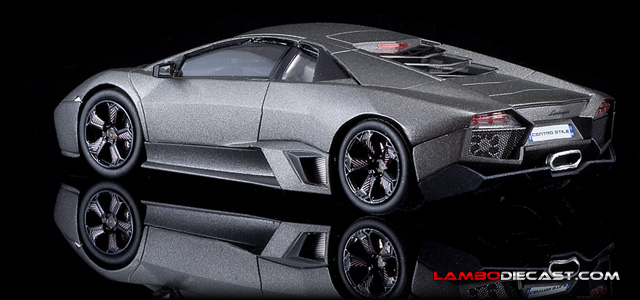 This is a 1/43 limited edition scale model from Hotwheels in their Elite range, the model depicts the very rare, 1 million Euro Lamborghini Reventon super car as it was shown on the 2007 Frankfurt IAA.
Lamborghini Reventon
1/64 by Kyosho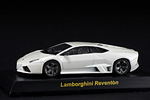 Part of the Lamborghini Collection 3 by Kyosho, this 1/64 version of a white metallic Reventon sure looks amazing.
Lamborghini Reventon
1/64 by Kyosho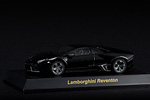 An amazing black Lamborghini Reventon in a small 1/64 scale made by Kyosho, very detailed for such a small model.
Lamborghini Reventon
1/64 by Kyosho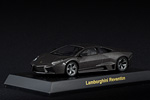 The original matte grey shade that adorned the Lamborghini Reventon was also used on this 1/64 scale model made by Kyosho.
Lamborghini Reventon
1/87 by AUTOart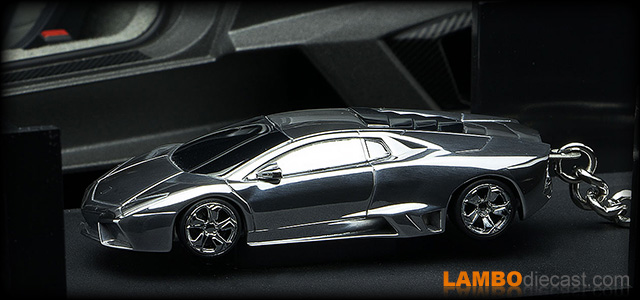 I love the Lamborghini Reventon, hence I have several scale models of this limited edition V12 from Sant'Agata, this 1/87 key chain by AUTOart just had to be added to the collection.
Lamborghini Reventon Roadster
1/18 by MR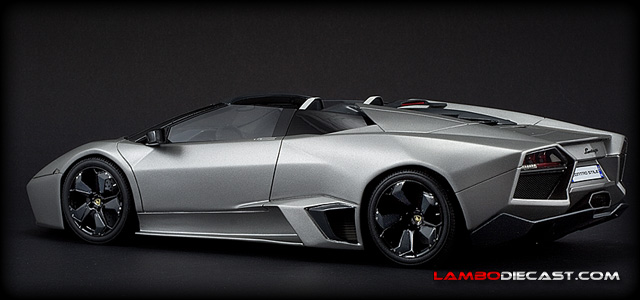 Finally a 1/18 scale model of the stunning Lamborghini Reventon Roadster became available. Made by MR this model is handbuilt and limited to only 399 units !
Lamborghini Riva Boat
1/16 by Unknown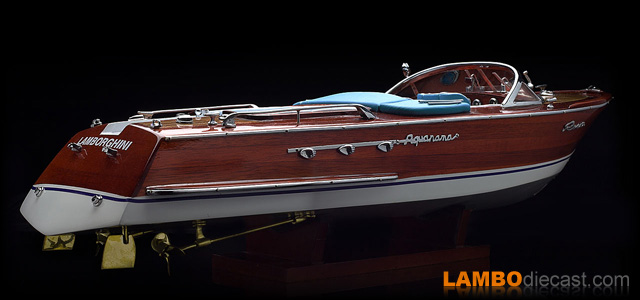 Back in the Sixties, Ferruccio Lamborghini owned a Riva boat powered by two V12 engines from Lamborghini, I finally added a scale model if this beauty
Lamborghini Sesto Elemento
1/18 by MR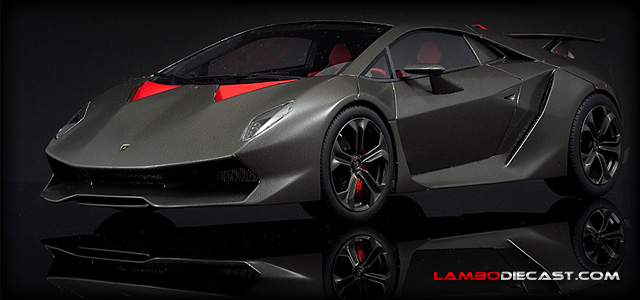 I had this car on pre-order the moment I heard it would be built by MR in large 1/18 scale, now that it has finally arrived I am extremely impressed, this is a magnificent car.
Lamborghini Sesto Elemento
1/18 by AUTOart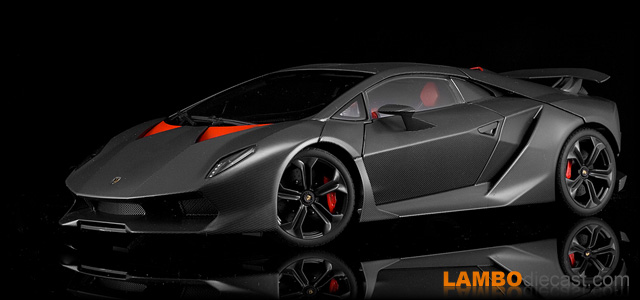 I agree this is a very expensive model from AutoArt, but their 1/18 scale version of the limited edition Lamborghini Sesto Elemento is simply amazing!
Lamborghini Silhouette P300
1/43 by Minichamps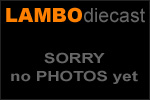 This white 1976 Lamborghini Silhouette is in fact a very rare car in real life, fortunately the 1/43 scale Minichamps model is easier to obtain
Lamborghini Silhouette P3000
1/64 by Kyosho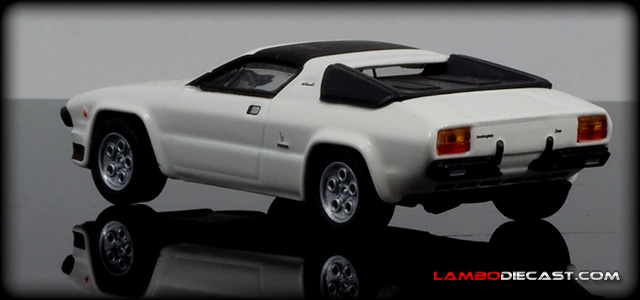 This is a 1/64 scale model of the very rare Lamborghini Silhouette, the first real convertible production car made at Sant'Agata. This Kyosho model looks really nice by the way.
Lamborghini Terzo Millennio
1/18 by MR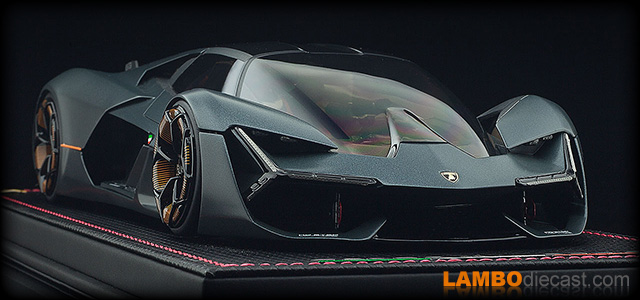 It took me a while to decide on this, but the MR made 1/18 Terzo Millennio is just so amazing I couldn't resist anymore and added it to the collection anyway
Lamborghini Tractor Mach 250 VRT
1/32 by Universal Hobbies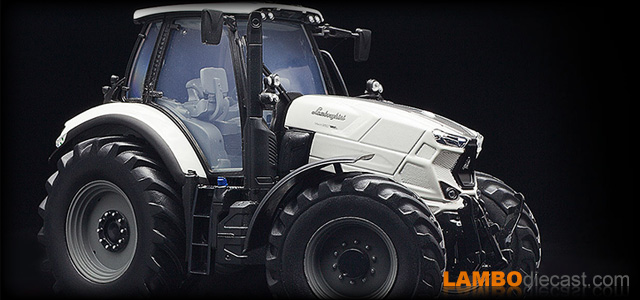 I rather like these 1/32 scale Lamborghini tractors, so when this limited edition Mach 250 VRT was released I added it to my collection too.