Lamborghini Tractor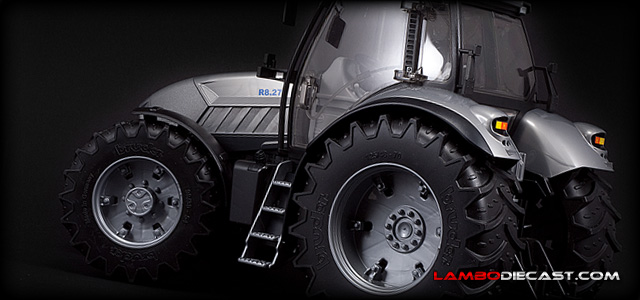 December 18, 2011
"Well, you must admit this massive tractor proudly wears the Raging Bull logo, it is a Lamborghini, made in large 1/16 by Bruder."
The LamboDieCast review :
Check this out ... a massive scale model of the current flagship tractor, the R8 model in it's 270 edition, using a massive Deutz Common Rail engine with 4 valves per cylinders, hence the R8.270 DCR denomination … and yes, this is a real Lamborghini too!
If you think an Aventador is amazing and technologically advanced … how about the specs on this R8.270 tractor: a radar-assisted electronic rear lift that has an accuracy up to one millimeter, a hydraulic system with three independent circuits and an automatic power shift … and for a tractor this one offers a level of comfort for the driver that is unheard of on this market.
The innovative cab even offers a state of the art climate control system and the multitude of controls is ergonomically correct and uses bright colors that stand out in every situation, day or night.
Some specifications on this beast: a 7.2 Liter 6-cylinder engine pumping out a mere 269 bhp but this beaty offers no less than 1052 Nm of torque at only 1650 rpm … all this power doesn't come easy so a fuel tank of 585 Liter is mounted on this 5m27 long monster with a width of 2m75 standing tall at 3m27 offering a ground clearance of 60cm … however do note this big Lamborghini puts up to 10435 kg on the scales.
Those are some numbers of the real machine, here we've got a nice 1/16 scale model of this state of the art workhorse for farmers made by Bruder in Germany, it sells for about €25 euro, which is a lot less than the real deal I think … I honestly don't have any idea how much a real life Lamborghini R8.270 would go for, but I do think it will easily reach the price of a Gallardo.
My son has been playing with Bruder tractor and farm equipment for a while now, and in one of the boxes I found a small booklet showcasing all the models they make … and behold one of them was a Lamborghini made tractor. It took me a while to find one locally, but now that I have I am actually really happy with it, sure it's only a toy, but still I think it's a perfect addition to my collection … only downside to it : this thing is so massive it doesn't fit inside my display cases.
It is a toy to be honest, and this can clearly be seen inside the cabin, the real thing has a lot of buttons and switches, and most of them are finished in bright shades like green and orange, on this scale model it's all grey and a bit rough around the edges, this isn't a diecast model, this is a toy that has to withstand some serious playing in gravel and sand … there is even a version with a large lift up front capable of lifting up to 5000 Kg, but I went for the standard version here.
So yes, I admit it isn't a collector's item of any kind, but still this large toy is a very nice item to add, it is so totally different from anything made by Automobili Lamborghini SpA you just have to add it if you are serious about collecting Lamborghini models, and for only €25 it doesn't leave a big gap in your wallet either.
Our rating :



Original price : € 24